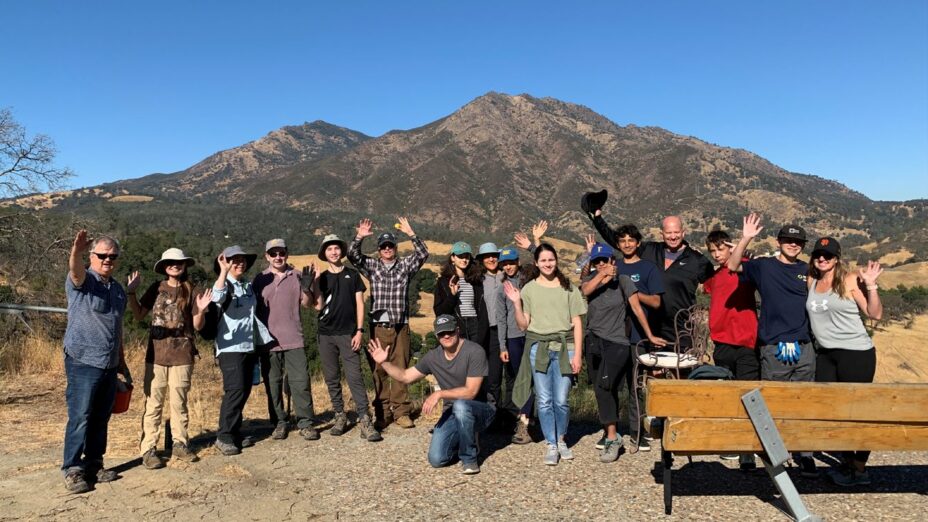 ---
Stewardship Update
Written by Haley Sutton, Land Stewardship Associate
Trees, Trees, Trees
We had a lot of volunteer hands at work this month!
First, campers with the Athenian School joined us at Big Bend to build a sheet-mulched footpath from the bridge crossing to the house on-site. They showed a lot of teamwork moving the mulch around and spreading it over the burlap bags.
A different Athenian camp group helped us water and protect more trees at Curry Canyon Ranch.
Then, campers from Temple Isaiah kept the tree protection momentum going to help us finish watering the area that Athenian started the day before.
Volunteers with AssetMark joined us at Curry Canyon to close out our busy month, contributing to more tree protecting and watering efforts, and were joined by a friendly California sister butterfly.
Our watering crew tackled Ang and Big Bend, while DiRT volunteers watered and mulched plantings at Marsh Creek 4 and 6, and watered and protected trees at Curry Canyon Ranch.
There are many happy plants and trees across those properties thanks to all our volunteers!
This month, volunteers protected 271 trees, putting our total native trees and plants that have been planted and protected to date at 1,614!
As we continue to increase our tree and plant tally, it is important to continue nurturing those that have already been protected to help them grow to maturity.
We could use all the help we can get! We'll continue regular watering until we get some rain, and then we will transition to other habitat restoration activities.
Mangini Ranch Bridge Crossing
Staff constructed a footbridge at Mangini Ranch Educational Preserve. The crossing is to protect an ephemeral stream and endangered species habitat between Ginochio Road and Coralwood Gate.
Because we were working in a creek bed, we obtained a permit from the California Department of Fish and Wildlife to complete the project.
The reclaimed redwood used for the bridge is the same as the trail signage throughout the preserve. The bridge offers a safe crossing for those entering the preserve from the Coralwood Drive entrance.
Property Stewards in the Field
Our stewards observed a number of wildlife species this month. A bobcat was observed at Marsh Creek 5; an egret and a great blue heron at Big Bend; and coyotes, deer, and boar at Viera–North Peak.
An Anderson Ranch steward observed many butterflies including a duskywing, checkered white, skipper, buckeye, ringlet, and western tiger swallowtail.
Education and Outreach Update
Written by Denise Castro, Education & Outreach Associate
Mangini Ranch Educational Preserve
Thank you to everyone who participated in one of the docent trainings! We now have 26 amazing volunteer docents who can help provide groups with access to Mangini Ranch.
Ready to reserve? There's plenty of space! Fill out our reservation request form on the Mangini Ranch Educational Preserve web page.
Discover Diablo Program
Sign up for any of the Discover Diablo events through Eventbrite.
August 6th Mangini Ranch Meditation Hike: led by Discover Diablo volunteers Jim and Sharon Lawrence and attended by 16 participants. It was a beautiful, clear, cool morning for some important grounding exercises. Great way to start the day!
August 13th Wright Canyon Plein Air Painting Hike: led by Save Mount Diablo volunteers Shirley Nootbaar and Greg Piatt. This was Save Mount Diablo's first free, public plein air painting event, and it was a huge success!
We hiked up to the top of Wright Canyon to paint the rolling hills and Mount Diablo itself for an hour and a half. Save Mount Diablo provided paper and painting materials to anyone who wanted some.
Participants created absolutely gorgeous pieces of artwork.
Thank you to all our Discover Diablo volunteers!
Top photo: Marsh Creek 6 watering crew by Haley Sutton