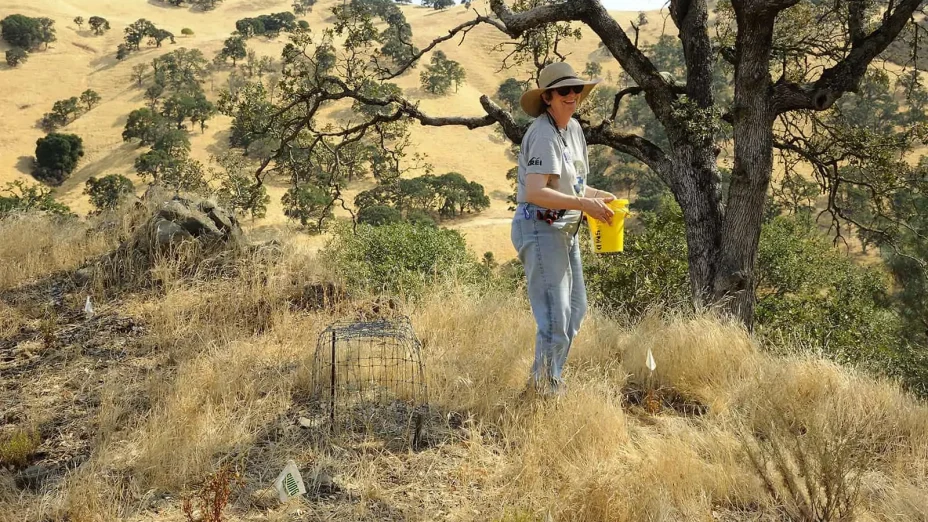 | | |
| --- | --- |
| Acreage | 5.74 acres |
| Watershed | Upper Marsh Creek  |
| Vegetation habitats | Oak woodland and riparian woodland  |
| Ownership | Protected since 2012 by Save Mount Diablo  |
Description

Marsh Creek 6 is located off Marsh Creek Road, close to Marsh Creek 4.  It rises from Marsh Creek up a steep volcanic knoll with dramatic rhyodacite cliffs and rock outcroppings, offering habitat for rare plant species.
These rare plants include Contra Costa manzanita (Arctostaphylos manzanita spp. laevigata), the endemic Mount Diablo globe lily (Calochortus pulchellus), and the unusual citrus-fragrant hop tree (Ptelea trifoliata). Like Marsh Creek 5, our first volcanic plug dome, Marsh Creek 6 is especially biodiverse, partly because the rare volcanic dome has a high silica content.
The property has amazing views of Mount Diablo and contains a lovely, high-quality 250-foot section of the creek, a known habitat for the threatened California red-legged frog (Rana draytonii).
Two houses and carports on the knoll were demolished in 2014, and the Marsh Fire blazed through the property in 2018, toppling many pines. Ecological restoration plots are regenerating after the fire, and continued restoration efforts are underway.
For more information on volcanic domes, read about Marsh Creek 5.
Save Mount Diablo's properties are closed to the public except by guided tour.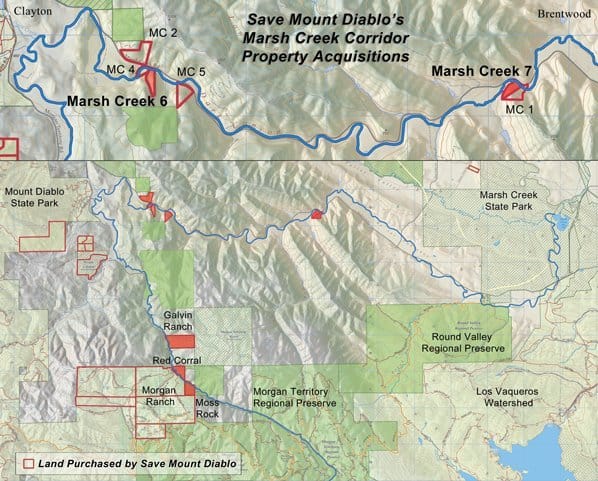 All properties with red have been protected by Save Mount Diablo. Properties that are solid red are crossed by Marsh Creek.