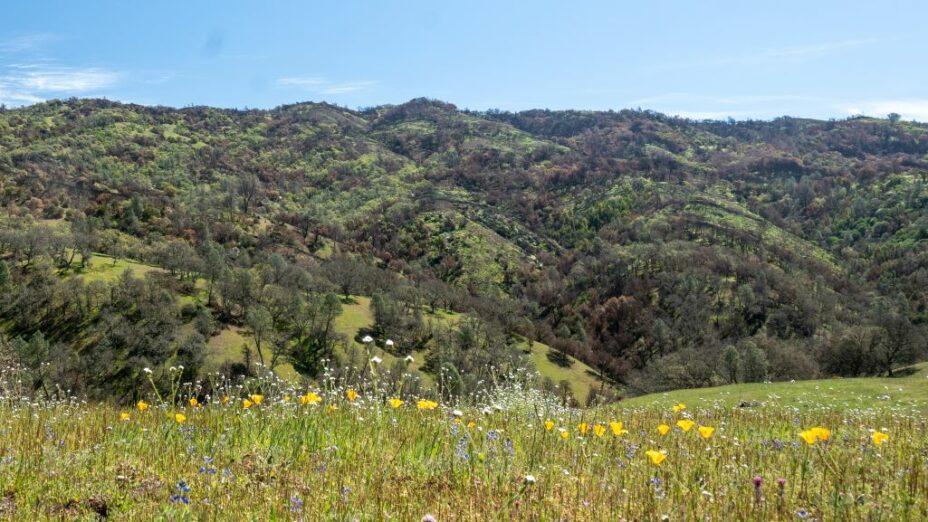 ---
Explore the south side of California's second largest state park via Hunting Hollow Road.
Distance: Six miles
Elevation change: 417 feet
Difficulty: Easy
Hiking time: Three hours
Trail surface: Dirt fire road
Best seasons: Winter, spring, and fall
Managing agency: California State Parks
Hours: 8 AM to sunset
Parking fee: $6
Trailhead location: Hunting Hollow Entrance
Description:
Hunting Hollow is a relatively flat, six-mile dirt road located at the southmost point of Henry W. Coe State Park. It ends at Wagon Road near the border of the park.
Hikers can stay on the road or travel onto one of the more challenging ridge trails that start here. The Middle Steer Ridge trail and the Lyman Willson Ridge trail can be accessed two-thirds of a mile into the trail, by the windmill.
The trail can also be extended onto Wagon Road and Phegly Ridge Road, adding a few hundred feet of elevation and some beautiful views to the trip.
In the spring, the Hunting Hollow area blooms with an assortment of wildflowers. So, if you're looking for a lush wildflower viewing trail, this is the place to be!
There's no running water available at the trailhead, so remember to bring water before heading here. Expect the area to be quiet and primitive.
Henry Coe State Park is known for its abundant wildlife, with about 170 species of birds reported. Bring your binoculars and enjoy your journey through Hunting Hollow.
Top photo: Henry W. Coe State Park by Bruce Hamilton