Reservations are free and required.
About the Mangini Ranch Educational Preserve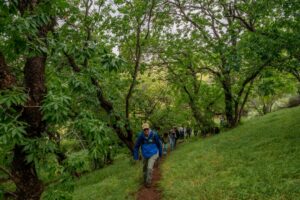 Save Mount Diablo's Mangini Ranch Educational Preserve is 207.8 acres situated between the Crystyl Ranch residential development in Concord and Lime Ridge Open Space in Walnut Creek.
The preserve includes grassland, stream canyons, blue oak woodland, chaparral, and oak savannas.
It's home to rare species such as the northernmost stand of desert olive, rare Hospital Canyon larkspur, and threatened Alameda whipsnake. Deer, coyote, burrowing owls, kestrels, and lots of other wildlife live here too.
The preserve's high ridgeline provides views of most of central Contra Costa County and to Marin, Sonoma, and Solano counties.
As you move away from the staging area of the preserve and into the open space along Galindo Creek and up the ridgeline, the sounds of cars and radios fade. They become birdsong and gentle breezes rustling through trees.
Here you will find you are transported into another space where senses are heightened and connecting to nature is inevitable.
Purpose of the Mangini Ranch Educational Preserve
The modern disconnection from nature has been widely documented in various studies.
According to a 2017 report, The Path Ahead, "Today kids spend less time outside than prison inmates, with the average child playing freely outside for just four to seven minutes a day." This report notes that the average American now spends about 95 percent of their life indoors.
It reports that we are becoming an "indoor species," which comes with consequences: "Our health and well-being may suffer. And the less we value our outdoor spaces, the less likely we are to protect them."
These findings confirmed Richard Louv's earlier groundbreaking documentation of "nature deficit disorder" in our young, wired generations.
Save Mount Diablo's free public Mangini Ranch Educational Preserve affords our communities additional opportunities to connect with nature in intimate and private ways.
By facilitating these opportunities, we can further help address this serious issue of the modern disconnection from nature that currently threatens our perpetual land conservation mission.
The preserve is run via an online reservation system.
Long-time educators familiar with Save Mount Diablo owned properties have commented that these lands are ideal outdoor classrooms. They are more conducive and safe environments for learning compared to large public parks that are subject to multiple intrusions from any number of outsiders.
Who Can Use the Mangini Educational Preserve
Our educational preserve is available free of charge to a variety of local schools and community groups, of all ages and backgrounds, pursuing educational purposes. Examples include, but are not limited to
environmental science classes
nature photography courses
yoga classes
plein-air artists gatherings
college ornithology courses
acoustic music in nature ensembles
meditation classes
grief counseling support groups
church groups
homeowners association groups
hiking, trail running, and mountain bike clubs
How to Reserve the Mangini Educational Preserve
Interested users can submit a reservation request up to six months in advance by utilizing the online reservation request form. Prior to submitting your request:
Read the list of uses to determine if your activity is appropriate for the educational preserve.
Check the calendar to verify that the dates you are requesting are not reserved. Please note that this calendar confirms if the educational preserve is in use—it does not guarantee availability.
Review and understand the Guidelines for Use and Enjoyment for the Educational Preserve.
Complete all sections of the application.
Questions? Please contact staff via email at manginireservations@savemountdiablo.org.
A staff member will contact you within 72 hours of your submission to confirm we have received your request.
Downloads

All attendees must read and accept the Educational Preserve Waiver at registration.
Download The Waiver
Mangini Ranch Educational Preserve Guidelines for Use and Enjoyment
Mangini Ranch educational guidelines are designed to protect the preserve's natural resources while ensuring the safety and comfort of our guests, staff, and volunteers.
By submitting your request you, as the organizer, understand the following.
Basic Care of the Preserve
Overnight camping is not permitted.
For the protection of wildlife and livestock on the preserve, dogs must be leashed and cleaned up after.
Be respectful of other users and nearby neighbors.
Fires are not permitted.
Vehicles are not allowed beyond the designated parking area unless pre-arranged by staff or approved by the docent on-site.
Leave gates as you found them.
Alcohol, illegal drugs, weapons, and firearms are not permitted.
Good Stewardship
Travel on designated trails to reduce erosion and negative impacts to the preserve.
Dispose of waste properly—carry out what you carry in!
Leave what you find.
Respect wildlife and livestock: harming animals and plants in any way is not permitted. This includes hunting, handling, collecting, etc.
Be respectful of historical and modern structures on the preserve.
Follow the instructions provided by staff and the docent on-site.
Planning for Your Visit
Plan ahead for your trip to our preserve and be prepared (proper clothing, adequate drinking water supplies, first aid kit, etc.).
Your group will be greeted by a Save Mount Diablo docent on the day of your reserved activity and that docent will stay on-site until the activity is complete and all participants have left.
Please be respectful to our docents.
Subject to docent availability, in general, a group may be on the site during their reserved day anytime from 9 AM to 5 PM.
The use of the educational preserve is for non-commercial, educational activities. No fees will be charged to visitors by the organizer or Save Mount Diablo.
The organizer should maintain a head count at all times.
Group sizes will be a minimum of three people and a maximum of 100.
Participants and groups may reserve the property a maximum of twice monthly.
Reservations can be made up to six months in advance.
Use of the preserve is subject to docent availability, weather, fire, and air quality conditions. Staff reserve the right to refuse or cancel reservations at any time.
The organizer will submit all necessary waivers at least 48 hours prior to event.
Organizer must be at least 18 years of age or older.
Trail Map of the Preserve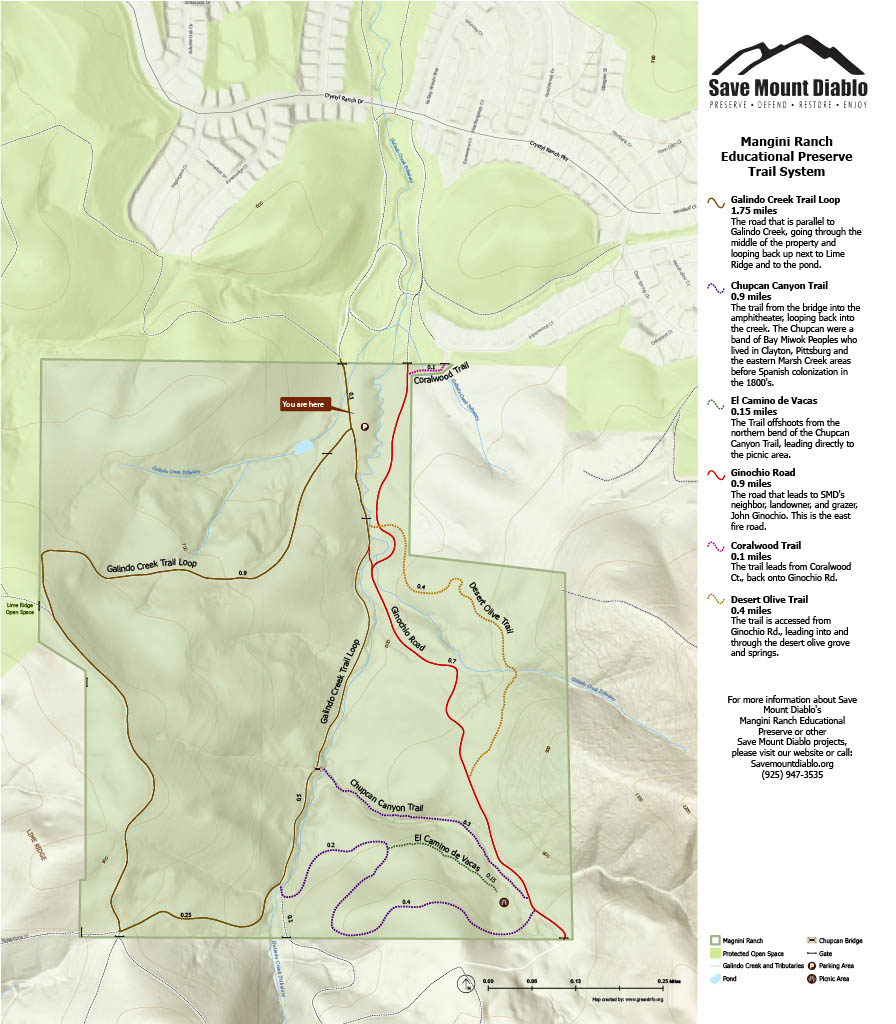 Click the map for a downloadable pdf version. If you want to print it, set it to "shrink to fit."
Directions to Mangini Ranch Educational Preserve
From Ygnacio Valley Road, turn onto Crystyl Ranch road and continue for about 1.5 miles, to the hiker gate adjacent to the house located at 5318 Crystyl Ranch Drive. Watch for a Save Mount Diablo staff member or volunteer, who will open the access gate and direct you onto the access road. A sign will also be out to help alert you. Enter the gate and drive slowly, continuing on the gravel fire road for 0.3 miles; stay right of the detention basin. You'll arrive at the entry gate to the educational preserve.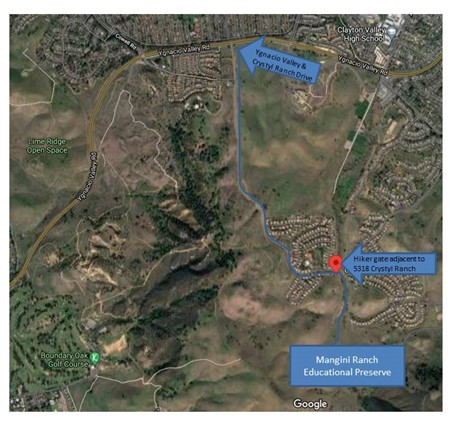 Volunteer Docents Needed
Spend time outdoors and help your community by becoming a docent for Save Mount Diablo! Click the following flyer for more information.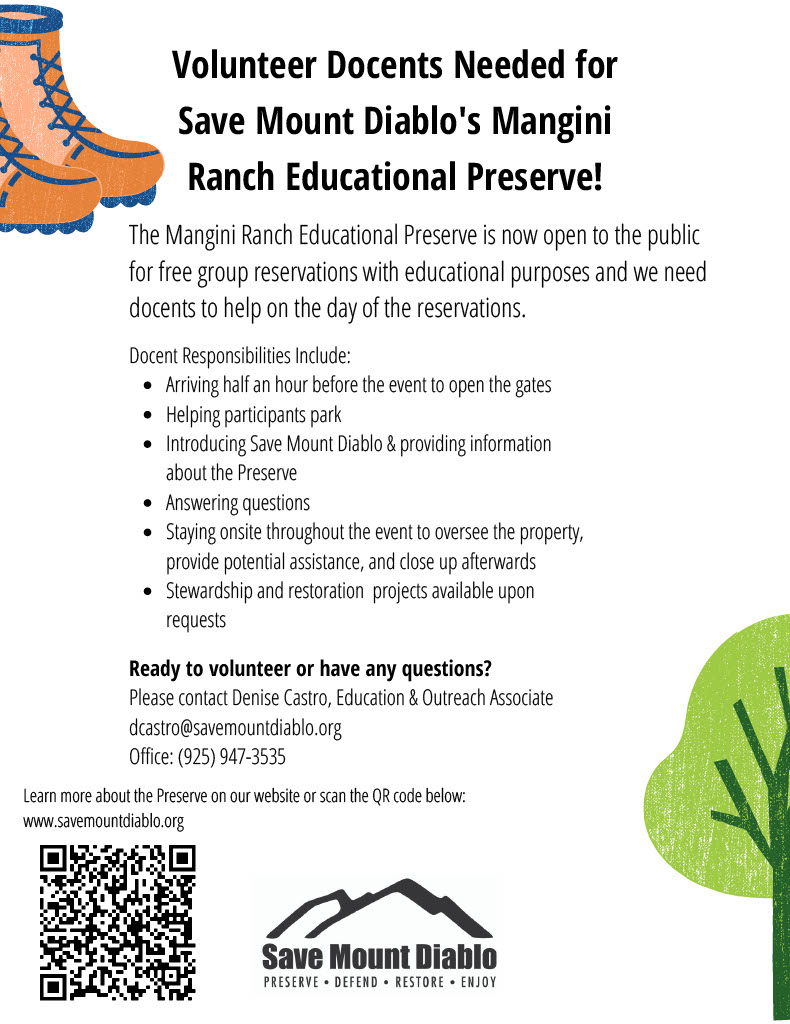 Reserved Dates
Weather Forecast
Reservation Request Form
Note: Please request your reservation at least seven days prior to your desired date.