Why We Acquire
The San Francisco Bay Area is one of the six top biodiversity hot spots in the United States. This is particularly true in the East Bay, where Mount Diablo State Park alone is home to 10 percent of California's native plant diversity, and where development pressure is extreme.
As the region's human population skyrockets in response to economic recovery and job growth, suburban sprawl is rapidly encroaching on what remains of our wild lands, eliminating habitat for imperiled wildlife and plant species, and shrinking the natural spaces available for residents' recreation and enjoyment.
Further, climate change is pushing sensitive species to the edge of their adaptive limits, which are narrow and complex in highly biodiverse areas like the Diablo wild lands.
The Bay Area's urban housing deficit has pushed development eastward. Population growth in the East Bay has outpaced that of the rest of the Bay Area and much of California.
Contra Costa County—already the Bay Area's most highly developed county after San Francisco—added 60,000 new residents between 2010 and 2015, becoming the fifth fastest growing county in California and third in the Bay Area.
The resulting pressure for housing not only chips away at remaining open space—much of it abutting Mount Diablo—but worsens traffic congestion and adds to air- and water-quality problems.
The statistics are telling. Of the more than 400,000 acres of natural landscape in the Bay Area at risk of development, the largest proportion is in Contra Costa County.
Save Mount Diablo is ideally positioned to respond to this challenge. As a leading force in land use advocacy and preservation in the East Bay since 1971, our organization has protected more than 120,000 acres of open space in alliance with partner organizations and influenced other vital issues such as regional transportation planning.
We have won our successes using the same strategies we use today: Land-use advocacy, land acquisition, stewardship, restoration, education, and support of recreational opportunities consistent with the protection of natural resources.
Benefits of Acquisition
Protecting Diablo's remaining open space creates a myriad of benefits for people and wildlife alike.
Wildlife have the opportunity to survive and thrive as large, protected swaths of land are pieced together creating natural wildlife corridors. We envision protected lands stretching from Mount Diablo to the Altamont Hills in the north and to southernmost tip of the Diablo Range in Kern County.
For residents and visitors to our area, recreational trails, parks, and preserves offer exceptional outdoor experiences.
On a clear day, when standing on the summit of Mount Diablo and looking around in a 360-degree circle, one can see 38 of California's 58 counties. Mount Diablo offers one of the most expansive views found west of the Mississippi.
Moreover, an intact, protected network of wild lands includes watershed lands that ensure local water reserves are safeguarded, providing healthy and safe drinking water.
How We Acquire
Save Mount Diablo works to preserve land in two ways:
As a condition of land use planning: We advocate for strategic, high conservation value land to be set aside for preservation as a condition of approval for development projects and in municipal land use plans.
Acquisition including land and conservation easement purchases by our organization or by supporting our allies in key acquisitions.
Although we protect land directly through acquisition, our advocacy and policy work preserves much larger areas than we can purchase. Learn more about our advocacy work.
Save Mount Diablo has developed and pursued a systematic approach to land acquisition within our geographic focus area.
Our acquisition priorities are based on our long history of understanding the mountain and surrounding lands and focus on habitat corridors, threatened and endangered species, rare habitat types, and strategic properties that would be a terrible loss to our local ecology if developed.
Park agencies most commonly seek to protect parcels adjacent to park boundaries. Save Mount Diablo has often acquired non-adjacent lands, leading to protection and new parks.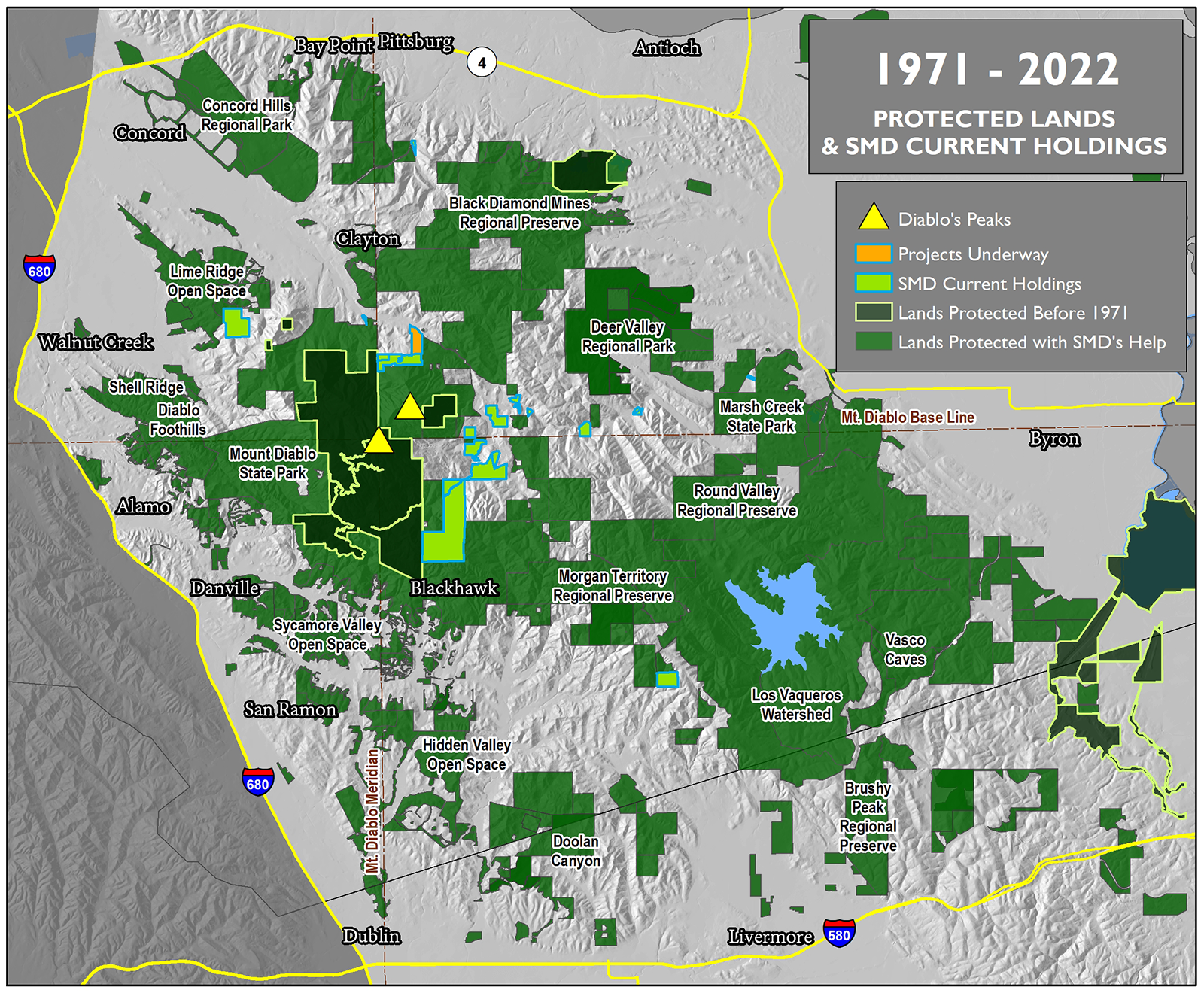 Save Mount Diablo can often work faster than agencies to acquire strategic parcels and then hold them until agencies are ready to manage them. We work closely with the park agencies in the area on natural resource issues and long-range planning for the entire Mount Diablo region.
Our goal is to expand existing preserved lands and connect them with wildlife and recreational corridors. One of our highest acquisition priority areas includes the wildlife corridors surrounding and including the Marsh Creek–Morgan Territory region, a 60-mile circle of open space east of Diablo's peaks.
Current Priorities
Save Mount Diablo is committed to preserving the strategic natural lands on and around Mount Diablo that are privately owned but not yet conserved.
Currently, Marsh Creek and the land around it—much of it part of the Morgan Territory—stand out as high priorities for protection. Marsh Creek is Contra Costa County's second longest and least disturbed creek. It is a critical source of water for wildlife in our mostly dry East Bay, and it provides habitat for federally threatened species like the California red-legged frog.
The Morgan Territory's sandstone hills include the headwaters of creeks; feature more than 90 species of wildflowers; and are home to mountain lion, golden eagle, and the endemic Diablo sunflower and Diablo manzanita. Save Mount Diablo has worked for decades to protect critical properties along Marsh Creek. So far, about half of its 33 miles have been protected.
We Can't Afford to Wait
The economic recession reduced public funds for land acquisition and maintenance, but it also slowed the pace of development—temporarily. Now, development is surging back while our park agencies begin the slow process of recovering from depleted budgets.
Meanwhile, the threats to these lands continue to add up at alarming speed. With 2 million more people predicted to move into the Bay Area by 2045 and the sizzling real estate market, the value of undeveloped and unconserved land on and around Mount Diablo will soon climb to a rarified premium.
Our window for saving this land is still open but it is closing fast.