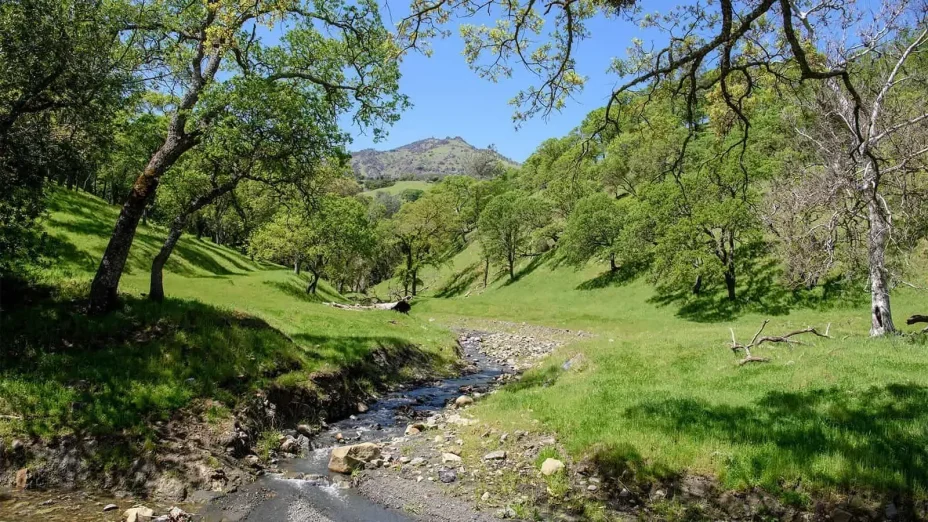 | | |
| --- | --- |
| Acreage | 1,080.53 acres |
| Watershed | Curry Creek flows into the Marsh Creek watershed, but a small part of the property near Knobcone Point and Windy Point drains into Tassajara Creek and Alamo Creek, which are both sub-watersheds of Alameda Creek. |
| Vegetation communities (or habitats) | Grassland, live oak woodland, California bay laurel forest, blue oak woodland, chaparral, knobcone pine forest, riparian woodland, and stock pond areas |
| Ownership status | Protected in 2013 by Save Mount Diablo |
| Partners involved / funders | The California Coastal Conservancy, the Gordon and Betty Moore Foundation, and Forever Wild donors, with a bridge loan from the Conservation Fund |
Summary
Curry Canyon Ranch is the largest and most diverse of Save Mount Diablo's properties. Its key features include Curry Canyon, Clark Canyon, Windy Point, Cave Point, and Knobcone Point, all of which are visible from the summit of Mount Diablo. More than a mile of exposed sandstone cliffs provide nesting sites for rare peregrine and prairie falcons, and the creeks and ponds are home to many threatened and endangered species such California red-legged frog, tiger salamander, and Alameda whipsnake. When the property is opened to the public, it will complete four major public trail gaps from Curry Point to Riggs Canyon and will allow a hiker to make the journey along the ridge line as well as through lower-elevation trail loops.
Description
Since our founding in 1971, Curry Canyon Ranch had been on the top of our priority list. After decades of effort, Curry Canyon Ranch, an incredibly important and spectacular piece of land, was protected. The 1,080-acre property was purchased by Save Mount Diablo for $7.2 million—making it the largest and most expensive purchase in our history.
Curry Canyon was the largest remaining unprotected canyon on Diablo's main peaks, between the Diablo summit and the Black Hills. The canyon is only a small part of the property; another half dozen major canyons rise from the valley at 800 feet to six peaks. The six peaks include Windy Point, Knobcone Point, and 2080-foot Cave Point, the ranch's highest elevation. Knobcone Point was once a destination for tourists to Mount Diablo along the historic "Curry-Cave Trail" beginning in the 1870s.
"Curry Canyon Ranch is amazing in every way," said Scott Hein, Board Member of Save Mount Diablo, "from its huge, incredible landscapes and spectacular beauty, to its rich biological diversity and cultural history. Eight miles of fire road will be solving not one, but four significant trail gaps. The acquisition is the culmination of decades of effort, Save Mount Diablo's most important acquisition ever, and the most important for Save Mount Diablo since North Peak was protected in 1980."
The property has incredible topography ranging from Curry Creek to steep wooded and shaded canyon walls and grasslands-lined ridges. It has more than a mile of exposed sandstone cliffs—which had been the most significant exposed rock habitats left unprotected in the county. Similar in size and beauty to Castle Rock, the cliffs are a nesting site for rare peregrine and prairie falcons, and could one day be home to California condors.

The property has five ponds and more than 2.4 miles of creek that are home to numerous threatened and endangered species like California red-legged frog and tiger salamander. The most prominent creek on the property is the cottonwood-, sycamore- and valley oak–lined Curry Creek. Flowing off of Mount Diablo's main peak, Curry Creek feeds into Marsh Creek, the second longest and least disturbed creek in Contra Costa County. Both creeks provide a critical water source and habitat for the area's wildlife.
Key corridor and trail connector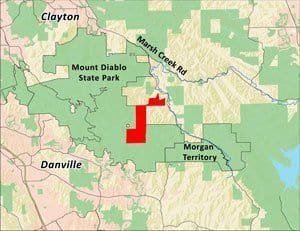 Surrounded by the Mount Diablo State Park on three sides, Curry Canyon Ranch is a key wildlife corridor and trail connector. It will eventually connect two large areas of the park, improving wildlife movement and enhancing the region's biodiversity. When it is eventually added to the public park system, hikers on the 30-mile Diablo Trail will have the option of staying on the ridge line instead of hiking up and down four major canyons between Rock City and Riggs Canyon.
For more information, read our press release.
Save Mount Diablo's properties are closed to the public except by guided tour.