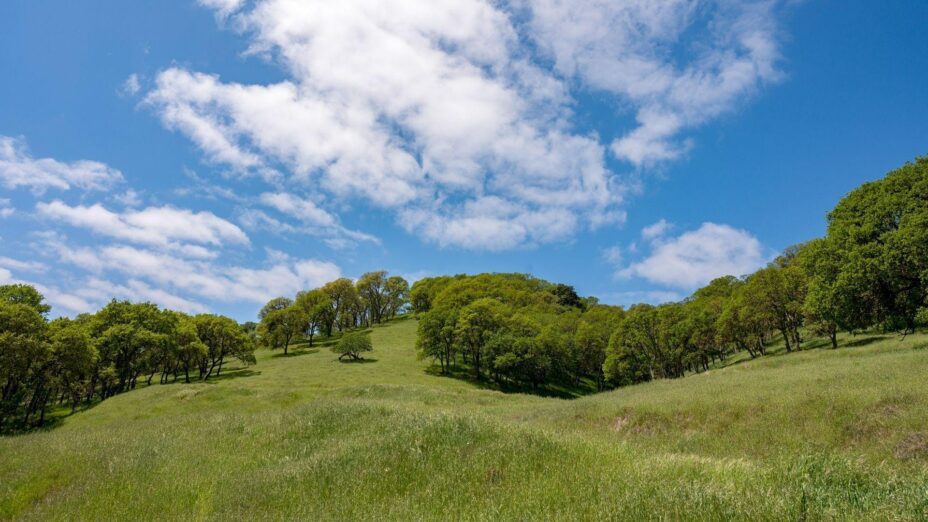 ---
Stewardship Update
Written by Haley Sutton, Land Stewardship Associate
Milkweed Update
Last month we shared the exciting news that California milkweed (Asclepias californica) has been identified on our properties. This month, staff observed monarch caterpillars munching away on the California milkweed plants!
This is an encouraging development for monarch populations in our area and will inform plans for milkweed reintroduction and restoration. With volunteer help, we will continue to locate and map additional plants on our properties.
Protecting Properties from Fire
With a deadline of mid-May and many properties to mow, stewardship staff focused heavily on fire abatement this month. Our grazed properties do not need excessive attention thanks to the animals keeping grass fuel levels low.
As for the other 14 properties we manage without grazers, we must ensure there is adequate defensible space around all structures and along fences bordering the property.
Thanks to the Trail Dogs, property stewards, Contra Costa Fire, and additional volunteers, finished fire abatement on all properties!
Getting Students Outdoors
Staff led a Conservation Collaboration Agreement field experience at Mangini Ranch Educational Preserve with Joaquin Moraga Intermediate School students and Bedell Frazier Investment Counselling staff.
Participants learned about integrative pest management with a focus on non-native and invasive thistles.
They viewed a demonstration on how we tackle the most noxious thistle, artichoke thistle (Cynara cardulculus), and then got their hands dirty removing multiple thistle species around the property.
Students also learned about trail maintenance strategies and how foot traffic serves as a method to keep trails clear. Despite the muddy conditions, a great time was had by all!
Looking over Mangini Ranch
Another Eagle Scout, Sanjay Anasuri, contributed one more addition to our new educational preserve in the form of a bench that sits atop a hill on the property. Visitors have views overlooking the surrounding hills and valley below.
The scout led five others in the construction and installation of a new bench that matches the design of benches on other Save Mount Diablo properties. To enjoy the new bench and scenery at Mangini Ranch Educational Preserve, please make a reservation online.
Property Stewards in the Field
An important element of our greater stewardship team is our crew of property stewards—volunteers who monitor specific properties monthly.
Stewards report back on their observations, including project needs, road conditions and access concerns, and native and non-native species presence of both flora and fauna, among other notes.
Some stewards have monitored the same property since its acquisition and often know a lot about the history and natural features of the property and maintain connections with our neighbors.
This month, our stewards at Oak Hill Lane and Marsh Creek 5 protected young oak and manzanita seedlings.
Stewards at Thomas Home Ranch and Dry Creek contributed to fire abatement on their respective properties, and our Wright Canyon steward observed the resident bobcat of the area.
Education and Outreach Update
Written by Denise Castro, Education & Outreach Associate
Dr. Mary Bowerman Science and Research Program BioBlitz
Save Mount Diablo's 2-week BioBlitz (April 16th–April 30th) focusing on the SCU Lightning Complex fire footprint has ended. We had a whopping 1,836 observations uploaded onto iNaturalist during the two-week period from 70 observers.
There were thousands of fire followers across the fire footprint including fire poppies, golden eardrops, and whispering bells. Participants saw baby manzanitas and other chaparral plants growing back from burls.
This is our second year focusing on this fire footprint, and the vegetation is much denser than it was in 2021.
We will be continuing our study of the 2020 SCU Lightning Complex Fire Footprint in 2023. Thank you to everyone who participated in Save Mount Diablo's 2022 BioBlitz!
Discover Diablo Program
Sign up for any of the Discover Diablo events through Eventbrite.
April 2nd Mangini Ranch Wildflower Hike: led by Save Mount Diablo volunteer Martin Steinpress and attended by 23 participants. Mangini Ranch is a property full of rich cultural history and cool habitat stories that participants got to hear and experience.
April 2nd Mitchell Canyon Medicinal Plant Walk: led by Save Mount Diablo volunteer and East Bay Herbals founder Anna Marie Beauchemin and attended by 14 participants.
Civilizations have co-evolved with plants, especially those that have medicinal uses. Participants learned some of the California native plants that people have evolved with from a professional herbalist.
April 7th Sauntering, Soloing, & Celebrating 50 Years: led by Save Mount Diablo Executive Director Ted Clement and attended by 13 participants. It was a gorgeous day out on Mangini Ranch for some grounding exercises.
April 16th Southwest Slopes of Mount Diablo: canceled because of weather.
April 23rd Mitchell Canyon Wildflower Hike: led by Save Mount Diablo volunteers Jim and Sharon Lawrence and attended by seven participants. Globe lilies and Mariposa lilies galore!
Thank you to all our Discover Diablo volunteers!