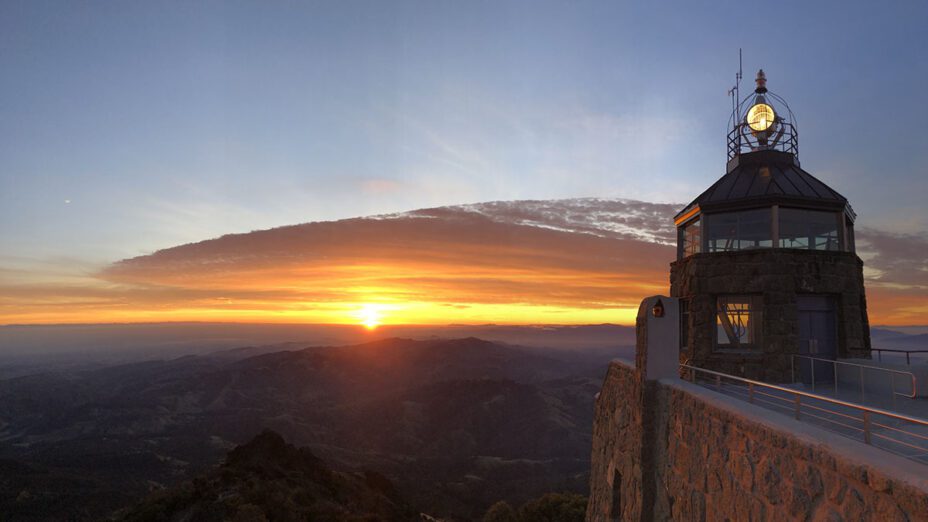 ---
Next Friday, November 11, we'll be lighting the Mount Diablo Summit Beacon to honor Veterans Day from sunset to sunrise.
The Beacon was originally lit by Charles Lindbergh in 1928 as one of five transcontinental guides used on the West Coast to assist in commercial aviation. Now it's the last remaining Beacon able to be lit; it shines thanks to the dedicated volunteers who committed to restoring and maintaining it.
It lit up Mount Diablo's summit every night until December 8, 1941, the day after the attack on Pearl Harbor. It was not lit again until 1964, when Admiral Chester Nimitz suggested the Beacon be lit every December 7th to honor Pearl Harbor's survivors.
We began working with California State Parks to restore the Beacon in 2013. The project, led by volunteers John Gallagher and Dick Heron, grew into a huge community undertaking.
Numerous donors and community members united with the goal of repairing the Beacon. Now, our staff and volunteers have been caring for the Beacon for almost a decade, keeping this piece of history alive.
From April 2020 to April 2021, the Beacon was lit every Sunday as a response to the COVID pandemic. It was a way to honor frontline workers and to bring our communities together during a difficult time, reminding everyone of the healing power of nature and Mount Diablo.
Earlier this year, in February, a joint proclamation was signed at the Veterans Memorial Building in Danville. The proclamation allows us to light the Beacon on Pearl Harbor Day, Memorial Day, and Veterans Day, beginning in 2022 and continuing indefinitely.
Now, the Beacon will honor veterans every year on November 11, as a tribute to the individuals who served in the US military. Veterans will know that the Beacon will shine long after they are gone—honoring their sacrifices.
Top photo: Ted Clement