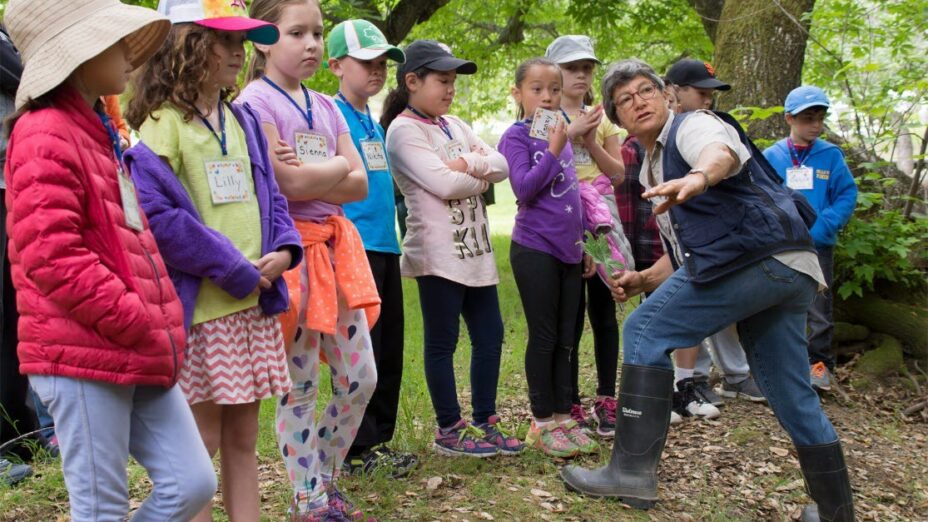 ---
CONTRA COSTA COUNTY, CA—On January 9, 2023, Save Mount Diablo gratefully announced the creation of the Adler Education Fund to inspire a love of nature and connect our land trust with area schools to foster eco-literacy and enlightened stewardship in California.
The Adler Education Fund was initiated by a generous $100,000 challenge grant from locally renowned environmental educator, Judy Adler. Adler hopes her leadership gift will energize and inspire additional gifts and grants.
Save Mount Diablo will pursue such additional funding during the coming months with the assistance of an advisory committee. The overall goal is to turn Adler's passion for environmental education into visible actions that further Save Mount Diablo's mission.
Adler's gift is in memory of the three individuals who were instrumental in supporting and guiding her vision—her parents, Ardyce and Stan Felix, and her dear friend, Irene Lowen.
Adler has provided unique and engaging outdoor experiences to more than 25,000 young people through her Diablo Nature Adventures (DNA) outdoor education program, founded in 1994.
This work and her significant contributions to the field of sustainable land use earned her a Lifetime Achievement Award from Sustainable Contra Costa in 2018.
There is an obvious synergy between Adler's vision and a central tenet of Save Mount Diablo's educational mission, that one must love nature to preserve it.
"After studying and working in conservation for more than 35 years, I've come to realize that the most significant threat to the environment is the lack of meaningful connections between people and nature, which results in us lacking the love and will required to fully address major environmental threats like the climate crisis.
"Thankfully, nature is a spiritual portal where, if we quietly and respectfully enter it with open hearts and minds, we will be transformed for the better, and in that lies our hope for salvation and survival," said Ted Clement, Save Mount Diablo Executive Director.
Save Mount Diablo has a "Connect, Educate, Serve, and Diversify" approach for its education programs. This approach involves creating and protecting more trail corridors, offering meditation in nature, teaching students about the climate crisis, providing volunteer stewardship opportunities, and offering bilingual programs.
Save Mount Diablo currently offers environmental education to middle school, high school, and college students through its Conservation Collaboration Agreement (CCA) program. The new Adler Education Fund will enable Save Mount Diablo to introduce educational trips for students in third to fifth grades and diversify the population served.
Earlier this year, Save Mount Diablo announced another addition to its educational programs with the March 2022 opening of Mangini Ranch Educational Preserve, located in Concord. This beautiful preserve is available by reservation to the public, at no cost, for day-time educational group use.
This protected property is a frequent location for Conservation Collaboration Agreement field days. It has already hosted students and groups of all ages with interest in plein air painting, hiking, science, mountain biking, meditation, and photography.
Save Mount Diablo's Adler Education Fund will support the organization's education efforts, which could include, among other things, underwriting teacher and docent training classes, developing interpretive signage and learning stations for the Mangini Ranch Educational Preserve, and facilitating curriculum development for use during public visits and school programs at the site.
For more information about the Mangini Ranch Educational Preserve, and to make group reservations, please visit Save Mount Diablo's Mangini Ranch Educational Preserve web page.
It is with great optimism and gratitude that Save Mount Diablo announces the creation of the Adler Education Fund. For more information about the Adler Education Fund, its goals, and how you can become involved, please contact Samantha Kading at 925-949-4513 or skading@savemountdiablo.org.
­­­­­______________________________________________
Save Mount Diablo is a nationally accredited, nonprofit land trust founded in 1971 with a mission to preserve Mount Diablo's peaks, surrounding foothills, watersheds, and connection to the Diablo Range through land acquisition and preservation strategies designed to protect the mountain's natural beauty, biological diversity, and historic and agricultural heritage; enhance our area's quality of life; and provide educational and recreational opportunities consistent with protection of natural resources. To learn more, please visit www.savemountdiablo.org.
Image Credit and Caption:
Photo at top: Judy Adler connecting kids with nature. Credit: Stefanie Felix. Used with permission.
Additional high-resolution photos are available upon request. Contact lkindsvater@savemountdiablo.org
Media Contacts:
Ted Clement, Executive Director
Save Mount Diablo
C: 925-451-8108
###