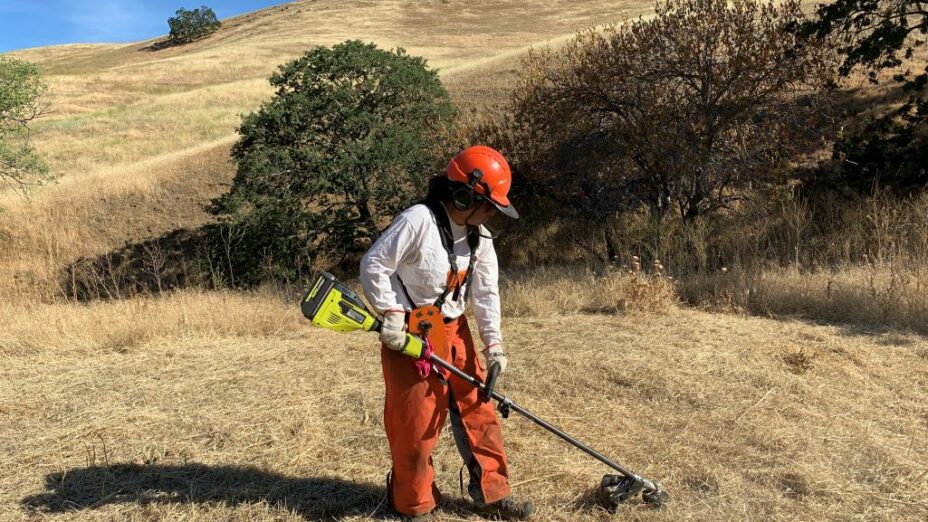 ---
Stewardship Update
Text by Haley Sutton
Mapping More Milkweeds for Monarchs
Some milkweed plants on our properties have begun growing seed pods. And there are tiny caterpillars on them once again! Staff and volunteers continue to locate and map additional plants on Save Mount Diablo and Mount Diablo State Park properties.
Summer Watering Crew Needs You
Our dedicated crew of watering volunteers reconvened for their first watering day of the year at Ang, a property where we hold a restoration contract with the East Contra Costa Habitat Conservancy. For the past six years, volunteers have been watering oaks, buckeyes, and willows that were planted by seed and stake.
The goal of the project is to improve riparian woodland habitat for wildlife by filling in gaps in existing vegetation along the banks of Irish Creek, over near Black Diamond Mines Regional Preserve.
Some young oaks and buckeyes are now popping out through the top of their protective tubes. The watering crew visits the site every three weeks during the hottest and driest time of the year to give the seedlings a drink and a higher chance  to reach maturation.
We are looking for volunteers who can help out once a month on Wednesdays at Ang and Thursdays at Marsh Creek 4 and Big Bend. Reach out to Haley to get on the contact list.
There is a fallen tree at Marsh Creek 6, and once that is bucked up and cleared, we can schedule a DiRT watering day on site. Additional restoration DiRT days will be scheduled soon. Please join the crew!
CAP and Stewardship
Within the stewardship section of our Climate Action Plan, we stated that when the need arose to purchase additional equipment and tools we would do so with our organizational environmental impact in mind.
Therefore, when we assessed our current equipment inventory, we opted to purchase two battery-powered line trimmers—one of which also has a pole saw attachment—and a battery-powered chain saw.
Not only do these tools not emit exhaust from two-stroke engines, but they are also a game changer when it comes to completing certain stewardship tasks; they are safer than gas powered equipment in the dry and hot summer months.
Finishing Up Fire Abatement
Staff and volunteers began the month by completing the necessary fire abatement on each of our properties. The focus was on Thomas Kirker Creek, Lot 25, Anderson Ranch, and Big Bend.
We also completed a second pass at Marsh Creek 4 because the grass grew back quickly after the rain in April.
After the May 15 deadline, we kept our whips in hand to touch up single-track trails and the picnic amphitheater area at Mangini Ranch for all of our visitors. Thanks to all who helped us complete another successful fire-abatement season!
Property Stewards in the Field
This month Sierran tree frogs were observed using the pond by our steward at Anderson Ranch. The Highland Springs steward noted that the entry gate needs to be replaced, and stewards for the Smith and Wright Canyon properties observed mariposa lilies during their monitoring visits.
Education and Outreach Update
Text by Denise Castro
Mangini Ranch Educational Preserve
The Mangini Ranch Educational Preserve is officially open to the public through our online reservation system! We're currently accepting reservations for groups of three or more people (completely free!).
Take this opportunity to explore six different trails across the property and visit the adjacent Lime Ridge Open Space.
Ready to reserve? Fill out our reservation request form on the Mangini Ranch Educational Preserve web page.
Looking for Volunteer Docents!
We're looking for Mangini Ranch Educational Preserve docent volunteers!
Docent responsibilities include
Help with parking
Introduce Save Mount Diablo and our mission
Provide information about Mangini Ranch
Provide safety notes
Answer questions
Stay on the site until the group leaves and lock up afterward
The docent is not required to lead any hikes or tours around the property.
If you're interested in learning more about the volunteer docent position, please contact Denise Castro at dcastro@savemountdiablo.org.
Discover Diablo Program
Sign up for any of the Discover Diablo events through Eventbrite.
May 5th Mount Diablo Audubon Hike at Curry Canyon Ranch led by Save Mount Diablo volunteer Jerry Britten and attended by 12 participants. There were lots of birds out on the land!
May 8th Mother's Day Amble at Round Valley Regional Preserve led by Save Mount Diablo volunteers Steve and Carolyn Balling and attended by nine participants. It was a beautiful day and a great way to celebrate Mother's Day!
May 14th Hit the Trails Mountain Biking at Mangini Ranch: postponed because of a schedule conflict. The event was instead merged into the June 4th Hit the Trails.
May 14th Three B's Hike – Birds, Butterflies, and Blooms: canceled because of a schedule conflict.
May 21st Hit the Trails Mountain Biking at Smith Canyon into Curry Canyon Lower 200 led by Save Mount Diablo's Land Programs Director Sean Burke and Save Mount Diablo volunteer Mike Anciaux. Attended by five participants. Participants were able to enjoy an interpretive bike ride starting from Smith Canyon, connecting into the state park via the Curry Canyon Trail, and then back into the upper Curry Canyon via the Knobcone Point Trail.
May 28th Caminemos (Let's Hike) Curry Canyon Lower 200 led by Save Mount Diablo's Education & Outreach Associate Denise Castro and attended by eight participants. It was a gorgeous (although slightly windy) day out at Curry Canyon, and everyone got to see the magnificent buckeyes in full bloom.
Thank you to all our Discover Diablo volunteers!