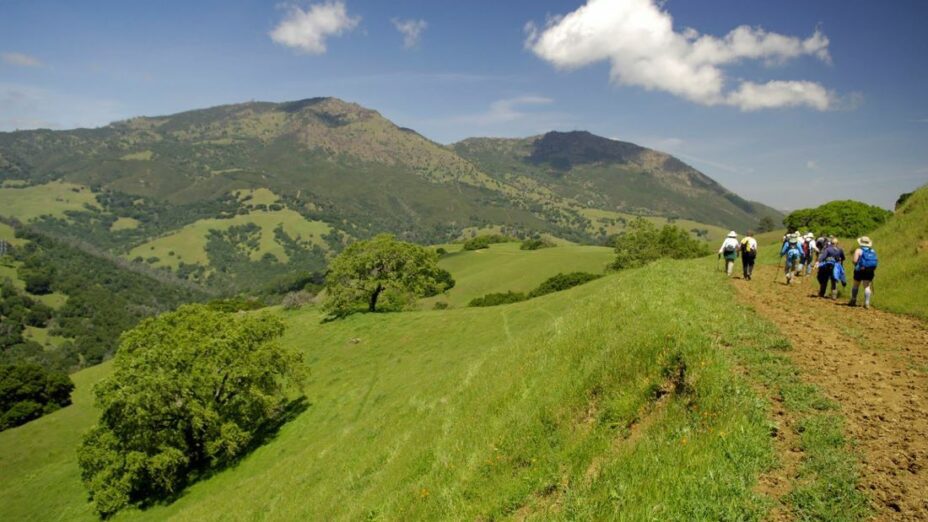 ---
CONTRA COSTA COUNTY, CA—On March 29, Save Mount Diablo will officially open the Knobcone Point to Riggs Canyon trail connection.
This section of trail winds through the upper 560 acres of Mount Diablo's Curry Canyon Ranch, through one of Mount Diablo's wildest areas. It travels from Balancing Rock and Knobcone Point, to Cave Point, to Windy Point and Riggs Canyon.
Although the trail was once available to the public ranging all over the mountain before proliferation of cattle fencing, it's been nearly a hundred years since it was legal.
The 1.25-mile-long trail will considerably expand the amount of open space available to explore on Mount Diablo's southern hills.
It will effectively fully connect Rock City and Mount Diablo to Riggs Canyon, Morgan Territory, and Los Vaqueros via publicly accessible trails.
Curry Canyon is the final missing major canyon entrance to Mount Diablo. Curry Canyon Ranch has over nine miles of fire roads, most of which will continue to be closed for now, while Save Mount Diablo works with California State Parks to transfer much of the property to the park.
Currently Mount Diablo State Park visitors must climb in and out of four canyons from Rock City to Riggs Canyon—going forward, they can follow a ridgeline with spectacular views.
Right now, state park staff must leave the state park to reach Riggs Canyon. Opening the ridgeline fire road on Save Mount Diablo's property will solve this access and management issue.
In preparation for the grand opening, Save Mount Diablo's staff and volunteers have been installing infrastructure, including access gates and informational signage.
They have also been removing dead material to minimize fire risk in the area. The removal of dead and scorched plants in this area will encourage new growth of native and endemic wildflowers and chaparral plants this spring.
This project has been a decade in the making, in the works since Save Mount Diablo acquired the 1,080-acre Curry Canyon Ranch property in 2013.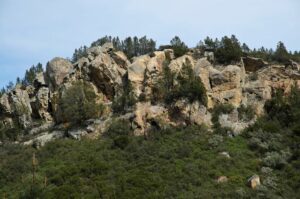 Curry Canyon Ranch contains what was the largest remaining unprotected canyon on Mount Diablo's main peaks. It harbors distinctive habitats including knobcone pine forests and a mile of rocky cliffs.
"Thanks to our terrific supporters, staff, partners, and volunteers, like our Trail Dogs, Save Mount Diablo has created and opened a number of public trails the last two years. Last year, we created and opened over four miles of trails at our new Mangini Ranch Educational Preserve. This year, we will finish and open an important 1.25 +/- mile trail on Save Mount Diablo's Curry Canyon Ranch that will allow the public to hike from Knobcone Point at Mount Diablo State Park, through the upper portions of our spectacular Curry Canyon Ranch, to Riggs Canyon at the state park. All these trails we have built are portals that allow the public to enter nature and be transformed for the better," said Ted Clement, Save Mount Diablo Executive Director.
As part of its goal of getting more people into nature, Save Mount Diablo has been opening more land to the public and creating new trails over the years.
In 2022, Save Mount Diablo opened several miles of trails at its Mangini Ranch Educational Preserve in Concord for people to enjoy.
Now the highly anticipated Knobcone Point trail connection will further open up opportunities to enjoy Mount Diablo's majestic views and wilderness—recreationalists will experience a rarely seen part of the mountain.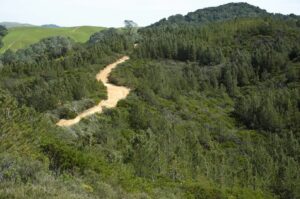 "This trail is the major recreational puzzle piece in the Mount Diablo area, allowing park users to connect the mountain to Morgan Territory and beyond to Los Vaqueros, furthering their adventure into this extraordinary place," said Sean Burke, Save Mount Diablo Land Programs Director.
Traveling along this newly opened trail, visitors will be immersed in the knobcone pine forests after which the area is named and stunning sandstone rock formations. They may see golden eagles and songbirds fly overhead.
This trail will open up a rarely traveled area; it will give hikers an opportunity to explore and experience the solitude of one of the extraordinary parts of Mount Diablo.
A trail opening ceremony had been planned for the morning of Wednesday, March 29, but has been canceled because wet weather is expected.
The trail will still be opened to the public on March 29.
It is with great pride and excitement that Save Mount Diablo will open this trail connection and share the beauty of Knobcone Point, Cave Point, and Riggs Canyon with all who visit.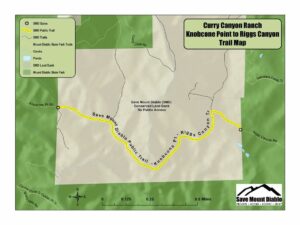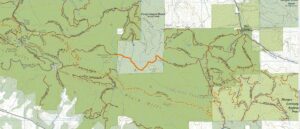 ­­­­­______________________________________________
About Save Mount Diablo
Save Mount Diablo is a nationally accredited, nonprofit land trust founded in 1971 with a mission to preserve Mount Diablo's peaks, surrounding foothills, watersheds, and connection to the Diablo Range through land acquisition and preservation strategies designed to protect the mountain's natural beauty, biological diversity, and historic and agricultural heritage; enhance our area's quality of life; and provide educational and recreational opportunities consistent with protection of natural resources. To learn more, please visit www.savemountdiablo.org.
Image Credits and Captions:
Hikers on the trail near Cave Point and Riggs Canyon. Photo: Scott Hein
Rocky cliffs in the Knobcone Point area of Save Mount Diablo's Curry Canyon Ranch. Photo: Scott Hein
The Knobcone Point Road trail segment travels along the ridgeline from Knobcone Point to Riggs Canyon. Photo: Scott Hein
Map showing the new trail segment. Map by Roxana Lucero, Save Mount Diablo
Vicinity map showing the new trail segment highlighted in orange. Map by Save Mount Diablo
Additional high-resolution photos are available upon request. Contact lkindsvater@savemountdiablo.org
Media Contacts:
Ted Clement, Executive Director, Save Mount Diablo
P: 925-947-3535, C: 925-451-8108