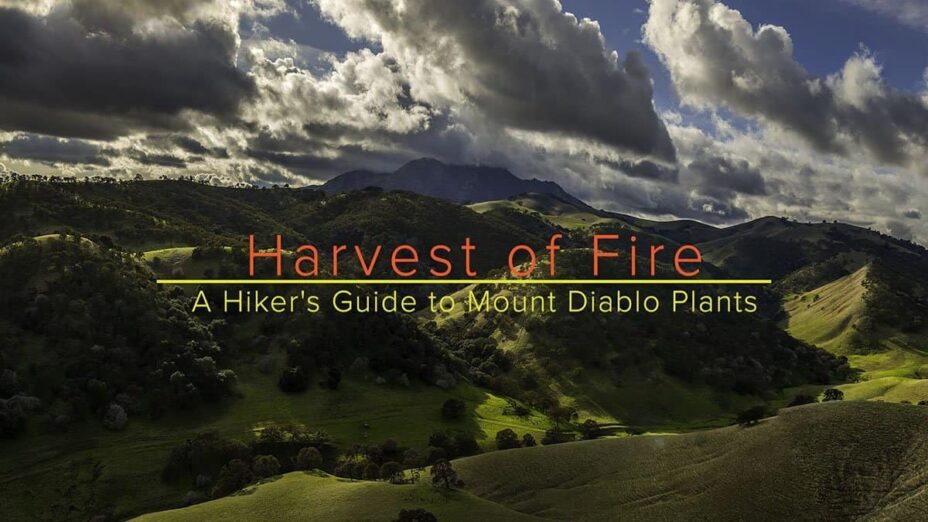 ---
WALNUT CREEK, CA—On March 14, an exciting new show on the native wildflowers that bloom after a wildfire on Mount Diablo will be premiered at a special screening event at Save Mount Diablo's headquarters in Walnut Creek, followed by a public digital release on March 21.  The show, a video podcast featuring a series of guides, explains the mountain's spectacular recovery from the 2013 Morgan Fire. It also describes Mount Diablo's botanical riches—its trees, shrubs and wildflowers—and where to find them on five classic hikes in Mount Diablo State Park.
Harvest of Fire: A Hiker's Guide to Mount Diablo Plants features interviews with expert naturalists who bring the story of the mountain's "fire followers" to life. The show describes the scientific lessons learned by botanist Heath Bartosh and ecologist Brian Peterson, ecologist Lindsey Hendricks-Franco, state park scientist Cyndy Shafer, and entomologist Kipling Will. Save Mount Diablo's Land Conservation Director Seth Adams, East Bay Regional Park District General Manager Robert Doyle, and nature journalist Joan Hamilton, Audible Mount Diablo's producer, also lend their voices and their expertise in narrating the story. Gorgeous landscape photos provided by acclaimed nature photographers Stephen Joseph and Save Mount Diablo's Board President, Scott Hein, set a stunning scene.
Small fires occur in the Mount Diablo region almost every year. But the biggest blaze in recent times came in 2013. In its aftermath, the landscape on the south and east sides of the mountain turned from black to green in a matter of months. Charred trees and shrubs sprouted from their bases. Seeds of plants that had been hiding in the soil for 40, 80, or even 120 years suddenly found a place in the sun. The mountain became an exciting natural laboratory.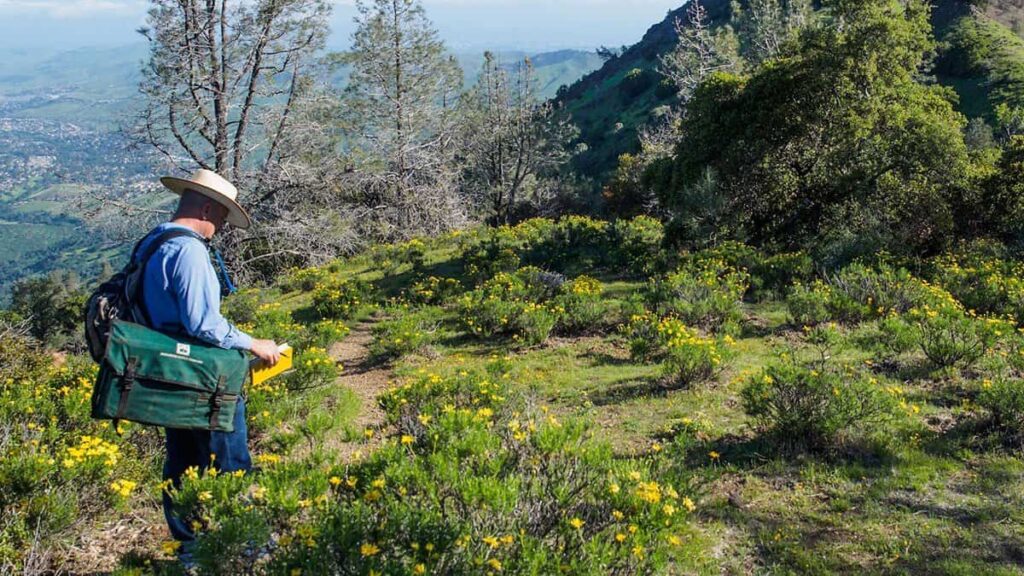 And the excitement hasn't disappeared. In this series of nine video podcasts, each four to nine minutes in length, we learn what to look for at five botanical meccas at different elevations on different sides of the mountain. We'll explore the Mary Bowerman Loop (also known as the Fire Interpretive Trail) near the Mount Diablo summit; Perkins Canyon on the east side; Curry Point to Balancing Rock on the south side; North Peak Trail, starting at Devil's Elbow and heading out to Prospectors Gap; and Back Canyon on the north side.
We also learn about the contribution of botanists who explored this area in the past. And we gain an appreciation for the uncommon processes and long hidden flora revealed by recent fires.
Our main guide is Heath Bartosh. He's co-founder of the Martinez-based consulting firm Nomad Ecology. Though Heath's specialty is endangered plants, he's also an expert on how plants respond to fire. He and his ecologist colleague Brian Peterson have studied plants' recovery from fires at Big Sur, in the North Bay, and at other sites around the Bay Area—most comprehensively at Mount Diablo. Heath is a mountain goat in the field, who lopes up and down steep hillsides to find plants most of us have never heard of, much less seen. And he's also a strong conservationist who's taken leadership positions at Save Mount Diablo and the California Native Plant Society.
Though Heath is considered an expert in the East Bay today, he says he still has a lot to learn. "Native plants are great, but they're continually humbling. Because you think you know some and you think you know a lot, and then something will happen or you go someplace new and you're like—wow—I know nothing. But there's still always that interest in learning more."
Guests will join Save Mount Diablo on Thursday, March 14 at 5:30 to 7:30 p.m. for the premiere screening of Audible Mount Diablo's newest guide to the outdoors, Harvest of Fire: A Hiker's Guide to Mount Diablo Plants. The screening will include a panel of some of the expert naturalists included in the video: Heath Bartosh, Robert Doyle, Seth Adams, Joan Hamilton, and Scott Hein.
You can also get a guided tour of "fire-following" wildflowers on a free hike led by Save Mount Diablo naturalists on March 30 at Lime Ridge Open Space. Lime Ridge burned last fall, and its wildflowers are expected to be spectacular this year. This free hike is part of Save Mount Diablo's Discover Diablo hike program.
New this year: Audible Mount Diablo is now available as a podcast show! If you subscribe to Audible Mount Diablo's podcast channel, you can download a selection of Audible Mount Diablo's video podcasts to your phone and watch or listen to them when it's convenient for you (on the trail, in your car, etc.), even when you don't have cell service or an Internet connection. You can even view episodes on your TV by casting it to a Bluetooth-compatible device such as an Apple TV or Chromecast!
Here's how to get it: You can subscribe to Audible Mount Diablo (AMD) guides on iTunes (Apple Podcasts on your phone) and Google Play Music, or use the podcast app of your choice and subscribe to AMD's RSS feed. Two seasons are currently available, including the entire Introducing Mount Diablo and Black Diamond Mines audible guides. Harvest of Fire's first episode will be released to the podcast channel beginning March 21. Subsequent episodes of the new guide will be released weekly, so be sure to subscribe to follow along!
Want to know more? Explore all of the audible guides series online at www.audiblemountdiablo.com.
—
About Audible Mount Diablo: Guides to the Outdoors
Audible Mount Diablo is an invitation to adventure. Patterned on museum tour audio guides, its free multimedia tours combine lively interviews and music with the rush of wind and the chirps, howls, and growls of wildlife. Naturalists heighten visitors' appreciation of the sights and sounds at each stop, tell tales of the mountain's past, and suggest what to look for around the next bend. Photographs pop up to help identify plants and animals. It's perfect to prepare for your first—or your hundredth—trip up the mountain.
Audible Mount Diablo is a video podcast show featuring a series of guides to the outdoors produced by Joan Hamilton. This educational program is proudly co-sponsored by Save Mount Diablo and Mount Diablo Interpretive Association.
Summary:
Featuring the release of Audible Mount Diablo's newest video guide series, Harvest of Fire: A Hiker's Guide to Mount Diablo Plants. The Harvest of Fire guide includes interviews with expert naturalists: Heath Bartosh, Seth Adams, Robert Doyle, Brian Peterson, Cyndy Shafer, and Kipling Will.
Why:
In support of Save Mount Diablo's mission, Audible Mount Diablo seeks to build awareness of local land conservation efforts and convey the importance of protecting open space for habitat and recreation by educating the community about the rich history and biodiversity of Mount Diablo and its surrounding foothills. We intend to reach audiences from all over the Bay Area and hope to inspire community conservation by strengthening public connection to these lands.
Who: Audible Mount Diablo
Audible Mount Diablo is a collection of free interpretive video guides to the Diablo region. Co-sponsored by Save Mount Diablo and Mount Diablo Interpretive Association, Audible Mount Diablo is produced by nature journalist Joan Hamilton. We invite you to join us in exploring the Bay Area's beautiful wild lands and open spaces. Learn more at www.audiblemountdiablo.com. Or subscribe to AMD's RSS feed.
Save Mount Diablo
Save Mount Diablo is a nationally accredited, nonprofit land trust founded in 1971 with a mission to preserve Mount Diablo's peaks, surrounding foothills, and watersheds through land acquisition and preservation strategies designed to protect the mountain's natural beauty, biological diversity, and historic and agricultural heritage; enhance our area's quality of life; and provide recreational opportunities consistent with the protection of natural resources. To learn more and support Save Mount Diablo, please visit www.savemountdiablo.org.
Mount Diablo Interpretive Association is a nonprofit all-volunteer organization that assists the California Department of Parks and Recreation in maintaining and interpreting Mount Diablo State Park for its 700,000 visitors each year.
High Resolution Images and Press Release Files:
http://bit.ly/AMD-HarvestOfFire
Image Credits & Captions:
Well-known botanists David Douglas, Alice Eastwood, Mary Bowerman, and John Howell (left to right in the image) each helped catalog the riches of Mount Diablo's flora. Their stories are featured in Episodes 7 (Mary Bowerman's Legacy) and 8 ("Spirit of Discovery") of Harvest of Fire: A Hiker's Guide to Mount Diablo Plants.
The end title from the video Harvest of Fire. Image credit: Laura Cunningham.
At the Mary Bowerman Science and Research Colloquium in 2016, botanist Heath Bartosh discusses an important discovery—a large, healthy population of the Mount Diablo buckwheat, a plant once thought to be nearly extinct. Photo by Roxana Lucero.
Botanist Heath Bartosh roams the slopes of Mount Diablo the spring after the 2013 Morgan Fire. Photo by Scott Hein.
This illustration by artist Laura Cunningham depicts three stages of post-fire chaparral recovery on Mount Diablo. At left, bare soil right after the Morgan Fire in 2013. Middle, bulb plants, poppies, and other wildflowers prosper the first spring after the fire. At right, wildflowers are still thriving even as vining plants and chamise begin to take over in the second spring. This illustration first appeared in the October–December 2015 issue of Bay Nature and is used here with permission from the artist and the publication.
Opening title with image of Mount Diablo and its foothills. Photo by Stephen Joseph.
Promotional graphic for the digital release of Harvest of Fire: A Hiker's Guide to Mount Diablo Plants. Photo credit: Four Corners Photo.
KEY CONTACTS:
Joan Hamilton, Producer, Audible Mount Diablo
T: (510) 990-6391, Joanham@gmail.com
Caleb Castle, Communications Manager, Save Mount Diablo;
T: (925) 947-3535 x17, C: (925) 451-8376, ccastle@savemountdiablo.org
###