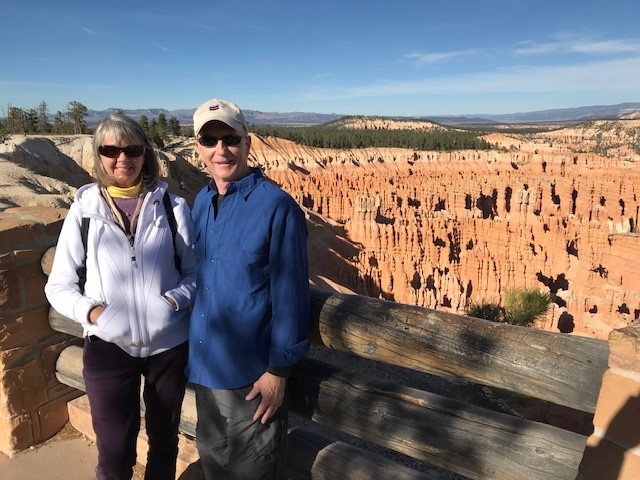 ---
Interviewed by Haley Sutton, Land Stewardship Associate
About Jim and Sharon
How long have you lived in the Bay Area?
44 years.
How did you learn about Save Mount Diablo?
Our introduction to Mount Diablo started in a rather extreme way when we moved to Concord from the Midwest in 1977 and the mountain was on fire. It has been an important landmark and destination for us ever since.
We moved to Walnut Creek from the Peninsula in 1987 and settled close to Walnut Creek open space and the state park. Being avid hikers, we quickly came to learn how much Mount Diablo had to offer.
How did you learn about Save Mount Diablo and which programs are you involved in?
We first became acquainted with Save Mount Diablo almost 20 years ago, as donors when looking for a nonprofit organization that worked to protect the open space surrounding the mountain.
Jim has been volunteering over 10 years on Discover Diablo hikes and began leading hikes upon his retirement from Chevron in 2016. Sharon began volunteering in 2018, when we began leading wildflower hikes from the Mitchell Canyon trailhead. In addition, Sharon has led an annual meditation hike and Jim leads Borges Ranch hikes into the Walnut Creek open space near our home.
About Their Work
What do you enjoy about the volunteer work you do?
Through our experiences, we have come to understand and appreciate the Save Mount Diablo mission even more. Our participation in the Discover Diablo program is continually reinforced by the positive feedback we receive from the fellow hikers on our hikes.
We enjoy sharing the interesting history, geology, flora, and fauna of Mount Diablo. The hikes become more than just exercise; they become a new connection between the participants and the mountain.
What is the most challenging project you've worked on as a volunteer?
Probably the most challenging and rewarding opportunity so far with Save Mount Diablo was creating a meditation hike for up to 30 participants.
The link between hiking and meditation is not obvious on the surface, but it was rewarding to show others that connection. Since then, we have built a short meditation into our wildflower hikes, as well.
How do you spend your time beyond your volunteer work with us?
Outside of Save Mount Diablo, Sharon enjoys leading weekly meditation and yoga sessions, while Jim manages a team for the Walnut Creek Creakers senior softball league and enjoys cycling around the East Bay.
Over the years in Walnut Creek, we have shared Mount Diablo hiking with our two sons, including one of our favorite hikes from the Macedo Ranch trailhead of the state park, through Castle Rock Regional Recreation Area, and back via Little Yosemite Valley.
Join Our Volunteer Crew! We Depend on You
Given limited staff, resources, and time, Save Mount Diablo depends on volunteers to take organizational effectiveness from excellent to exceptional. Save Mount Diablo seeks to connect a passionate community to our mission, cultivating a sense of ownership and proficiency in every volunteer position offered.
Whether you want to help with restoration and stewardship, build and maintain trails, help with events, assist in the office, lead hikes, or advocate for us, there's a place for you. For more information, check out Save Mount Diablo's volunteer opportunities.