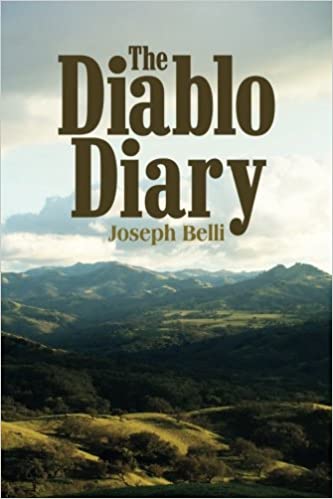 ---
Looking for a new book to read? Add Joseph Belli's stunning book, The Diablo Diary, to your list. Let Belli be your guide as you go on a literary journey into the unique and largely unknown Diablo Range. See what people are saying about this book:
"Southeast of San Francisco lies the Diablo Range—familiar to many, but little-known. Though much has been written about the California landscape, the Diablo Range has largely been overlooked.
"Wildlife biologist Joseph Belli, a lifelong resident of the region, seeks to change that. In The Diablo Diary, he presents twenty-five natural history essays focusing on the creatures, controversies, and threats to this sizable tract of de facto wilderness on the edge of the Bay Area.
"Writings on Mountain Lions, California Condors, and Tule Elk share space with pieces on California Tiger Salamanders, San Joaquin Kit Foxes, and horned lizards. Their stories often address larger environmental issues: habitat loss, the threat posed by invasive species, the consequences of water development, and policy decisions, both local and national.
"Along with essays on animals are human stories, ruminations on isolation, mortality, and coping with change, as well as humorous writings. Written with the eye of a scientist, the zeal of an activist, and the soul of an artist, The Diablo Diary is a fascinating study of an oft-overlooked mountain range and its inhabitants." —Schuyler Wallace
"Joseph Belli is a great writer. Although his 25 essays focus especially on wildlife, and their geographic center is from Mount Hamilton, to Henry Coe and Pacheco Pass, to Pinnacles, Panoche, New Idria, and San Benito Mountain, this is by far the best book written about the Diablo Range."
—Seth Adams, Land Conservation Director, Save Mount Diablo

Support Save Mount Diablo with AmazonSmile when you shop!
Did you know that every time you shop on AmazonSmile, a percentage of your purchase can be donated back to Save Mount Diablo? At no cost to you, the AmazonSmile Foundation will donate 0.5 percent of every eligible purchase to Save Mount Diablo when you designate us as your charitable organization of choice. We'll only receive donations from purchases made through AmazonSmile accessed in the following two ways:
Save Mount Diablo is a nonprofit 501(c)3 tax-exempt organization with tax ID 94-2681735.Computer: To get started, visit https://smile.amazon.com and log in with your regular Amazon account information, select Save Mount Diablo as your charitable organization, then start shopping!