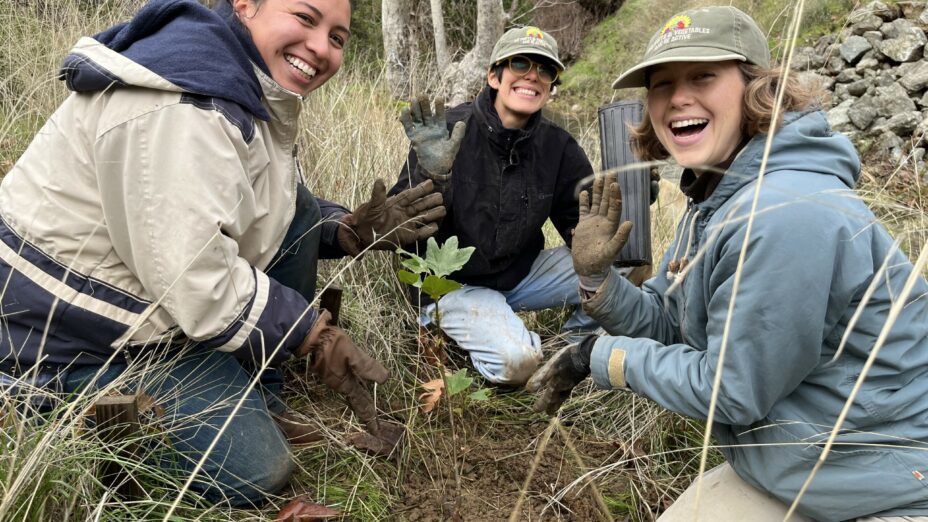 ---
We've just reached our goal of planting and protecting 1,000 native trees and plants this year!
Our 1,000th plant is a sycamore sapling that was planted at Marsh Creek 5.
The Significance of Sycamores
Sycamores are unusual trees. They are "relicts of a different climatic period," as Land Programs Director Sean Burke puts it. When the climate was warmer and drier, sycamores migrated north from the Mojave Desert to Mount Diablo.
Today they are found in canyons, arroyos, and anywhere else their roots can be submerged in water. In the Diablo Range, they are indicative of southwest-flowing streams.
These lofty requirements (water is scarce these days) have made sycamores increasingly less common on and around Mount Diablo.
So, in planting a sycamore as our 1,000th plant, we are working to preserve sycamores and the biodiversity of Mount Diablo as well as paying homage to the mountain's history.
Onward to 10,000
It has been less than a year since we announced our 10,000 Trees and Plants Project, and we have already reached our goal for this first year to plant and protect 1,000 native trees and plants.
If you'd like to help us plant more trees and natives, keep an eye on our Diablo Restoration Team page on Eventbrite, or sign up for our weekly e-news—we'll post more native plant restoration workdays to sign up for in January!
We are grateful to our lead sponsor, Marathon Martinez Renewable Fuels, for their support of this project.
Top photo by Sean Burke / Stewardship staff showing off the 1000th plant