---
Mitchell Canyon Road follows Mitchell Creek through a shady, riparian (streamside) oak woodland—a habitat full of biodiversity.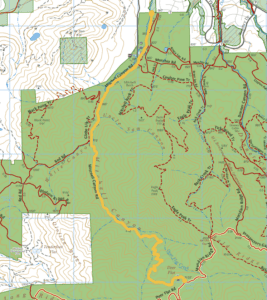 Distance: Seven miles
Elevation change: 390 feet
Difficulty: Easy
Hiking time: Two to six hours
Trail surface: Dirt fire road
Best seasons: Winter, spring, summer, and fall
Managing agency: California State Parks
Hours:  8 AM to sunset
Trailhead location: Mitchell Canyon trailhead at 96 Mitchell Canyon Road in Clayton, CA
Parking: Mitchell Canyon Staging Area ($6 fee)
Description:
Are you looking for a good summer trail but not interested in baking in the sun?
This gorgeous trail is one of the most popular locations in Mount Diablo State Park for a reason—it's an ideal place for a variety of outdoor activities, and it suits those of all fitness levels. Be aware that visitors may encounter cyclists and horses as well as lots of other hikers on this trail.
To travel on the trail, just start at the trailhead and stay on the main road following Mitchell Creek. Mitchell Canyon Road ends at the lookout near Deer Flat Creek. Those who want a more challenging hike can start the Eagle Peak Trail or the Black Point Trail in Mitchell Canyon.
Hikers on Mitchell Canyon Road will discover a variety of birds and endemic plants (plants that grow nowhere else on earth). The trail is very popular with birders, especially during the spring and summer when birds seek a cooler, shady habitat.
In the spring, there are also a lot of butterflies along the trail.
During the spring, we host a wildflower hike here because of Mitchell Canyon's accessibility and biodiversity. Endemic flowers such as the Mount Diablo globe lily can be found here in springtime; there's even a side trail named after the globe lily!
Near the trailhead, Mitchell Canyon also has a small visitor's center with some kid-friendly activities.  Next to the visitor's center, there's a native plant garden that informs and inspires people about the plants that are native to Mount Diablo.
Top photo by Laura Kindsvater