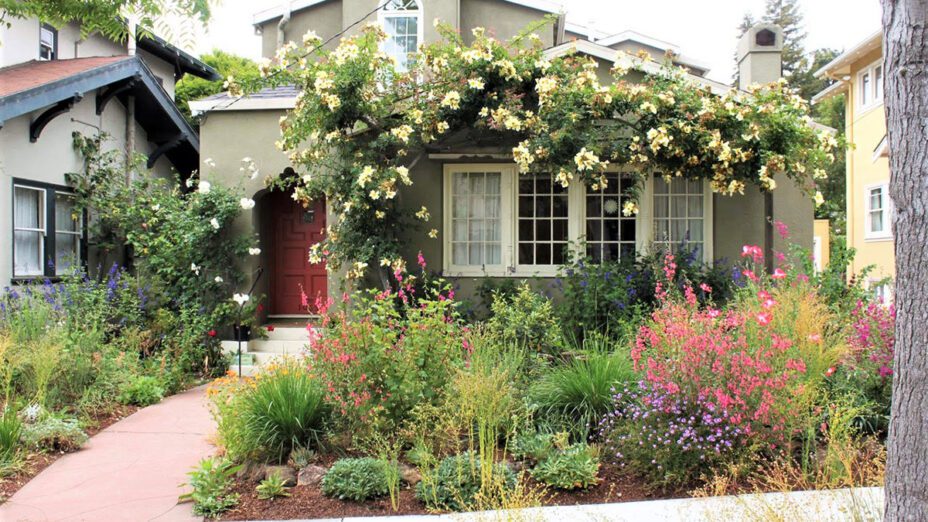 ---
This April and May, treat yourself to four days of inspiration at the 19th annual Bringing Back the Natives Garden Tour!
About the Bringing Back the Natives Tour
Starting in 2005, the Bringing Back the Natives Garden Tour has worked throughout multiple Bay Area counties to help set the standard for sustainable landscaping in northern California.
This tour will show how a beautiful native garden can be designed on any budget.
This year there will be a virtual tour on April 15 and 16 and an in-person tour on May 6 and 7. These tours will feature 55 native gardens throughout the East Bay.
You can visit these gardens, get inspired, and ask the owners any questions that come to mind about native plant and wildlife habitat gardening, sustainability, and green home features.
All featured gardens in the tour are pesticide-free, provide habitat for wildlife, and contain at least 70 percent native plants. The tour showcases their beauty in late spring, as the blooms peak throughout northern California.
On April 15, the virtual tour will begin with a welcome from organizer Kathy Kramer followed by a keynote speech by Doug Tallamy, founder of the Homegrown National Park project and author of the New York Times bestseller, Nature's Best Hope.
Doug Tallamy will describe how anyone can do their part to help reverse the world's biodiversity loss in a few simple steps.
Why Plant a Native Garden?
Though nice to look at, gardens filled with exotic plants and lawns are essentially "dead zones"—most insects require native plants to survive and reproduce.
Global insect population declines and the loss of billions of birds in North America have shown that our landscapes are failing to sustain native plants and animals. It doesn't have to be that way.
Native flowers are not only beautiful additions to a garden, they're desperately needed. As we continue to experience catastrophic biodiversity loss, every source of food and shelter counts.
A native garden is an oasis in which native insects and birds can thrive when they would otherwise starve. Even a few containers on a balcony or a step can make a big difference.
Our parks are also critically important, and at the same time, they are often too small and too far apart to allow native species populations to thrive. Native plant gardens can bridge the gap.
You can help save our local ecosystem at home by planting native plants that will support these insects. Insects in turn help support the entire food web; the bird population is directly dependent on the abundance of insects (especially caterpillars!).
Native plants and native pollinators have co-evolved. So many species of native pollinators require particular species of native plants to reproduce (lay their eggs on).
Some native plants can support hundreds of butterfly and moth species. And others, like the milkweeds that are the host plants for the endangered migratory monarch butterfly, are the only plants that can support specific species as caterpillars.
See Doug Tallamy's comprehensive list of plants native to the Bay Area and how many species they can support for more information!
Good Natives to Plant!
When planning a native garden, adding a few keystone plants can make a big impact.
What is a keystone plant? According to The National Wildlife Foundation, it is an essential native plant that supports 90 percent of the caterpillar species that enable our birds to reproduce along with our native bee species.
Check out this list of high-value natives for the Bay Area and beyond recommended by the Bringing Back the Natives Tour!
Additional Resources for Planting Your Native Garden
Ready to start planting your own native garden? There are a lot of great local nurseries that grow local native plants and high-quality resources for you to take advantage of to make a great garden.
You too can have your own personal nature preserve.
East Bay Wilds Native Plant Nursery
California Native Plant Society
Top photo: Kathy Kramer / CC BY