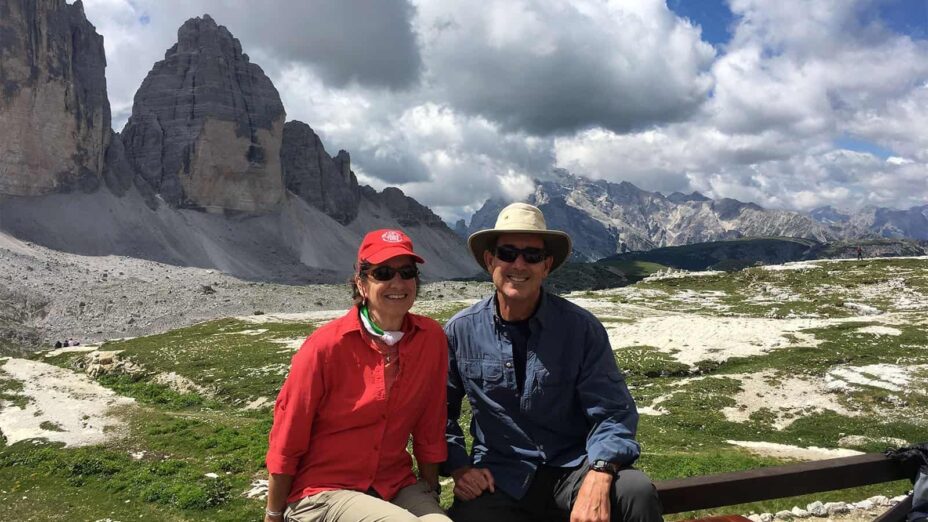 ---
Interviewed by Laura Kindsvater, Stewardship & Outreach Intern
About Steve and Carolyn
How long have you lived in the Bay Area?
Except for a year or so of college, and a first job after Cal, Carolyn has been in the Bay Area since her family settled in Palo Alto when she was three, back when Eisenhower was President. Steve's family moved to Walnut Creek from Delaware when he was a fourth grader, and Kennedy was in the White House. Carolyn and Steve met at Cal, around the time Patty Hearst was kidnapped, and got married as Jimmy Carter was running for President against Gerald Ford. They've lived in Oakland since Reagan's second term.
How did you learn about Save Mount Diablo?
Having grown up in Walnut Creek, Steve already had a firm attachment to Mount Diablo, where he often hiked as a kid. His friend, Del Monte work colleague, and fellow runner and rafter, Dick Heron, told him about SMD. Dick and his wife, Sue, had completed Four Days Diablo in 2002 and had lots of good things to say about the event and the organization. Carolyn got to hear about it all, too.
What did you do before you retired and started volunteering with SMD?
Steve worked for Del Monte Foods as the Director of Ag Research and Seed Operations. Carolyn worked for several organizations, heading up corporate training and professional development areas. Both of us volunteered for a number of years for Leukemia and Lymphoma Society's Team In Training program. Carolyn coached marathon walkers for about eight years, then helped design LLS's national hike program, and coached TNT hikers for another 11 years, mostly with Steve as the assistant coach.
How long have you been volunteering with us?
We can't remember! Steve had set up a couple of Del Monte volunteer days with SMD while he was still working, and Dick dragged us out here and there. We started our more serious involvement in 2015 with the hike program and the BioBlitz. Our past involvement has been shorter than we expect our future involvement will be.
How did you decide to get involved with SMD?
Mount Diablo deserves to be preserved, defended, restored, and enjoyed, and SMD is the group to do all that. We knew we'd be able to increase our involvement once we both retired (and that happened during Obama's second term).
About Steve and Carolyn's Work
Which SMD program(s) are you involved in?
We've focused most of our efforts on the Discover Diablo hike program and Four Days Diablo. We've also helped at the annual Bioblitz events, the Trails Challenge at Castle Rock, and Moonlight on the Mountain, which we expect to do again. Steve has also helped the IPM group on an embarrassingly unreliable basis.
What does your volunteer work consist of and what do you like about it?
With Discover Diablo, we helped give it its present form, and we work with other hike leaders in planning the overall schedule. We also lead and sweep a few of those hikes. For Four Days Diablo, we're on the crew of those who haul and lug gear, and create an enjoyable, relaxing environment for the participants. We also started a program of prep hikes, to help 4DDers prepare for their days of hiking. We love sharing the wonders of Mount Diablo with others and getting to know others committed to this spectacular place. We were also honored to be sponsored by SMD to become certified California Naturalists, where we learned lots and met more cool people.
What is the hardest project you've worked on while volunteering?
4DD involves so many details! It truly takes a village to make that event hum. Thanks to long-standing volunteers (we're the newcomers), it's a finely tuned, well-oiled machine. The physical aspects of being on the crew are probably easier than the logistics, making sure that everything is ready and gets to the right places at the right time.
What is one of your favorite memories volunteering with us?
You can't beat sitting around a campfire on the last night of 4DD, enjoying mountain views, wine, conversation, and camaraderie with others who love being out there, too.