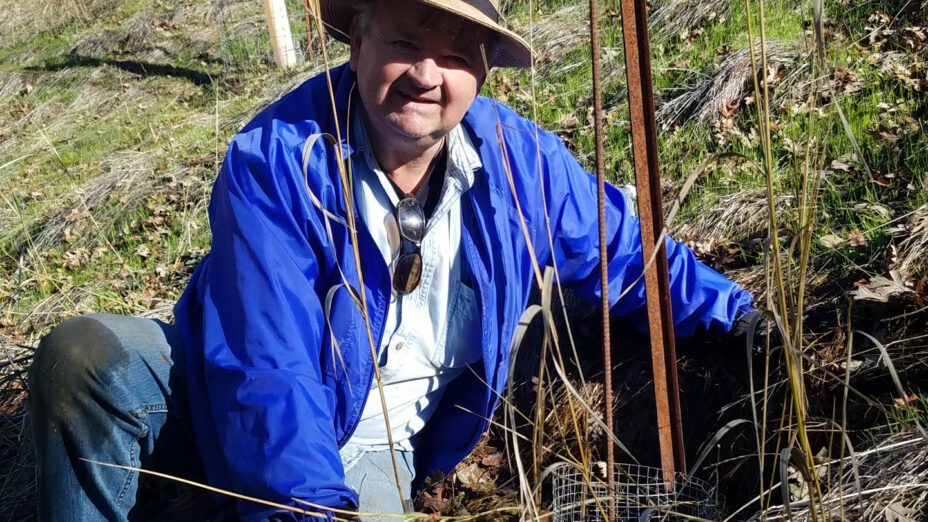 ---
Interviewed by Haley Sutton, Land Stewardship Associate
About Pete
How long have you lived in the Bay Area?
Since 1959.
How did you learn about Save Mount Diablo?
I saw a Save Mount Diablo event described in the Contra Costa Times [now East Bay Times].
When did you start volunteering with us and why did you get involved?
I started with Save Mount Diablo 10 years ago. I had been identifying and logging native wildflowers on my hikes when I became aware of Save Mount Diablo . . . seemed like a good fit.
About Pete's Work
Which Save Mount Diablo programs are you involved in?
Non-native plant removal and planting, maintaining native plants.
What do you enjoy about the volunteer work you do?
Restoring and preserving our natural assets in response to the vast increase in population and development in the Bay Area.
What is the most challenging project you've worked on as a volunteer?
Milk thistle removal is a little tricky. Cutting the spikes off where you need to grip is helpful. Watering new plantings on steep slopes keeps me young.
Is there a memorable experience you've had as a Save Mount Diablo volunteer?
I spent a lot of time exploring creeks as a kid, a wondrous pastime. On several Save Mount Diablo projects we've been in Marsh Creek cleaning up, restoring native plants and consequently bringing back wildlife. Creeks are a lifetime favorite of mine.
How do you spend your time beyond your volunteer work with us and what did you do before you started volunteering with us?
I worked produce for Diablo Foods before retiring in 2008. I currently split my time between here and San Diego. I volunteer there with Friends of Tecolote Canyon. They do the same thing we do. Bless their hearts.
Join Our Volunteer Crew! We Depend on You
Given limited staff, resources, and time, Save Mount Diablo depends on volunteers to take organizational effectiveness from excellent to exceptional. Save Mount Diablo seeks to connect a passionate community to our mission, cultivating a sense of ownership and proficiency in every volunteer position offered.
Whether you want to help with restoration and stewardship, build and maintain trails, help with events, assist in the office, lead hikes, or advocate for us, there's a place for you. For more information, check out Save Mount Diablo's volunteer opportunities.