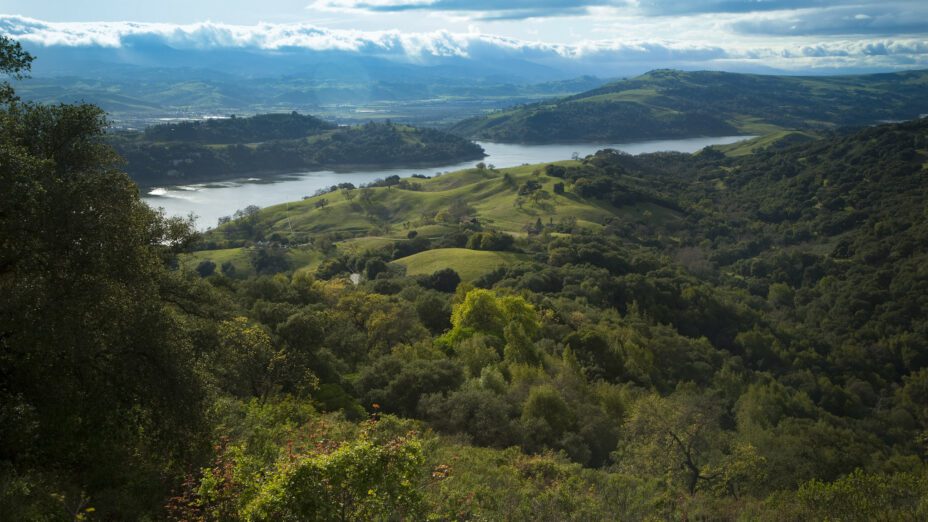 ---
By Robert Casey
What is the largest state park in northern California? You might be surprised to learn that it's Henry W. Coe State Park, with more than 87,000 acres of terrain that ranges from lofty ridges to steep canyons.
Henry W. Coe State Park offers an incredible variety of activities for hikers, campers, mountain bikers, backpackers, and equestrians. Be sure to bring a camera, because the opportunities for nature photography are endless.
Here is everything you need to know to visit Henry W. Coe State Park.
How to Get There
If you have never been to Henry W. Coe State Park, your first stop should be to the visitor center at the Coe Ranch entrance, about a 30-minute drive from Highway 101. To get there, drive to Morgan Hill, then take the East Dunne Avenue exit from Highway 101.
Head east and climb into the hills for three miles. At the top of the first ridge of hills, at a Y in the road, look for a sign that says "Henry W. Coe State Park, 10 miles." Bear right at the Y. The road crosses a bridge and parallels Anderson Reservoir before you reach the visitor center.
The Coe Ranch entrance is open 24 hours a day, year-round. It's the only entrance with both visitor facilities and a drive-in campground. It's also the only place you can bring a dog into the park, although they need be kept on a leash at all times.
Dogs are also not allowed on the hiking roads and trails, except for the half-mile trail between the visitor center and the entrance parking lot.
The other public entrance is Hunting Hollow and Coyote Creek Gate on Gilroy Hot Springs Road in Gilroy. This entrance is also open year-round.
You must park at the Hunting Hollow entrance because there is no parking at the Coyote Creek Gate. Dogs are not allowed beyond the entrance.
The Dowdy Ranch Visitor Center is accessed by the Bell's Station Gate off Pacheco Pass Highway. It is usually open during the late spring, summer, and early fall, depending on staffing.
What Does It Cost?
The day-use fee at Coe Ranch and Dowdy Ranch entrances is $8. The Hunting Hollow entrance is $6, or $5 for seniors. For the drive-in campsite, rates are $20 a night, which includes a vehicle. Additional vehicles are $8 per night. If you're a senior, you can save $2 per night.
For group camping, the Manzanita Point group campsite, which was recently closed for maintenance, has reopened. Rates are $75 per night, which includes two vehicles. Additional vehicles are $8 a night, with a maximum of five vehicles.
Backpacking fees are $5 a night, per person. The backpack vehicle fee is $8 a night at Coe Ranch and Dowdy Ranch entrances. Hunting Hollow's backpack vehicle fee is $6 a night.
Horse camp is $25 a night, which includes one vehicle and two horses. Additional vehicles are $8 a night. Additional horses are $5 a night.
Tips on Things to Do at Henry Coe
Hiking
The park has more than 250 miles of hiking trails, ranging from leisurely loops of about 1.5 miles with little elevation change, to strenuous loops of 50 miles or more with elevation changes in thousands of feet.
On long hikes, be sure to take plenty of water and food. You should also carry a map, because Coe is a large wilderness and it's easy to take a wrong turn and get lost.
It's a good idea to stop at the visitor center for a map and to ask about hikes suitable to your interests and fitness level. Maps are also available online on the Pine Ridge Association's website.
Camping
Camping is available at the Coe Ranch entrance campground at the end of East Dunne Avenue. The campground is located on top of a ridge at 2,600 feet with dramatic views of the backcountry and the southern part of the Santa Clara Valley.
Each of the 19 drive-in campsites has a picnic table and fire pit with a grill grate, which is the only allowed place for fires when weather conditions permit. Standard primitive sites have a parking spot near where you camp.
Vault toilets and potable water are near each site. There are restrooms with flush toilets, sinks, and mirrors in the visitor center a short walk away. There are no showers or RV hook-ups. There is a maximum of eight people per site.
Campsites can be reserved online via Reserve California. Sites that haven't been reserved are available on a first-come, first-serve basis. The campground tends to fully book on Saturdays, as well as many Fridays, during spring, summer, and holidays.
For group camping, Coe has 11 hike-in campsites for groups of nine to 50 people. Each Manzanita Point group site is primitive, with picnic tables and a nearby vault toilet, along with fire rings that can be used when fires are allowed.
Manzanita Point Group camps are located two to three miles from the Coe Ranch entrance. The Poverty Flat hike-in group site is four miles from the Coe Ranch entrance; groups of 9 to 25 people are allowed.
Poverty Flat has one vault toilet available and no fire ring because fires are not allowed there. Dogs are not allowed at any of the group camps.
Vehicle access to Manzanita Point group camp is restricted to driving equipment to your site and leaving the vehicle at the site for the duration of your stay.
When group camping at the Poverty Flat site, you cannot drive equipment to the site. The road isn't suitable for public driving.
Backpacking
The park has space for more than 60 backpacking groups, with a maximum of eight people per group. Sites range from less than a mile to more than 20 miles from park headquarters.
Campsites are assigned on a first-come, first-served basis, but you are always likely to get a good campsite, even during busy spring months. Dogs are not allowed on backcountry trails, and ground fires are not allowed anywhere in the park.
Before starting out, you must register, pay your camping and parking fees, and obtain a permit on the day of your departure. This can be done at the Coe Ranch or Dowdy Ranch visitor centers. At the Hunting Hollow entrance or when the visitor centers are closed, self-registration is available.
Mountain biking
With its 290 miles of trails and roads that are open to mountain bikes, Coe offers the most of any California state park. However, the Orestimba Wilderness is closed to mountain bikes; even walking your bike there is not allowed.
Dirt trails in all other areas are open. Ask for a bike map at the visitor centers.
Horseback riding
Henry Coe has almost 100 square miles of classic California terrain. There are three entrances for equestrians.
The entrance at Hunting Hollow, only seven miles from highway 101, is the most widely used for day riding, and there is ample parking for horse trailers. The other equestrian entrances are at Coe Ranch and Dowdy Ranch.
A good introductory day ride is the seven-mile round trip along Hunting Hollow Road. The scenic service road parallels Coyote Creek. It is relatively level and crosses the creek several times.
Fishing
Henry Coe has great fishing for largemouth bass, green sunfish, crappie, and bluegill in its lakes and ponds. Spring is possibly the best season for fishing. Fall and winter, between storms, can be nice, but the fishing is usually slow during cooler months and the hot months of summer.
Tips for the Backcountry at Henry Coe
Carry extra water and find out which springs, creeks, and reservoirs are reliable sources of summer water.
Available water could be a flowing spring oasis, a mud hole, or a stagnant pool. Don't rely on a single observation about water availability; consider alternate water sources as a backup. Consider recent weather conditions because they can change quickly, especially during winter storms. Many of the smaller ponds can dry up quickly. Use extreme care when crossing creeks. Purify all backcountry water that you intend to consume.
For more information, be sure to drop by a visitor center or the website produced by the Pine Ridge Association, which assists park staff in providing interpretive and education programs.
Armed with lots of information, enjoy your visit to Henry W. Coe State Park!
Top photo by Peter Kemmer / CC BY-NC-SA 2.0