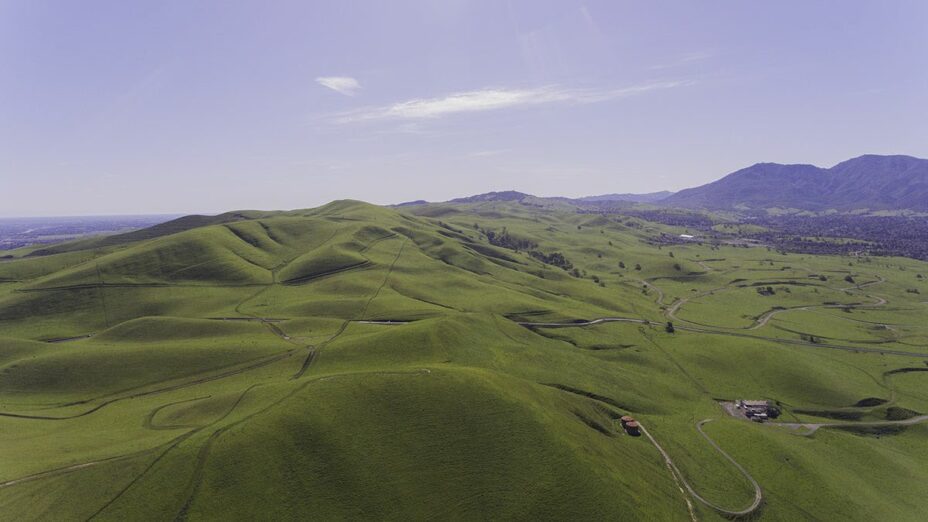 ---
East Contra Costa County boasts an impressive amount of park accessibility with state and regional parks—but access to nature isn't equal.
Pittsburg is one of the most deprived cities of the county in terms of access to large open spaces and regional parks; it's also home to more communities of color than nearby cities. Residents need to travel farther to reach large open spaces.
However, this situation could all change in the future. The East Bay Regional Park District is working to open a new 2,700-acre regional park—Thurgood Marshall Regional Park—in Concord along the ridge between Pittsburg and Concord.
The opening of Thurgood Marshall Regional Park presents an opportunity for new park access in Pittsburg.
However, one developer with a long history of environmental destruction in the region, Seeno/Discovery Builders, threatens to negatively impact the park with a development project.
Their Faria development project plans to build 1,500 houses on more than 600 acres on the ridge right above and next to Thurgood Marshall Regional Park.
Disparities in Park Access
Nationwide, marginalized communities face more restrictions and barriers to park access.
One assessment shows that communities of color are three times more likely than white communities to live in nature-deprived areas. And about 70 percent of low-income communities live in nature-deprived areas.
According to census data, Walnut Creek has the highest percentage of white-only residents. Walnut Creek residents have an abundance of opportunities to access nature, including Mount Diablo State Park and various regional and local parks.
Walnut Creek residents have access to Castle Rock Regional Recreation Area, Shell Ridge Open Space, and Lime Ridge Open Space among other parks, green belts, and open spaces.
Pittsburg is home to a higher percentage of communities of color than any other east Contra Costa County city. It has the highest percentage of Latino people, the second highest percentage of Black people, and the lowest percent of white-only people.
Much of Pittsburg is also mapped as a disadvantaged community by the California Environmental Protection Agency.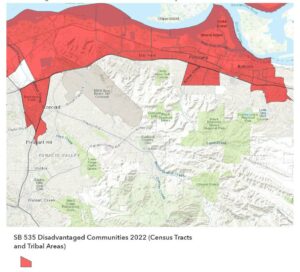 Compared to other cities in Contra Costa County, Pittsburg residents need to travel farther to reach large open spaces or regional parks.
Pittsburg is home to two regional preserves. Browns Island is located in the Delta and has access by arrangement only, making the preserve more similar to a conservation area than a park.
Bay Point Regional Shoreline is nearby but is very small, with only one trail. It is surrounded by industrial development.
Black Diamond Mines Regional Preserve is located in the southeastern portion of Pittsburg's planning area, placing it inside the city. However, there is no public access to the park from Pittsburg.
Trails leading into the park from Pittsburg are feasible. However, development or private land, often controlled by Seeno companies, blocks access.
Several regional trails go through Pittsburg, but don't provide access to a regional park in Pittsburg.
Pittsburg has no access to state parks and very limited access to regional parks, and it's a problem that has gotten worse.
As the city notes in its General Plan, the pace of park and open space acquisition has decreased in the last decade.
Sprawl Destruction and Inequity
Why does Pittsburg have more barriers to accessing parks and open space? In the Bay Area, urban sprawl has destroyed many natural spaces.
As sprawl pushes low-density housing further away from denser urban centers, it spreads out into open space, often destroying sensitive resources in the process.
The effects of sprawl development can be catastrophic and often disproportionately impact marginalized communities.
During the early 2000s in Pittsburg, a Seeno-owned company was working on a subdivision project and discovered California red-legged frogs living in the ponds within the project zone.
The frogs are a federally protected threatened species, and so the ponds are critical habitat. Instead of building around the ponds, the company illegally drained and filled the two ponds, and bulldozed the creeks.
They wiped out the threatened species and its habitat.
Communities of color are far more likely to experience environmental exploitation than other groups.
According to one report, the United States experienced a loss of natural area to development at a rate equivalent to a football field every 30 seconds between the years 2001 and 2017.
Communities of color disproportionately lost more open space than white communities.
Improving Outdoor Equity
In recent years, a greater initiative has been taken to address systemic inequality to park access.
The 2021 Outdoor for All Initiative budget included an unprecedented $1 billion investment to improve access to related infrastructure and programs, focusing especially on disadvantaged communities.
The following year, Governor Newsom signed the Equitable Outdoor Access Act, making it a state policy that Californians have equitable opportunities to safe and affordable access to nature, which extends to local, regional, state, and federal parks.
Beyond the state level, equal accessibility to parks is emphasized at the county level. The Contra Costa County Climate Action Plan included increasing access to parks and open space as a major strategy toward climate equity.
The document states an ambitious target of "all residents being located within a half-mile of a park or other green space."
New Park Access for Pittsburg
The creation of Thurgood Marshall Regional Park presents a new opportunity for park access for Pittsburg residents. The 2,700-acre park is located in Concord but is right next to the ridge between Concord and Pittsburg.
Bordering the park lies one of Seeno's proposed development projects, the Faria project. The project as currently approved would build 1,500 units across more than 600 acres on the hills bordering Pittsburg and the new Thurgood Marshall Regional Park.
Seeno/Discovery Builders currently plans to bulldoze and build directly on the ridgeline.
That would negatively impact the park and could make access to the park by all Pittsburg residents more difficult (as Seeno/Discovery Builders has so far at Black Diamond Mines Regional Preserve).
In theory, this development offers a new staging area for the new regional park, but it's tricky given the developer's history.
Seeno is the same family responsible for previously destroying a federally protected habitat in Pittsburg. Seeno often shows as little detail in their projects as cities will allow them, and frequently change project details later.
To make matters more complicated, in 2020 Albert Seeno III sued the East Bay Regional Park District to halt the creation of Thurgood Marshall Regional Park.
The Faria project has the ability to dramatically impact the new regional park, for better or for worse. Multiple access points to the park and an open space buffer could promote park accessibility, if the project were restructured and a few units moved off the ridge.
Alternatively, building on the ridge would degrade the park's natural aesthetics, destroy wildlife habitat and connectivity, and increase fire risk for homes in and below the development.
Now is a critical time, while new initiatives are creating new policies to promote equitable access to outdoor recreation.
Can a developer with a history of destroying habitat and suing to stop the creation of a regional park be trusted to create equitable access to open space—especially when it comes to a city that is currently underserved with recreational access?