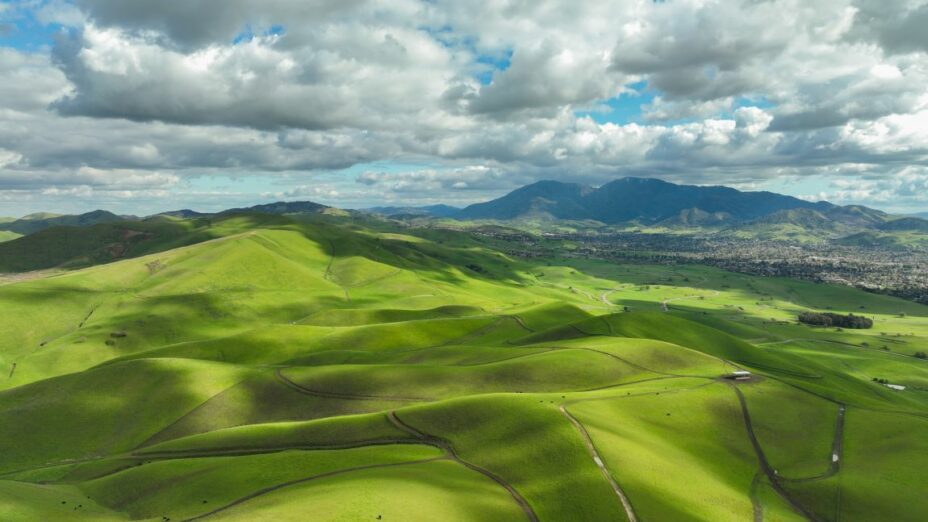 The ridge between Pittsburg and Concord that we are working to save. Photo credit: Cooper Ogden
SAVE THE RIDGE!
In April, four of the five members of the Pittsburg City Council approved the disastrous Faria project that would bulldoze the top of Pittsburg's hills, but the fight to save the ridge isn't over yet.
Please make your voice heard and tell Pittsburg's City Council what you think about this terrible decision by sending a quick and easy email with our action tool.
The beautiful hills that overlook the future Thurgood Marshall Regional Park on the former Concord Naval Weapons Station are under threat.
A developer with a long history of questionable activities, Seeno companies, want them annexed into Pittsburg. They want to build 1,650 units on more than 600 acres of these scenic hills. This annexation is known as the Faria project.
On February 22, the Pittsburg City Council unanimously approved the Faria project, despite hundreds of comments and letters from Pittsburg residents that opposed the project.
The Faria project would change the beautiful green hills forever by annexing the property to the City of Pittsburg and locating 1,650 new residences far from jobs, transit, and services.
As a result, habitat for imperiled wildlife would be lost. Extensive grading would increase landslide risks and degrade creeks and streams.
Building in the wildland urban interface would create new wildfire risks and strain the City of Pittsburg's existing firefighting services. Traffic on Bailey Road, San Marco Blvd., and Highway 4 would be made much worse.
In late March, we filed a lawsuit challenging the City of Pittsburg's approval of the Faria project. Here's a legal summary of the lawsuit.
The project violates Pittsburg's General Plan, state planning and zoning law, and the California Environmental Quality Act (CEQA). CEQA requires legally adequate environmental review, consideration of appropriate alternatives, and implementation of mitigations to reduce impacts.
The Contra Costa County Local Agency Formation Commission (LAFCO) recently rejected Seeno's application to advance the Faria project.
LAFCO decides how cities can grow by deciding if they have followed the steps necessary to annex land or not. Seeno's application falls short on at least 10 requirements.
This rejection does not mean the Faria project is stopped, but it confirms what we've said all along: not only is this a bad project, it's premature, and not enough information has been made available to properly evaluate its impacts.
Save Mount Diablo is not opposed to all growth. Pittsburg has thousands of housing units already approved but not yet built. They include units at Seeno's San Marco, Sky Ranch II, Montreux, and Tuscany Meadows projects.
A smaller or more compact Faria project could easily protect the beautiful ridge, expand the new regional park onto the Pittsburg side, and provide easy public access for Pittsburg residents.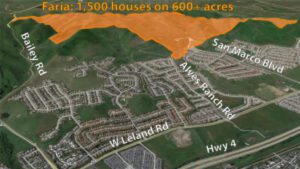 What You Can Do for Pittsburg's Hills
Follow Save Pittsburg's Hills on Facebook to see updates.
Share this post with other Pittsburg residents.
Consider donating to or joining Save Mount Diablo.
Watch our 80-second video to see for yourself the beautiful land and incredible views that Seeno's 1,650-house Faria development would ruin. Development would occur right on top of these hills, and impact the new regional park on the Concord side. Pittsburg residents deserve to have access to this park and trails showcasing these beautiful views and wildlife habitat. Faria would just give residents 1,650 houses worth of traffic, degraded views, paved hills, and blocked access to the new park.
Here are some of the comments from Pittsburg residents opposing the Faria project.
Sign up for our newsletter, Save Pittsburg's Hills, for updates on Faria.