Governor Newsom Agreed to Protect Tesla Park
With your help, Senate Bill 155, the Natural Resources Trailer Bill, which includes the Tesla Park preservation provisions, was passed by the Legislature on September 9, 2021 and signed by Governor Newsom on September 23, 2021.
SB 155 maintains that
Tesla Park will not be designated as a State Vehicular Recreation Area, and future off-highway vehicle development and expansion cannot occur in Tesla Park.
Tesla Park will be under control of State Parks and the Parks and Recreation Commission, not the Off-Highway Motor Vehicle Recreation Division and OHMVR Commission.
Special thanks to Assemblymember Bauer-Kahan and Senator Glazer, as well as local officials and you, for advocating for Tesla Park. More than 10 years of hard work have finally paid off.
Where Is Tesla Park?
Mount Diablo is part of a 150-mile chain of mountains, the Diablo Range. It's essential that we connect Mount Diablo to the rest of the Diablo Range so that wildlife and native plants can continue to thrive.
There's an important wildlife corridor that connects Mount Diablo to the Diablo Range: it's the area north and south of Altamont Pass. Making sure this area remains wild and undeveloped is very important, because it is the one major area between Mount Diablo and the rest of the Diablo Range that hasn't been urbanized yet.
This incredibly important wildlife bottleneck corridor is about 10 miles wide and includes an area of critical biodiversity southeast of Livermore that's called Corral Hollow.
Corral Hollow includes an off-road vehicle park called the Carnegie State Vehicular Recreation Area (SVRA), and adjacent to the Carnegie SVRA is an area known as Tesla Park.
What Was Going On with Tesla Park?
Carnegie SVRA is owned by California State Parks and covers 4,675 acres of land southeast of Livermore, right off Tesla-Corral Hollow Road. The eastern third of that land has been open to off-road vehicle use for many years.
The western two-thirds of the land is known as Tesla Park. It's 3,100 acres of beautiful hills and creeks covered with grassland, woodland, chaparral, and riparian vegetation.
There are also a historic mining town and native American cultural sites on the property.
The OHMVR (Off-Highway Motor Vehicular Recreation) Division of State Parks has submitted three EIRs (Environmental Impact Reports) and General Plans to open Tesla Park to off-highway vehicle recreation.
All three of those reports have been rejected, largely because of the lack of environmental safeguards. The latest of those reports was ruled legally invalid by a Sacramento County Superior Court Judge in early 2021.
The OHMVR Division staff say that if they follow their own guidelines, the expansion will have no significant environmental impacts. It only takes one look at a satellite image or to see the land where they're already off-roading, to know that that's crazy.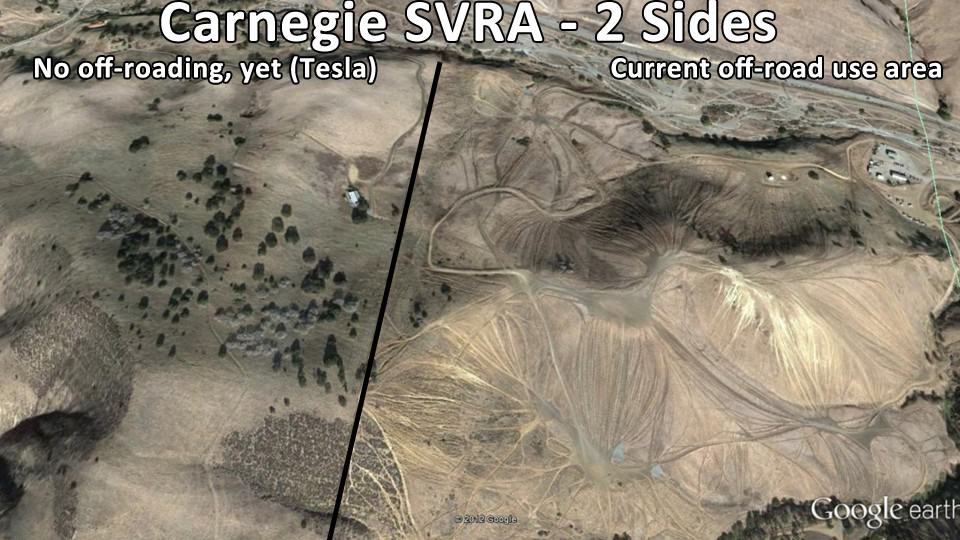 Figure 1. Aerial view of Carnegie SVRA. Tesla Park, where off-road use is not permitted, is on the left. The current use area is on the right, with obvious scarring of the land.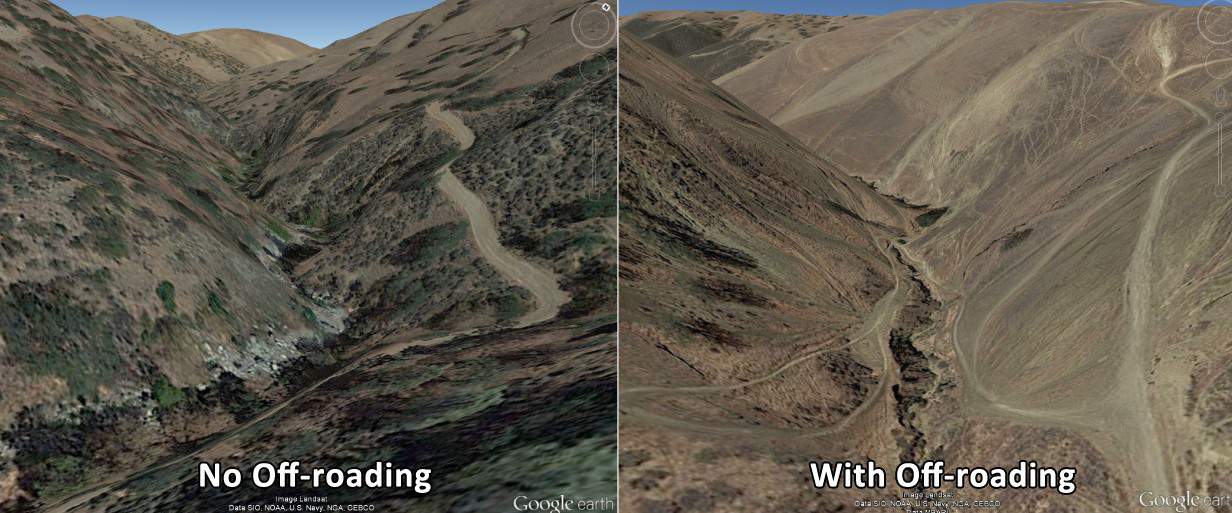 Figure 2. Carnegie SVRA Limited Recreation Areas (highest protection, most sensitive resources). The image on the left is from Tesla Park. On the right is within the Carnegie off-road use area. This image shows that even in areas designated as sensitive and low use, there is no protection if off-roading occurs.
Why Does Tesla Park Matter to the Public and Save Mount Diablo?
Tesla is special. It holds irreplaceable archaeological and spiritual Native American sites, including ceremonial and burial sites (read tribal chairperson Katherine Perez's open letter to protect Tesla).
Also the site of the historic abandoned mining town of Tesla, the park is home to a staggering amount of biodiversity, making it famous among generations of scientists, teachers, and students. Tesla is home to 42 special status wildlife species, including the golden eagle, California tiger salamander, and California red-legged frog (read why UC professors called on Newsom to save Tesla).
The Carnegie SVRA sits across a vital wildlife corridor that connects the Mount Diablo region to the rest of the Diablo Range. If Tesla Park opens up to off-roading, nearly the entire corridor will be blocked by off-road use.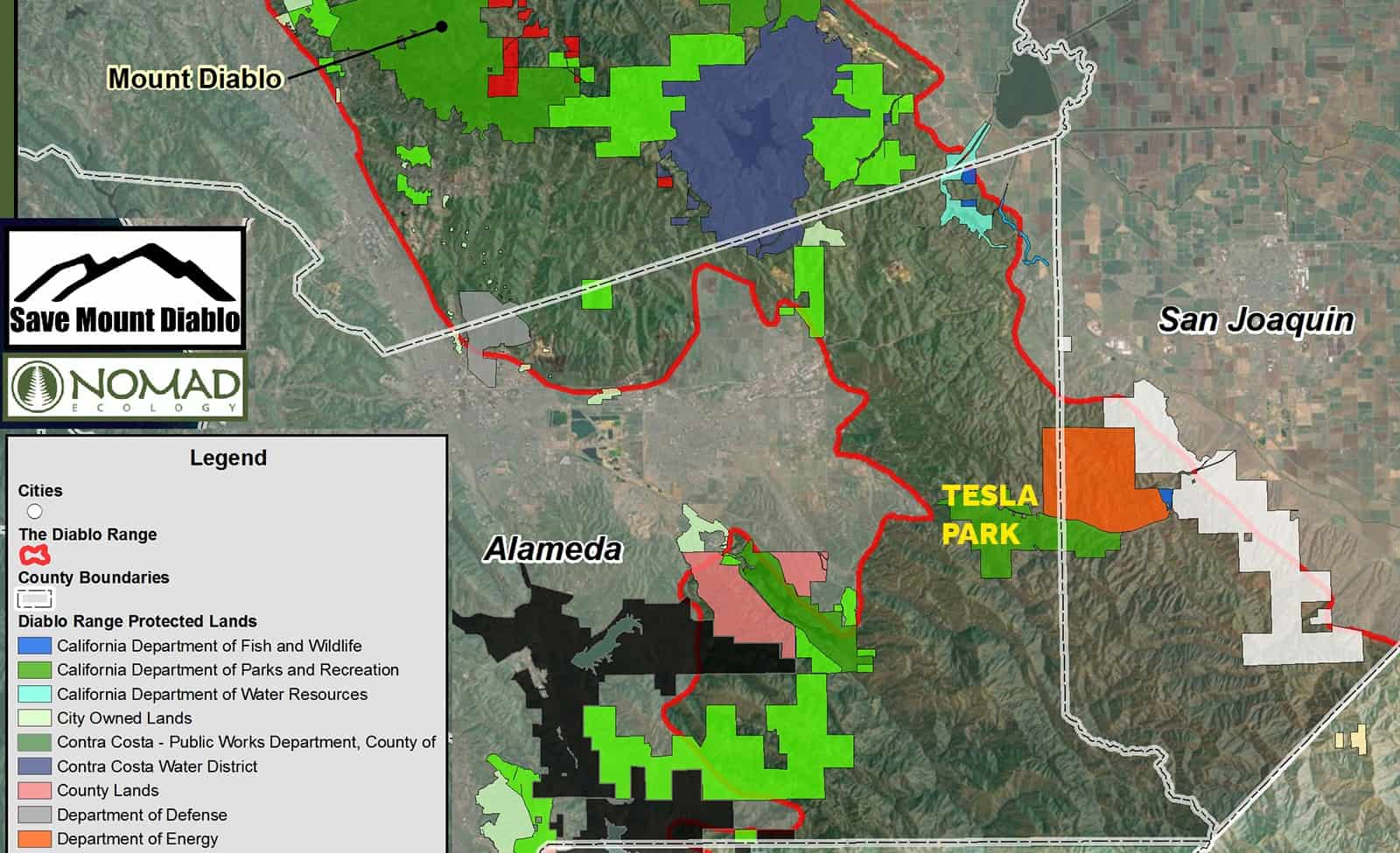 The OHMVR Division is not mitigating (compensating for its negative environmental impacts. It's a legal requirement) for its activities on the land that it's already using at Carnegie, let alone for the land where it wants to expand.
OHMVR is relying on its own guidelines to say it will have no significant impacts on the environment. However, the lands where off-roading already occurs, even areas it has classified as the most environmentally sensitive, where the most restricted off-road use occurs, have been destroyed.
The number of people who use state park areas to off-road is just a fraction of those who use them to hike, enjoy scenery, watch wildlife, and engage in many more uses that allow them to enjoy the land without destroying it. Plus, attendance at Carnegie SVRA has decreased by over half since 2007.
These lower impact uses also bring in much more money for state parks. Mount Diablo State Park, for example, brought in more than $1.2 million in revenue in fiscal year 2013–2014. Carnegie SVRA only brought in a quarter of that, and it costs significantly more to operate in terms of staff and equipment.
We're thrilled that Tesla Park is being made into a non-motorized preserve that protects the natural and cultural resources of the land while also letting people enjoy the area.
This action will benefit a much larger number of people than giving it over to off-roading.