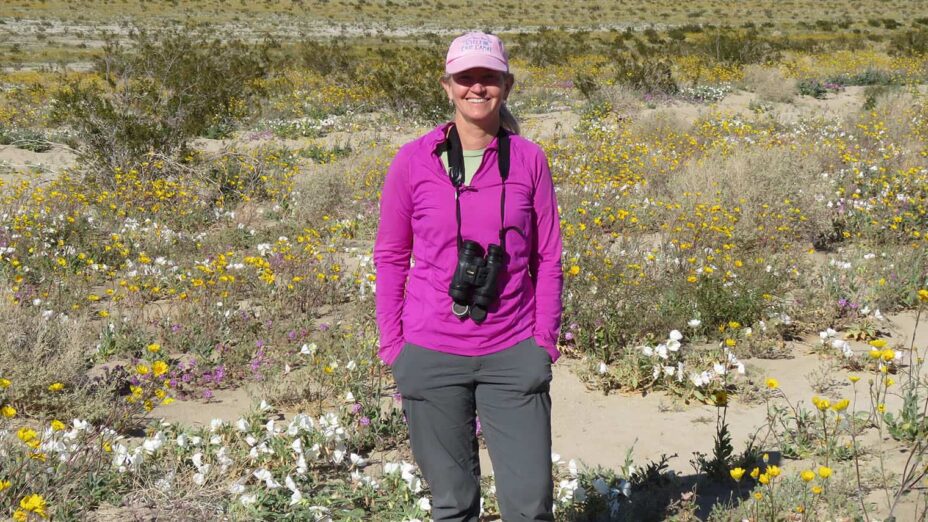 ---
Interviewed by Roxana Lucero, Land Stewardship Manager
About Maren
How long have you lived in the Bay Area?
I have lived in the Bay Area off and on for about 25 years. We moved around quite a bit because of my husband Jerry's jobs with Chevron. We've lived in Concord, Danville, and now, Walnut Creek.
How did you learn about Save Mount Diablo?
I learned about Save Mount Diablo through Gary Bogue's columns in the East Bay Times, but got more interested as we retired and it freed up time to explore Mount Diablo and groups working to protect it.
What did you do before you started volunteering for us?
I taught fourth and sixth grades in both the San Ramon Unified School District and in Pleasanton Unified.
How long have you been volunteering with us?
I have been volunteering for Save Mount Diablo for about three years.
What were your reasons for getting involved with Save Mount Diablo?
I am active with Mt. Diablo Audubon Society (MDAS), and was interested in promoting educational opportunities including bird-watching to engage more people in learning about Save Mount Diablo and area birds.
About Maren's Work
Which Save Mount Diablo programs are you involved in?
I have helped lead a few birding hikes with co-leaders on Save Mount Diablo's Curry Canyon Ranch and Irish Canyon properties, and helped with one BioBlitz. On occasion, I join my husband on his monthly trips as a steward of Young Canyon.
What does your volunteer work consist of and what do you like about it?
There are so many wonderful environmentally focused groups in our area, and I was keen to cross-pollinate them, if possible, through birding activities. It seemed like a natural combination to propose birding-focused hikes through the year-long Discover Diablo public hikes program—promoting the conservation efforts of Save Mount Diablo and natural benefits to wildlife, while sharing the joys of birding, too. Any time I can hang out in nature is a good day!
What is an especially memorable experience you've had as a Save Mount Diablo volunteer?
It's always fun to spark an interest in nature and conservation. On our birding hikes, we bring loaner binoculars, and we had a young man who came with his mother who was awesome at spotting birds with his young eyes, making it fun to then share identifications. Hopefully, it was a memorable experience that will spark his interest in being a good steward of the land. We have also had hikers who would normally have walked briskly who enjoyed taking time to stop and enjoy the scenery, and some cool birds, all at a slower pace.
Join Our Volunteer Crew! We Depend on You
Given limited staff, resources, and time, Save Mount Diablo depends on volunteers to take organizational effectiveness from excellent to exceptional. Save Mount Diablo seeks to connect a passionate community to our mission, cultivating a sense of ownership and proficiency in every volunteer position offered.
Whether you want to help with restoration and stewardship, build and maintain trails, help with events, assist in the office, lead hikes, or advocate for us, there's a place for you. For more information, check out Save Mount Diablo's volunteer opportunities.