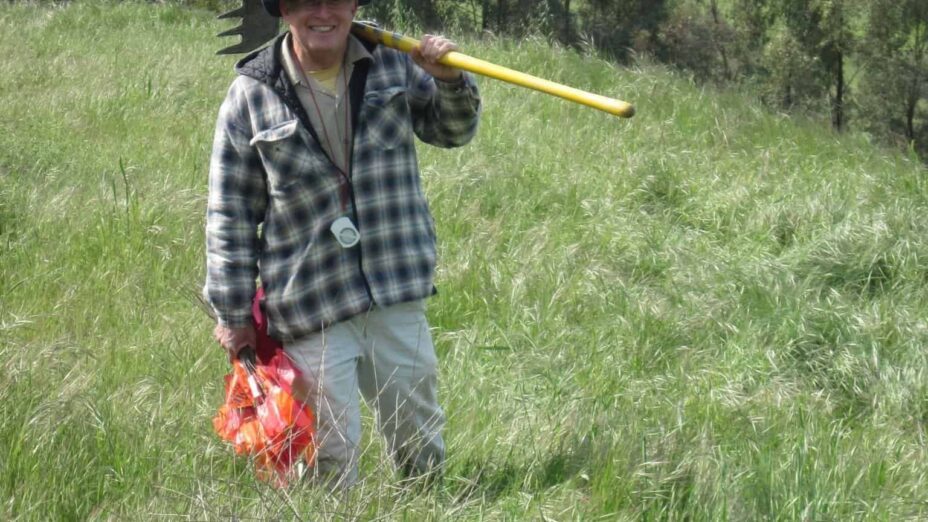 ---
About Lance:
a. How long have you lived in the Bay Area?
– All of my life. I was born in Oakland on November 1942, and raised in Lafayette, when it had only one stop light at the intersection of Mount Diablo Blvd. and Moraga Rd.
b. How did you learn about Save Mount Diablo?
– I was introduced to Save Mount Diablo (SMD) by the late Harry Silcocks, who was president of the East Bay Trail Dogs at the time.
c. What did you do before you volunteered for us?
– I spent a total of 36 years teaching Special Education classes at De Anza Community College in Cupertino. There was rarely a dull moment.
d. How long have you been volunteering with us?
– Around 12 years. I started about a month or two after retiring in July 2006.
e. Why did you decide to join our team?
– East Bay Trail Dogs became a splinter group of SMD. Prior to that, the Trail Dogs had been working on SMD properties building and maintaining trails. I fell in love with all of the beautiful, pristine land that not many people get to see or hike on.
About Lance's Work:
a. Which program(s) are you affiliated with?
– Primarily the East Bay Trail Dogs, but have worked with the Property Stewards. I am also in the process of learning how to monitor water quality along Marsh Creek.
b. What does your volunteer work consist of and what do you like about it?
– It consists of building and maintaining trails that can be used by hikers, horses and trail bikes. There is a lot of satisfaction in planning a trail that takes a hiker through the most scenic parts of a property, constructing it so it's sustainable and conforms to all the different guidelines imposed on us by the agencies owning the land.
c. What is the hardest project you've worked on while volunteering?
– There have been several rough projects, but the hardest so far, was a segment of a popular hillside trail that had been neglected for about 20 years and needed major repairs. It involved turning a portion of unsustainable trail into sustainable, reconstructing yards of in trenched turns and rebuilding rock steps. Rock material had to be wheelbarrowed down the trail, dumped into the trenches, crushed using sledgehammers and mixed with dirt. It took six months and a Chiropractor to get me where I could stand up and walk straight again.
d. What is one of your favorite memories volunteering with us?
– Thomas Home Ranch! I was fortunate enough to be one of the first crews to go on the property and in the home. It was like stepping back into the late 1800s. It appeared the home had been built in stages, depending on the family's needs and finances. Construction, furniture and appliances reflected the different eras. The barn, complete with a rebuilt Buck Board, and out houses told their own stories. Historical groups came out making sure anything of historical value wasn't tossed. I still go out there whenever I can. Amazing!