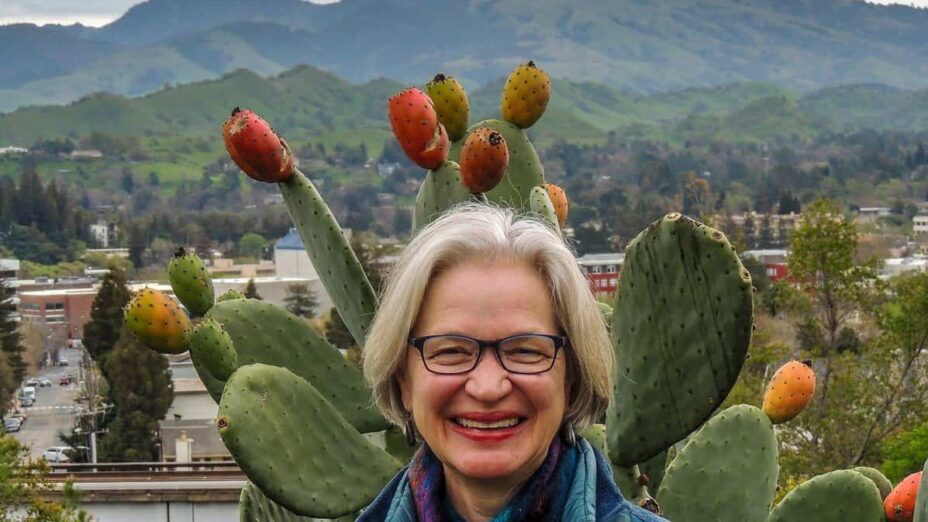 ---
Interviewed by Laura Kindsvater, Stewardship and Outreach Intern
About Jean
How long have you lived in the Bay Area?
Most of my life! I was born in Oakland and though my family moved to the Midwest when I was 12, northern California remained etched in my memory as the template for landscape. I returned to the Bay Area again in my late 20s and lived in Berkeley and Oakland until 1998. That year, I move to Walnut Creek with my husband, Jan Diepersloot; we bought a small house with a very large view—Mount Diablo!
How did you learn about Save Mount Diablo?
Jan and I must have learned about Save Mount Diablo shortly after we moved to Walnut Creek . . . we met several people who had been affiliated with SMD in one way or another at various times; we liked hiking in Walnut Creek's Open Space properties, in the adjacent regional park lands, and in Mount Diablo State Park.  Then in 2014, we were fortunate to be part of Four Days Diablo!
What did you do before you volunteered for us?
I am a lawyer, inactive now. Most of my career was public service–oriented—I worked at the California Public Utilities Commission for nearly 30 years, serving there in various legal capacities, including 16 years as an administrative law judge. But I've been a hiker all my life and a backpacker since my 20s.
How long have you been volunteering with us?
I've been volunteering for Save Mount Diablo since 2016.
Why did you decide to join our team?
Pending retirement finally promised time for meaningful volunteer opportunities and after the wonderful experience of 4DD in 2014, I knew I wanted to explore volunteer options with Save Mount Diablo, so I began to look into how I might have fun and be useful. Save Mount Diablo has an impressive track record in so many ways—decades of real accomplishments; a high-caliber Board of Directors; a talented, dedicated, thoughtful professional staff; a very able and committed group of volunteers; broad community respect and support.
About Jean's Work
Which program(s) are you affiliated with? (DiRT, IPM, Trail Dogs, Property Steward, etc)?
I volunteer in several areas and enjoy the varied opportunities . . . I'll mention the main ones. I've worked in the office to secure donations for the annual Moonlight on Mountain fundraiser and to secure both public and commercial sites for disseminating print materials like Diablo Watch. I'm involved in the public hike program, both as a hike leader and a sweep. I'm also a co-steward, with Jerry Britten, of the Highland Springs property that SMD monitors. Last spring, I helped to gather petition signatures in Antioch for the Sand Creek ballot initiative that Save Mount Diablo co-sponsored.
What does your volunteer work consist of?
My work in the office largely involves telephoning—the other efforts, hiking. Because Highland Springs has very limited maintenance requirements, monitoring primarily consists of visual inspection. Regardless of the task, what I like most is feeling that I'm actually giving something back to my community—the place where I live—in a way that's personally meaningful. I particularly enjoy getting out on the land and consequently, it's very special to share my love of hiking with others, of all ages, who are interested in our local trails and the wildness that's still here.
What is the hardest project you've worked on while volunteering?
The hardest project, though not without its own rewards, was signature gathering outside Walmart in Antioch. I experienced firsthand how many people are so pressed on the weekend to handle the myriad needs of their busy lives that they scarcely have time to talk about protecting wild lands from development. It underscored for me that we can't take for granted the progress Save Mount Diablo has made!
What is one of your favorite memories volunteering with us?
I have two kinds of favorite memories, actually: being out of doors with others—the happy faces on Save Mount Diablo's public hikes; also, being out of doors, alone, and gazing on Highland Springs' sweeping views.