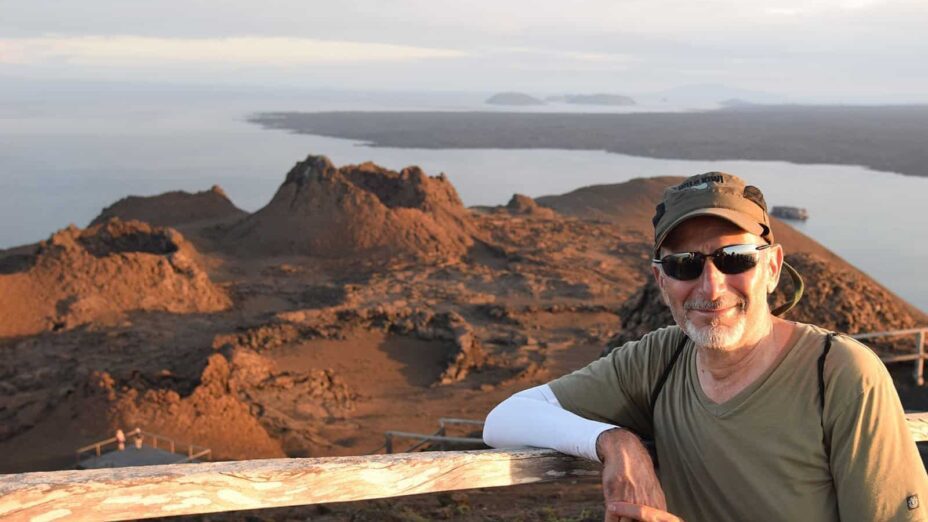 ---
Interviewed by Laura Kindsvater, Stewardship and Outreach Intern
About Dave
How long have you lived in the Bay Area?
I have lived in the Bay Area almost my entire life. My northern California roots are very deep. I was born and raised in San Jose when the "Silicon Valley" was still full of fruit trees. I lived in a ranch house in the middle of cherry and prune orchards until I was in first grade. I attended both Stanford as an undergrad and Berkeley as a grad student. My family owns a log cabin in the northern Sierras at Lake Almanor, and I spent entire summers as a child in the mountains there. In 1994, my wife, Darlene, and I moved to Walnut Creek after a nine-year out-of-state "detour" in Connecticut.
How did you learn about Save Mount Diablo?
I think in 2013 a work colleague invited me to ride the Diablo Challenge, and somewhere in there Darlene and I learned about Four Days Diablo, which greatly appealed to us. We participated in Four Days in 2014 and that was where we really learned about SMD's mission and programs. Seth Adams and George Phillips made a very positive impression on us, and we immediately asked about participating in the stewardship program.
What did you do before you started volunteering for us?
I was a Professor of English at Saint Mary's College in Moraga for almost 20 years. Before that, I taught at Yale University for eight years. My specialty was Drama and Film. I taught everything from Shakespeare to Screenwriting. I retired in 2014.
How long have you been volunteering with us?
I started volunteering with the stewardship program in 2014.
What were your reasons for getting involved with SMD?
Learning in detail about the organization's mission and programs while on Four Days really convinced me that I wanted to get actively involved.
On more than one occasion in the past, around Mount Diablo and also in the Sierras, I have had the experience of hiking up and over a familiar backcountry ridge, only to discover that the adjoining valley has been leveled for a housing development or the woods clear-cut for timber. It's a sickening feeling. So, when the SMD staff talks about wildlife corridors, or they show you a map with a patchwork of proposed development eating away at our open spaces, you feel you want to act. Save Mount Diablo has been a perfect place where I can contribute financially to help with programs like Forever Wild, and I can also get outside and help clean up stream beds or reduce invasive species.
About Dave's Work
Which SMD programs are you involved in?
In addition to monthly stewardship workdays on various properties, I am a co-steward at Mangini Ranch with David Ogden and Martin Steinpress. David Ogden really taught me an enormous amount about the flora of Mangini and Mount Diablo. He is an amazing nature photographer, and I still check out his daily Facebook postings of photos from his hikes in Shell Ridge Open Space.
What what do you like about it?
Having worked in classrooms for my entire adult life, it is incredibly refreshing to spend a day working in beautiful outdoor locations around the mountain. Curry Canyon Ranch is a spectacular experience. And, I can't say enough about how much I enjoy the company of the stewardship staff and the other volunteers.  Everybody works hard and still manages to have a great time. What a delightful group of people!
What is the most challenging project you've worked on while volunteering?
I have twice helped the Curry Canyon stewards clear downed trees and debris from the water line that leads from a hidden spring down a steep ravine to the ranch. The work is hard and dirty, and in spite of my best efforts to use caution, I managed to come home with a whopping case of poison oak both times.
What is an especially memorable experience you've had as an SMD volunteer?
Probably helping to clear the dump site from the roadside ravine above Curry Canyon Ranch. We pulled everything imaginable out of that hillside. Washing machines, truck fenders, car tires, bedspreads, kitchen cabinets, and on and on it went.  We weren't sure what to expect next.