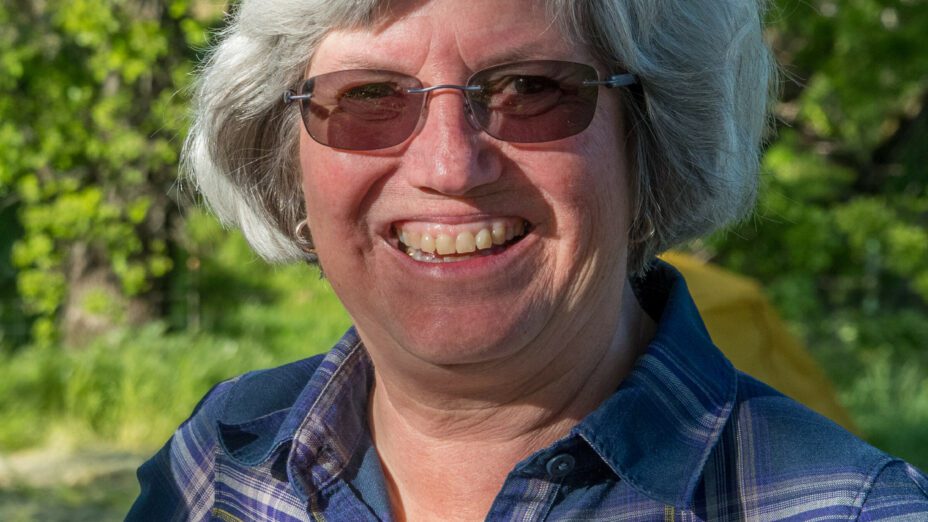 ---
Interviewed by Haley Sutton, Land Stewardship Associate
Meet Claudia
How long have you lived in the Bay Area?
We moved to the Bay Area, specifically Concord, in August of 1988.
How did you learn about Save Mount Diablo?
Just after Scott and I moved to the Bay Area, Save Mount Diablo was leading hikes at Lime Ridge Open Space concerning the proposed development of the Crystyl Ranch area in Concord. We went on one of those hikes and started following Save Mount Diablo's work and became members/donors.
When did you start volunteering with us, and why did you get involved?
In 1999/2000, I was looking to get more involved in our community and heard that Save Mount Diablo was looking for volunteers to help in the office. I was finishing a four-year term as Chemistry Department Chair at Diablo Valley College and wanted to do something meaningful outside of my professional work at school.
Which Save Mount Diablo programs are you involved in?
Currently I serve on the Board of Directors, am Chair of the Audit Committee, and on the Education and Development Committees. I have volunteered at Save Mount Diablo's events for many years, including Moonlight on the Mountain and Four Days Diablo.
About Claudia's Work
What do you enjoy about the volunteer work you do?
I like to see people enjoying themselves in nature and know that I have added to their enjoyment, whether it is helping to set up Moonlight on the Mountain or making coffee concentrate for Four Days Diablo.
What is the most challenging project you've worked on as a volunteer?
As they say, conservation is a marathon not a sprint, and the Concord Naval Weapons Station reuse plan embodies that saying! Being involved as a citizen of Concord and on the Community Advisory Committee has been both educational and frustrating. Unfortunately the work continues.
Is there a memorable experience you've had as a Save Mount Diablo volunteer?
Seeing challenging land projects come to fruition is very satisfying, so my most memorable experiences include the purchases of the Thomas Home Ranch and Curry Canyon.
How do you spend your time beyond your volunteer work with us, and what did you do before you started volunteering with us?
Scott and I spend time outside of work and Save Mount Diablo activities in nature as much as possible—birding, naturizing, and camping.
Join Our Volunteer Crew! We Depend on You
Given limited staff, resources, and time, Save Mount Diablo depends on volunteers to take organizational effectiveness from excellent to exceptional. Save Mount Diablo seeks to connect a passionate community to our mission, cultivating a sense of ownership and proficiency in every volunteer position offered.
Whether you want to help with restoration and stewardship, build and maintain trails, help with events, assist in the office, lead hikes, or advocate for us, there's a place for you. For more information, check out Save Mount Diablo's volunteer opportunities.