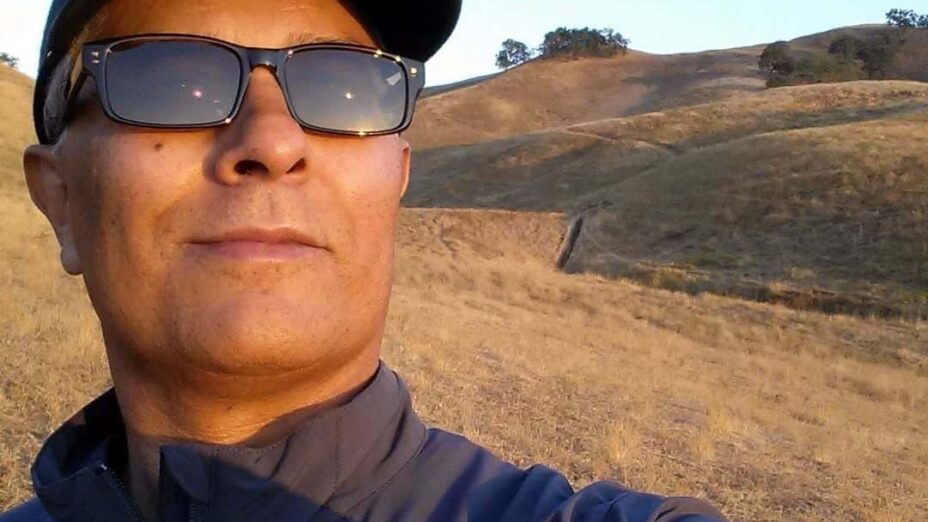 ---
Interviewed by Haley Sutton, Land Stewardship Associate
About Jeffrey
How long have you lived in the Bay Area?
I grew up in Aptos, California, which is a small coastal town on the northern tip of Monterey Bay. As a child and teenager, I was able to roam the redwood forests of Nisene Marks State Park and body surf at the amazing Central Coast beaches. I moved to the Bay Area in 1982 when I was 17 to attend Stanford University and have essentially lived in the Bay Area ever since, except for stints in Los Angeles, London, and Oaxaca for educational endeavors.
How did you learn about Save Mount Diablo?
I initially became aware of Save Mount Diablo while working as a Supervising Environmental Planner for the California Department of Transportation (Caltrans) where I supervised the Office of Biological Sciences and Permits. Our staff often needed to establish relationships with land trusts and local conservation organizations to better understand the potential impacts of our projects on the environment and to identify potential mitigation opportunities for impacts to wetlands, riparian areas, and endangered species habitat. When I moved to Walnut Creek in 2012, I became more attuned to Mount Diablo as a natural land feature because it is a prominent and distinct backdrop to the city. I became more interested in learning about its history, which naturally led me to Save Mount Diablo and its work to preserve, protect, and restore the lands in and around Mount Diablo.
What did you do before you started volunteering for us?
I have a BA in Public Policy from Stanford and an MA in Urban Planning from UCLA. I have worked with nonprofits and local and state government agencies for over 30 years. My early career involved working as an Urban and Regional Planner for the Los Angeles County Department of Beaches and Harbors on public access and with the West Hollywood Community Housing Corporation developing affordable housing. I then returned to the Bay Area in a position with the San Francisco Bay Conservation and Development Commission (BCDC) reviewing development projects in and around San Francisco Bay and providing recommendations to a 27-member commission made up of elected officials. I then transferred to the California Coastal Commission in Santa Cruz working on the impacts of non-point source pollution issues in the coastal zone. Eventually, I returned to BCDC to work with local governments and manage BCDC's North Bay Wetlands Protection Program. Mid-career, I decided to take a year off from work and travel the world, which was a life-changing experience. I highly recommend it. Upon returning, I landed a position with Caltrans working on the environmental impact statement and permits for the new San Francisco–Oakland Bay Bridge (SFOBB) East Span Seismic Safety Project. At Caltrans, I eventually became the Office Chief for the Office of Biological Sciences and Permits leading a staff of 43 biologists and environmental planners to prepare biological assessments, obtain environmental permits, and implement mitigation for all Caltrans projects in the Bay Area. We worked on several significant projects including the SFOBB East Span Seismic Safety Project, Caldecott Tunnel, Devil's Slide, the Carquinez Bridge Replacement Project, and the Doyle Drive Replacement Project, among others. After leaving Caltrans, I became interested in volunteering, which led me to Save Mount Diablo.
How long have you been volunteering with us?
I have been volunteering for Save Mount Diablo since 2014. Initially, I worked in the office with the land conservation team and then became a member of the Land Committee.
What were your reasons for getting involved with SMD?
I was quite impressed with the commitment and dedication of the Save Mount Diablo staff in protecting and preserving Mount Diablo. As a small, tightly knit office, Save Mount Diablo operated more like a family. It was clear to me the staff really cared about what they were doing and were passionate about protecting Mount Diablo. After working for Caltrans, which involved large capital improvement projects, I wanted to help a smaller organization that focused more on land conservation and preservation, rather than landform alterations.
About Jeffrey's Work
Which Save Mount Diablo programs are you involved in?
Initially, I worked in the office assisting the land conservation team on a variety of issues including: (1) the James Donlan Blvd. extension; (2) the white paper for the countywide transportation plan; (3) management plans for the various Save Mount Diablo properties; (4) the Concord Naval Weapons Station Reuse Plan; and (5) the Marsh Creek public access trail.
Now, I am member of the Land Committee, which provides recommendations to Save Mount Diablo's Board of Directors on a variety of land acquisition, conservation, and management issues.
What does your volunteer work consist of and what do you like about it?
Now, my volunteer work consists primarily of attending Land Committee meetings and participating with other committee members in evaluating and deliberating on a variety of land use, land acquisition, and land management issues and providing recommendations to the Save Mount Diablo Board. I enjoy continuously learning about Mount Diablo and hearing the perspectives of Land Committee members and staff who have a wealth of knowledge and experience.
What is the most challenging project you've worked on while volunteering?
All of the projects have been challenging in one way or another. Perhaps what has been most challenging to me is understanding, learning, and internalizing the myriad of properties, property owners, and interlinked relationships and issues in the Save Mount Diablo region. In part, Save Mount Diablo's success is due to developing lasting and meaningful relationships with landowners and stakeholders. Understanding those historical relationships is important in making good land-use and land conservation decisions that meet Save Mount Diablo's mission. There is a lot of history there and having someone like Seth Adams, who has an amazing mastery of the history and the relationships with property owners and stakeholders, is incredibly helpful.
What is an especially memorable experience you've had as a Save Mount Diablo volunteer?
Well, there have been many memorable experiences with Save Mount Diablo as a volunteer. The most enjoyable though were the many days working and strategizing in office with Seth Adams, Meredith Hendricks, and Juan Pablo Galván on land-use issues and seeing the staff's depth of knowledge of the Mount Diablo region, their acute understanding of interpersonal relationships with landowners and stakeholders, and their ability to strategically position Save Mount Diablo on a variety of issues to achieve its core mission. Very impressive! Also, it was really fulfilling for me to help the staff—Jim Cartan and George Philips—prepare land management plans for the various Save Mount Diablo properties. These land management plans were critical for Save Mount Diablo to obtain national accreditation with Land Trust Accreditation Commission.
Join Our Volunteer Crew! We Depend on You
Given limited staff, resources, and time, Save Mount Diablo depends on volunteers to take organizational effectiveness from excellent to exceptional. Save Mount Diablo seeks to connect a passionate community to our mission, cultivating a sense of ownership and proficiency in every volunteer position offered.
Whether you want to help with restoration and stewardship, build and maintain trails, help with events, assist in the office, lead hikes, or advocate for us, there's a place for you. For more information, check out Save Mount Diablo's volunteer opportunities.