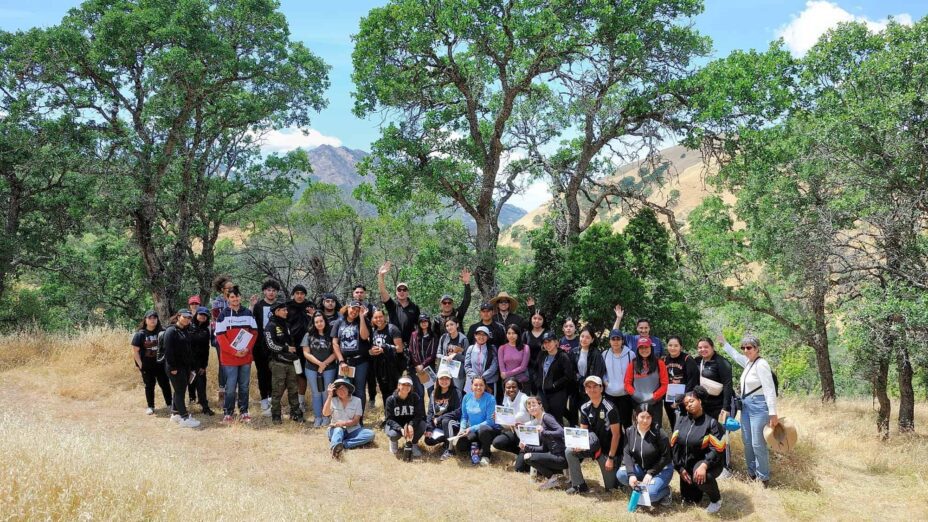 ---
FOR IMMEDIATE RELEASE
MAY 23, 2019
Building the Bench for Mount Diablo
Community Conservation with Save Mount Diablo, Pittsburg High School and Mt. Diablo Resource Recovery, a Garaventa Company
WALNUT CREEK, CA–Pittsburg High School, Mount Diablo Resource Recovery, and Save Mount Diablo are building up the bench of future supporters for the beautiful and natural Mount Diablo area.
According to a 2017 report, The Path Ahead, "Today, kids spend less time outside than prison inmates, with the average child playing freely outside for just four to seven minutes a day."  This report, commissioned by the REI Co-op, notes that the average American now spends about 95 percent of their life indoors. It further reports that we are becoming an "indoor species" which comes with consequences: "Our health and well-being may suffer.  And the less we value our outdoor spaces, the less likely we are to protect them."
To help address such concerns, Save Mount Diablo ("SMD"), Pittsburg High School ("PHS"), and sponsor Mount Diablo Resource Recovery ("MDRR") recently signed and then completed an educational and experiential Conservation Collaboration Agreement.
Ted Clement, Save Mount Diablo's Executive Director, stated, "Save Mount Diablo is incredibly grateful for, and inspired by, Pittsburg High School and Mount Diablo Resource Recovery stepping up to learn about and help protect the beautiful Mount Diablo natural area through our Conservation Collaboration Agreement program."
The Conservation Collaboration Agreement has three basic parts.  For the first part, on May 21st, staff of SMD provided educational presentations regarding land conservation of the Mount Diablo area to the participating students of PHS at their school and to employees of MDRR.
Second, on May 22nd, SMD staff and naturalist Judy Adler taught and led the participating students of PHS and the employees of MDRR in a nature service project, involving the removal of invasive plant species, and interpretive nature hike at SMD's conserved Big Bend property along Marsh Creek Road.  The outing also included a solo on the land for each participant where they did a contemplative journal writing exercise reflecting on their part in the Mount Diablo natural area.
Finally, in an act of educational and participatory philanthropy, the students will raise money to become members of SMD through SMD's new discounted youth membership program.
MDRR generously sponsored the Conservation Collaboration Agreement to help get more kids connected to nature and SMD's time-sensitive land conservation mission.
Regarding the Conservation Collaboration Agreement, PHS teacher Achilleus Tiu stated, "I wasn't sure that this experience would take with Justin when he started off with headphones in his ears and eyes glued to his phone while sitting in front of a view of Mt. Diablo.  When we had to leave and the tarp was literally being pulled from under him, he was fervently trying to finish journaling. Cellphone=0 : Nature=1! I don't know how many of us struggle to have our students disconnect from their devices and connect with what's right in front of them but it was powerful to see an entire class quietly reflecting on their experience in nature. Save Mount Diablo's effect on the land and our students are priceless but their efforts to buy up land and protect them are not. We're very grateful for the sponsors and the staff that help inspire future generations and hope they can continue to find support."
"It was great to get the kids out of the noisy and crowded concrete jungle, and literally go into their backyard of Mt. Diablo. Spending time alone in nature allowed them to clear their thoughts and give voice to their feelings. Thanks again for this awesome opportunity," said PHS teacher Thomas Arbuckle.
On behalf of sponsor MDRR, Chief Administrative Officer Kish Rajan, noted, "At MDRR, we strive every day to help preserve our precious local natural resources.  That's why we are proud to sponsor the Conservation Collaboration Agreement to help cultivate a new generation of local leaders who will carry on Save Mount Diablo's land conservation mission."
---
Save Mount Diablo
SMD is a nationally accredited, nonprofit land trust founded in 1971 with a mission to preserve Mount Diablo's peaks, surrounding foothills, and watersheds through land acquisition and preservation strategies designed to protect the mountain's natural beauty, biological diversity, and historic and agricultural heritage; enhance our area's quality of life; and provide recreational opportunities consistent with the protection of natural resources. Learn more at www.savemountdiablo.org.
Pittsburg High School
PHS has a mission to graduate lifelong learners who make positive contributions to society while pursuing a career path of their choice.  Learn more at www.pittsburg.k12.ca.us
Mount Diablo Resource Recovery, a Garaventa Company
MDRR is a modern, progressive recycling and resource recovery company with deep roots in local tradition and a clear vision of its contributions to our community's future. MDRR will continue to "raise the bar" in the communities they serve by delivering exceptional customer service along with fair, competitive pricing and maintaining their reputation as the vendor of choice in the solid waste market place. Learn more at www.mdresrec.com
High Resolution Images and Press Release Files: http://bit.ly/CCA-May2019
Image Credits: All photos – credit: Al Johnson.
Caption: Save Mount Diablo (SMD) Conservation Collaboration Agreement with Pittsburg High School (PMS) and Mt. Diablo Resource Recovery (MDRR), a Garaventa Company. The event was held at SMD's Big Bend property located on Marsh Creek Road in Clayton, CA. Participants included Pittsburg High School students and teachers, naturalist Judy Adler, and SMD staff and volunteers.
CONTACT:
Caleb Castle, Communications Manager, Save Mount Diablo;
T: (925) 947-3535 x17, C: (925) 451-8376, ccastle@savemountdiablo.org
###