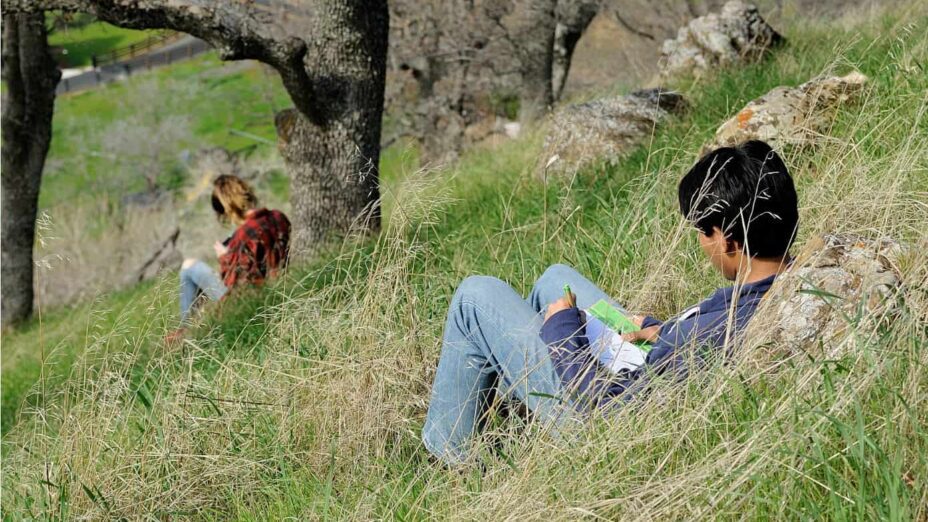 ---
FOR IMMEDIATE RELEASE
February 13, 2018
Save Mount Diablo Signs New Conservation Collaboration Agreement with Pittsburg High School for Valentines Day
PITTSBURG, CA – In the spirit of Valentine's Day 2018, Save Mount Diablo ("SMD") and Pittsburg High School ("PHS") signed a Conservation Collaboration Agreement on February 6, 2018 to demonstrate their love and gratitude for the beautiful Mount Diablo natural area.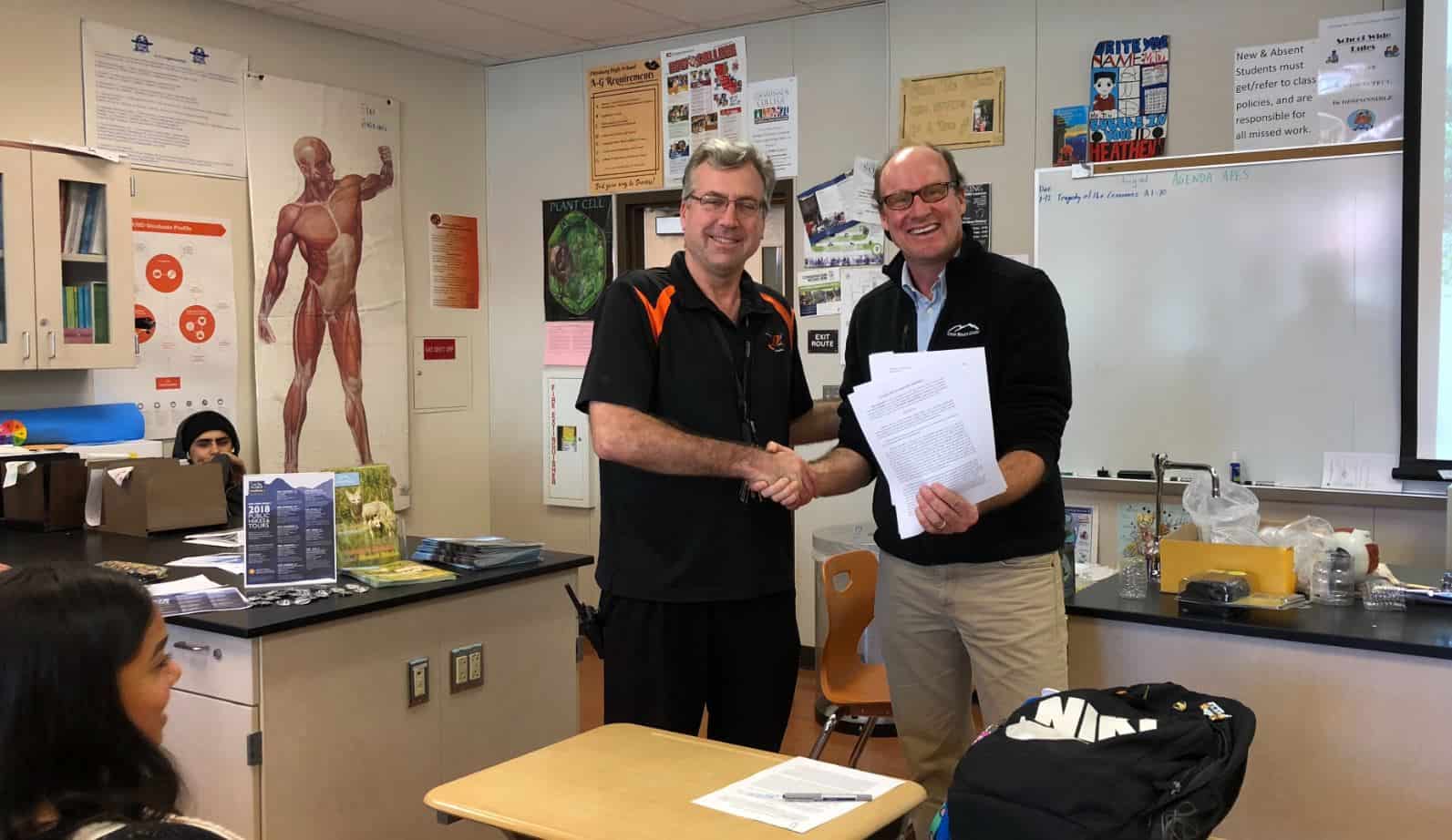 (From left to right) Todd Whitmire, Principal of Pittsburg High School and Ted Clement, Executive Director of Save Mount Diablo pose with the new Conservation Collaboration Agreement that they have just signed. Photo credit: Joanne McCluhan.
"The parties to this Agreement are asking Mount Diablo to be their Valentine.  To expedite our time-sensitive land conservation work for the Mount Diablo area, Save Mount Diablo is reaching out to students and other leaders to join the cause.  We all have a major stake in what our future environment will be like, especially young people.  We are grateful for the leadership, long-term vision, philanthropy and love of the Mount Diablo natural area demonstrated by Pittsburg High School on entering this Conservation Collaboration Agreement with Save Mount Diablo," said Ted Clement, Save Mount Diablo's Executive Director.
The Conservation Collaboration Agreement has three basic parts. First, the staff of SMD provided in-class educational presentations regarding land conservation of the Mount Diablo area to the participating students of PHS at their school on February 6th.
Second, on February 10th, SMD staff taught and lead the participating students of PHS in an outdoor, experiential native grasses planting project on one of SMD's conserved properties which also included a mini solo on the land for each participant where they did a contemplative journal writing exercise about their love of nature in the Mount Diablo area.  After the solo, the students then took their thoughts from their journal writes and created Valentine's Day cards for Mount Diablo.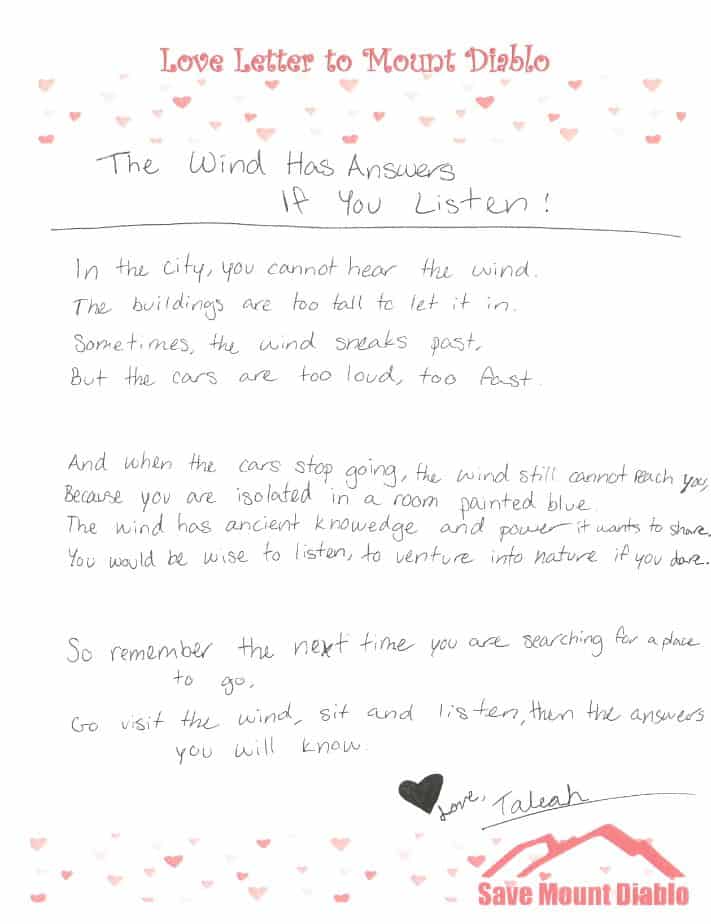 Finally, in an act of educational and participatory philanthropy, PHS will raise funds so that its participating students can become members of SMD through SMD's youth membership program.
"I believe one of the key ways to get the next generation interested in conservation is to provide opportunities for our youth to get outside. Multimedia or virtual reality doesn't hold a candle to the way actual interaction with nature can drive our students towards a deeper understanding and respect for environmental endeavors. We're very grateful for how Save Mount Diablo has provided these opportunities," says PHS teacher,­­­ Achilleus Tiu.
Images caption: Pittsburg High School students and Save Mount Diablo staff participate in an environmental service project as part of the Conservation Collaboration Agreement signed Feb. 6th, 2018 between Save Mount Diablo and Pittsburg High School.  Images credit: Alvin Johnson.
For more images, visit Al Johnson's Photo Gallery:
https://johnsal.smugmug.com/Save-Mount-Diablo/Conservation-Collaboration-Agreements/Conservation-Collaboration-Pittsburg-High
---
Save Mount Diablo
SMD is a nationally accredited, non-profit land trust founded in 1971 with a mission to preserve Mount Diablo's peaks, surrounding foothills, and watersheds through land acquisition and preservation strategies designed to protect the mountain's natural beauty, biological diversity, and historic and agricultural heritage; enhance our area's quality of life; and provide recreational opportunities consistent with the protection of natural resources.  Learn more at www.savemountdiablo.org
Pittsburg High School
PHS has a mission to graduate lifelong learners who make positive contributions to society while pursuing a career path of their choice.  Learn more at www.pittsburg.k12.ca.us/phs
Media Contact:
Caleb Castle, Communications Manager, Save Mount Diablo
Phone: 925-947-3535 x17 | Email: ccastle@savemountdiablo.org
Press Release & Media Assets in Dropbox:
https://www.dropbox.com/sh/grsfkde9ep2l609/AADuZJj9R4IHwe2QvFgMGzoLa?dl=0
###