DiRT Workday: Habitat Restoration at Big Bend
July 26, 2021 @ 8:00 am

-

5:00 pm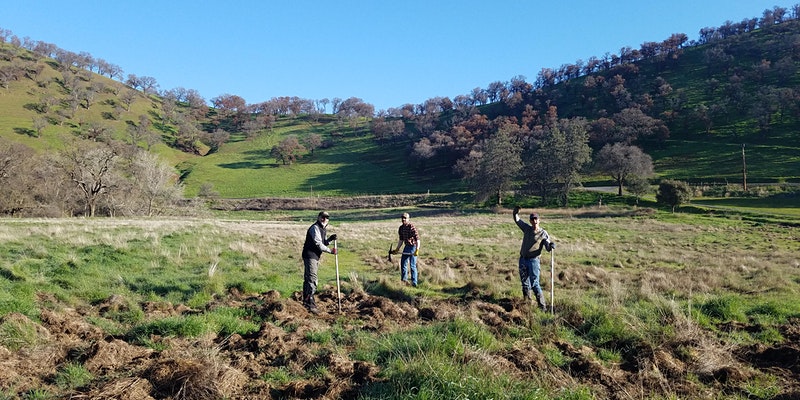 REGISTER HERE
Volunteer outdoors to restore Save Mount Diablo's Big Bend property!
About this event
Habitat Restoration at Big Bend
Enjoy the beauty of Mount Diablo's foothills as we fight impacts of climate change by protecting tree seedlings and maintaining the restoration plot at Big Bend. From our meeting spot on the east, we will walk across the property to our restoration plot on the west side.
Participants will be notified in the event of cancellation due to extreme weather conditions. Restrooms are not available.
Leader:  Haley Sutton, Land Stewardship Associate, Save Mount Diablo
Meet: Big Bend at14350 Marsh Creek Road, Clayton, CA
Directions: The Big Bend driveway is 3.6 miles east of the intersection with Morgan Territory Road, and 3.2 miles west of the intersection with Deer Valley Road. East of Aspara and Gill Roads, the canyon will widen out on the south, you'll pass a large faded green barn, and a large flat area along the creek will come into view–right as you're about to pass the driveway. It's the first, westernmost of two side by side straight, north-south driveways. No reliable cell phone signal and Google maps will send you too far west.
What to Bring: Water, sturdy shoes, comfy long work pants, sun protection (i.e. hat, sunscreen), face covering, and work gloves if you have them.
***Our Policy on Volunteers under the Age of 18
As we continue to strive to bridge the gap between youth and nature, we encourage families and youth groups to participate in our stewardship workdays. We have outlined our policy on volunteers under the age of 18 in order to create the best environment for everyone involved. Please note, our stewardship workdays are not drop-off programs.
Young volunteers under the age of 18 must have a waiver signed by a parent or guardian. In addition, they should meet one of the following requirements before participating on our stewardship workdays:
Be accompanied by their adult guardian/parent/chaperone throughout the duration of the workday
Be a part of a recognized organization (such as a school group, youth group, etc.) with their authorized chaperone/teacher/leader present at the workday
If you have any questions about our policy, you can reach our Diablo Restoration Team leader, Haley Sutton, at hsutton@savemountdiablo.org.