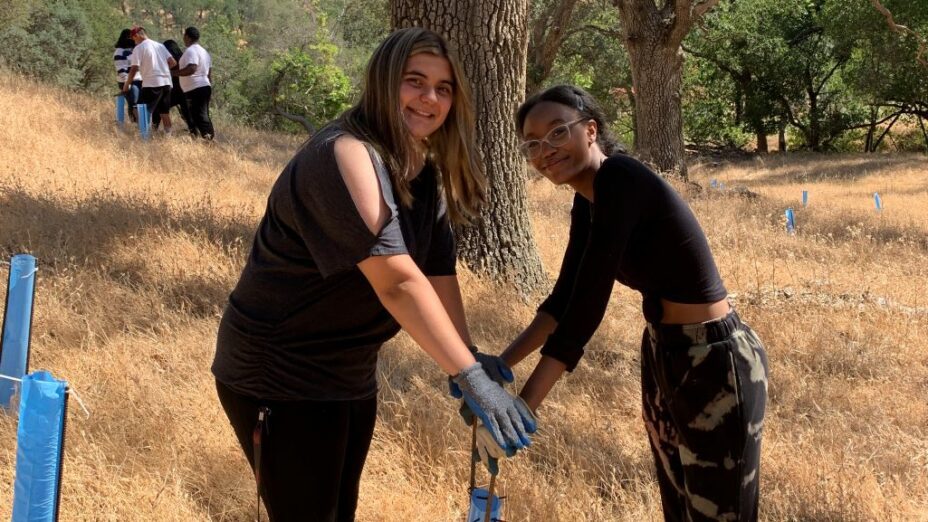 ---
This summer, we're enlisting the help of young environmental stewards for some of our many projects!
We're looking forward to hosting a cohort of youth volunteers from Temple Isaiah this August. They'll be helping with trail maintenance by putting down mulch and installing protective tubes on plants.
In July and August, students from the Athenian School will be joining us to learn about local ecology and help with our 10,000 Trees and Plants project.
We're very excited to teach these students about our work and get their help on our stewardship and restoration projects.
Earlier in June, we were joined by 20 student interns from Bay Point Garden Academy BACR CARES at Riverview Middle School.
These student interns are a part of a month-long summer program through which they have been learning about environmental stewardship and ecology.
They learned about local California monarch butterflies and their relationship to native milkweed plants. Then they helped to install seed collection bags on our California milkweed seed pods.
Motivated by friendly competition amongst their groups, they also protected new tree seedlings by installing protective tubes on 116 trees at Curry Canyon Ranch! (The tubes keep small mammals like mice and voles from eating the seedlings.)
Most of the trees that they worked with were blue oaks and valley oaks—with some grey pines and bay laurels in the mix. These trees are a part of our ongoing 10,000 Trees and Plants project. To date, we've planted and protected 1,288 native plants and trees.
Volunteering to help with one of our projects is a great way for students to take part in outdoor education and bond with their classmates. Through these programs, students are able apply their newfound knowledge to real world projects outdoors.
We'd like to extend a massive thank you to the student interns and volunteers for their help and hard work this summer!
Top photo by Haley Sutton