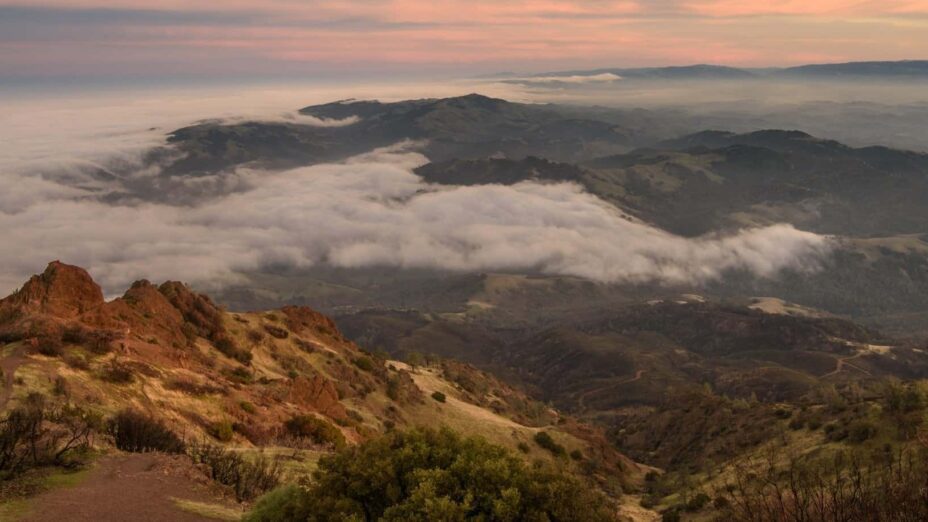 ---
Although Mount Diablo is not an especially tall mountain, it offers some of the best views in the world. Because you're going to be on every side of the mountain while you're on the Mary Bowerman Trail, you will get incredible vistas.
On a clear day, you'll be able to see almost 200 miles out, with views of up to 40 of California's 58 counties. As you walk along the trail, keep your eye out for Mount Saint Helena to the north, the snowcapped Sierras to the east, the Santa Cruz Mountains to the south, and the Farallon Islands to the west.
As you follow the trail, you'll come across a rock monolith now known as the "Devil's Pulpit." This rock is deeply intertwined with local Native American lore, because it is believed to be the rock that Mol'-luk, a Californian condor, would perch on as he watched over the world before there were humans. Many local Native Americans would at one point in their lives make the pilgrimage to Mount Diablo to conduct ceremonies, because Mount Diablo was considered sacred ground.
Before you go, you can download the interpretative guide to the Mary Bowerman Trail. Watch this video for more about Mount Diablo's geology along the trail:
Also, you can discover more about Mary Bowerman, who co-founded Save Mount Diablo in 1971.
Find the trailhead near Mount Diablo State Park's lower summit parking lot. The trail is considered easy to hike and is paved and accessible to wheelchairs for part of its length.
Learn more about good places to hike on and around Mount Diablo through Save Mount Diablo's Discover Diablo public hikes and events program.