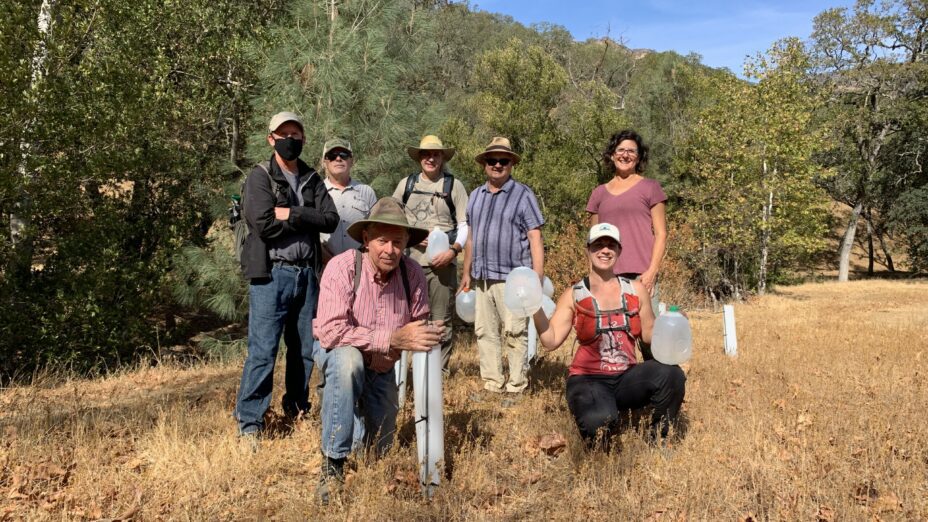 ---
Interested in getting out into nature and learning about land restoration and stewardship?
If you're interested in volunteering this summer, then please consider joining our watering crews!
Our volunteer watering crews are indispensable in helping young native plants endure the hot and dry months of summer in the Diablo Range, which is vital to them achieving a high rate of survival for years to come.
Currently, we need volunteers who can help us to maintain the health of the trees and plants that were planted and protected for our 10,000 trees and plants project.
These native plant seedlings need water to survive the hot summer months while they are still so small and haven't grown deep roots yet.
Our volunteer watering crews are an indispensable part of the Diablo Restoration Team—their work is vital to maintaining the ecological health of the areas we've been working hard to restore.
In the age of climate change, it is vital that we work to restore and steward land to sequester carbon and promote biodiversity on our protected lands. It is with this goal in mind that we started our 10,000 trees and plants project last summer.
As of earlier this month, we've planted and protected a total of 1,172 native trees and plants, with 523 being trees! And this week, local students volunteered and protected an additional 116 trees and plants. Mainly our trees and plants consist of native manzanitas and blue oaks.
To date, we've planted and protected native trees and plants on all of the 19 properties we own. So far, 90 percent of these native plants have survived.
In 2022 we've planted in a variety of areas, including Chapman Canyon Trail and behind our field station. We are particularly grateful to DocuSign for sending volunteers out to assist our team in planting 82 trees during the month of March.
If you're interested in being a part of this project, then contact our Diablo Restoration Team leader Haley Sutton, at hsutton@savemountdiablo.org.