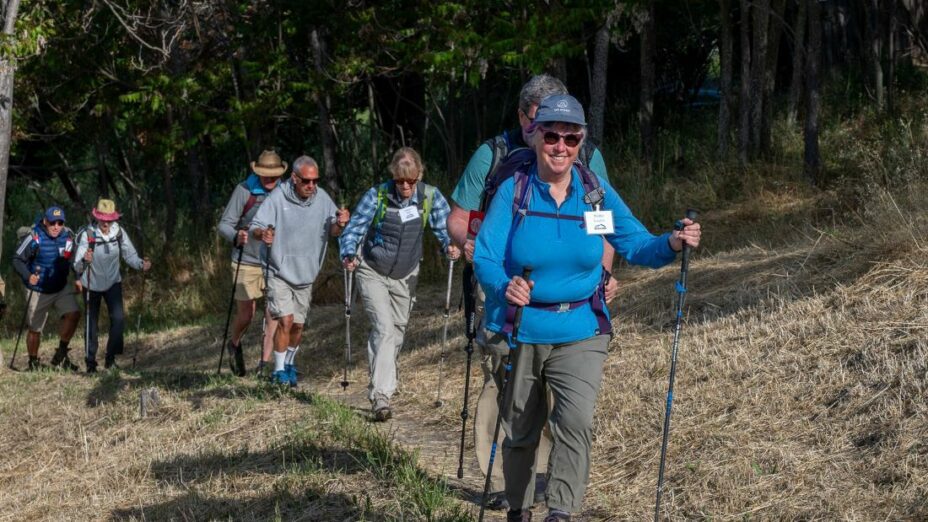 ---
Interviewed by Haley Sutton, Land Stewardship Associate
Meet Shirley
How long have you lived in the Bay Area?
My whole life. I have strong family roots to the area. My great grandfather, who came to California in 1853 and settled in the Mount Diablo area, planted the first walnut tree in Alamo.
How did you learn about Save Mount Diablo?
I have always done a fair amount of hiking on Mount Diablo and it was through hiking that I became aware of Save Mount Diablo. When I heard about Four Days Diablo I knew I wanted to do it, then loved it, and have been a part of it each year ever since.
One of the most magical moments one year was in the first day when you're in the area of China Wall, and there's a field of Ithuriel's spear that was just a carpet and it seemed to go forever. I love the wildflowers that you see.
When did you start volunteering with us and why did you get involved?
Once I got to know Save Mount Diablo, I also volunteered at events, was a property steward for a while, but have gotten more involved the last couple years.
Which Save Mount Diablo programs are you involved in?
I'm on the summer water crew, I am a volunteer docent for Mangini Ranch Educational Preserve, and recently I've begun working with the Land and Education Committees.
What do you enjoy about the volunteer work you do?
It's a cause I really believe in, it's very near and dear to my heart. The people you volunteer with are fabulous. It's celebrating nature and the outdoors when you're in a pretty big urban environment.
What is the most challenging project you've worked on as a Save Mount Diablo volunteer?
It's challenging to learn all the plants and the natives from the weeds sometimes. All the plants we water are flagged, but it can be hard to identify the specific plant for watering, especially with the native grasses, so we focus on watering the flags that mark the plants, which is very satisfying.
Is there a memorable experience you've had as a Save Mount Diablo volunteer?
I'm my happiest when I'm out on the land. I like tromping around and seeing all the different pieces and how they fit together. I also love being a docent and I think it's so much fun to take people out there to experience that place.
How do you spend your time beyond your volunteer work with us?
I'm retired from Kaiser Permanente and now I like to hike a lot, go sea kayaking and skiing, and I like exploring the world and having adventures.
Top photo: Shirley hiking at Four Days Diablo by Scott Hein