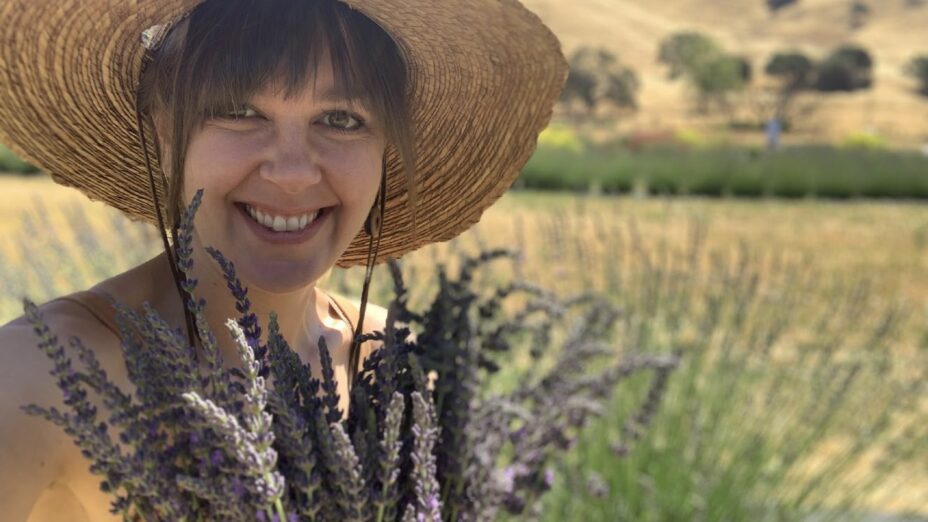 ---
Interviewed by Haley Sutton, Land Stewardship Associate
Meet Anna Marie
How long have you lived in the Bay Area?
Most of my life! I was born and raised in Martinez, California. I moved around the country in my mid-20s, working as a research field biologist before relocating to Vermont in 2011.
I returned to Martinez in 2015 and have been here ever since. I love living in Martinez and appreciate my East Bay community.
How did you learn about Save Mount Diablo?
As a long-time member of the East Bay community and a former field biologist, I've been aware of Save Mount Diablo for years.
When I began teaching classes on herbalism in the East Bay, my former instructor at herb school recommended I reach out to your organization, and I've been volunteering with you ever since.
When did you start volunteering with us, and why did you get involved?
I led my first medicinal herb hike with Save Mount Diablo in the spring of 2020. I love facilitating the exploration of the natural world, and as a former environmental educator and field biologist, it only felt natural to continue this type of community outreach as an herbalist.
I value Save Mount Diablo's mission and appreciate your valuable conservation work in our area. It's an honor to be able to engage with those interested in the natural world and herbalism through your terrific outreach program.
Which Save Mount Diablo programs are you involved in?
I have volunteered as a hike leader leading medicinal herb walks on an annual basis at Mitchell Canyon during the spring, when the wild medicinals are all popping up.
What do you enjoy about the volunteer work you do?
I love connecting with new members of the community and getting them excited about native plants and wild medicinals. It's always a joy to share about the many wonders of the natural world as it relates to ethnobotany with those who are eager to learn.
On a personal note, Mount Diablo is a magical place during the spring, and I always enjoy getting out and soaking up all of the beauty the park has to offer!
What is the most challenging project you've worked on as a Save Mount Diablo volunteer?
All the hikes have been enjoyable!
Is there a memorable experience you've had as a Save Mount Diablo volunteer? If so, we'd love to hear it!
Any time I am able to make a connection with a fellow volunteer or hike participant, it leaves a lasting impression and creates a fond memory.
How do you spend your time beyond your volunteer work with us or what did you do before you started volunteering with us?
I work as a Clinical Herbalist and Holistic Nutritionist in the East Bay through my business East Bay Herbals. I offer health and wellness consultations, run a seasonal herbal product CSA, and teach herbalism-based educational workshops and trainings throughout the Bay Area.
I'm also a published writer who loves writing about the intersection between the culinary and herbal worlds, developing herb-infused recipes for readers to enjoy. You can find my work locally in Edible East Bay.
Prior to becoming an herbalist, I worked as a field research biologist with a specialty in native pollinator ecology and land management.
I love weaving information about pollinators and ecology into my educational offerings as an herbalist, whenever I can. I work hard to be a sustainable and conservation-minded business and aim to impart these valuable lessons into my programs and projects.
Join Our Volunteer Crew! We Depend on You
Given limited staff, resources, and time, Save Mount Diablo depends on volunteers to take organizational effectiveness from excellent to exceptional.
Save Mount Diablo seeks to connect a passionate community to our mission, cultivating a sense of ownership and proficiency in every volunteer position offered.
Whether you want to help with restoration and stewardship, build and maintain trails, help with events, assist in the office, lead hikes, or advocate for us, there's a place for you. For more information, check out Save Mount Diablo's volunteer opportunities.