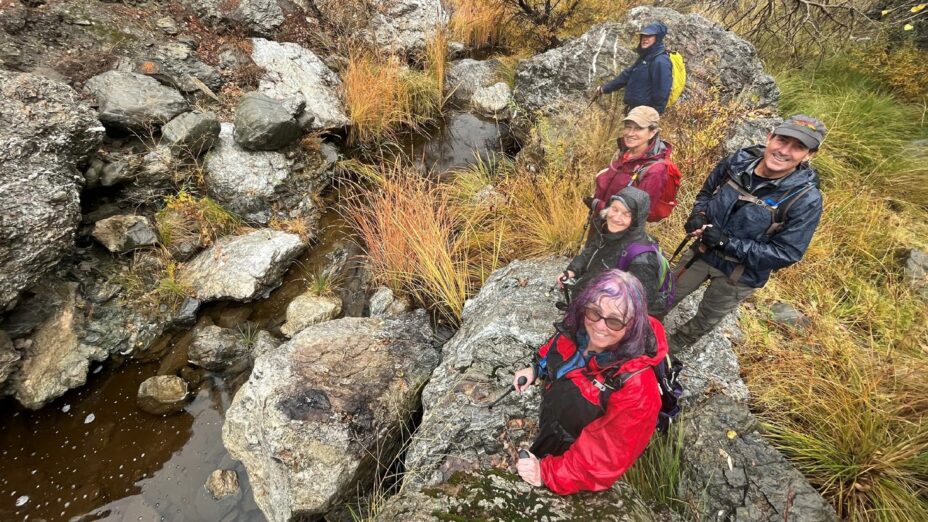 ---
Stewardship Update
Written by Haley Sutton, Land Stewardship Associate
We've Reached 2,000!
We finally made it to 2,000 trees and plants protected and planted! Between Diablo Restoration Team (DiRT); the watering crews; and school, camp, and corporate groups, we had around 200 volunteers join us across 30 workdays to reach this milestone.
Together we protected and expanded wildlife habitat across several properties. We still have plenty of work to do!
We need your help to maintain the plants and protected trees in the coming year. We hope you will join us for future DiRT days and watering crew meetups to keep the momentum going.
Plants Plants Plants
We held two DiRT days at Mangini Ranch Educational Preserve this month to install 79 native plants around the monument stone and the information kiosk visitors that see when they enter the property.
Both areas were sheet-mulched in October with burlap and mulch by De La Salle students during a Conservation Collaboration Agreement field experience.
To install the new plantings, volunteers pushed back the mulch at each spot where a plant was to be added. Then they cut through the burlap (which requires a bit of elbow grease!) to expose the soil before digging a hole for the plant.
Once the plant is all tucked in, the mulch is pushed back around the plant to create a snug home where it can grow and thrive. Some volunteers even endured a rainy day to help us plant.
The new plants include California aster (Symphyotichum chilense), common yarrow (Achillea millefolium), purple needlegrass (Stipa pulchra), sticky monkeyflower (Diplacus aurantiacus), and white sage (Salvia apiana) among others.
All these drought-tolerant plants will pop with color in the spring and summer and attract pollinators.
Over the next few years, we'll keep an eye on how the plants get established at the site and will add additional plants or replacements as needed.
Staff also installed a temporary perimeter fence around both Mangini Ranch planting areas to add some protection from animals like deer or the cattle that graze the property.
The fence will be replaced with a permanent version next year.
If you make a reservation at Mangini Ranch Educational Preserve, we encourage you to take a few moments to observe all the new plants before embarking on your outing.
Staff also added colorfully flowered plants in front of the Curry Canyon Ranch field station, along the fence line at Wright Canyon, and the island at Marsh Creek 4.
All these properties will also be sown with wildflower mixes to add even more color and forage in the spring and summer.
Stewards in the Field
Viera–North Peak property stewards captured wildlife camera images and video of a coyote, bobcat, fox, buck, and wild pig using the same game trail over the span of a week.
Stewards are noticing green growing back into the landscape, and some fallen trees on multiple properties after rainy days.
Happy New Year!
Thank you so much to all our volunteers and supporters that make this work possible. We wish you a wonderful new year!
Sincerely,
The Stewardship and Outreach Team
Education and Outreach Update
Written by Denise Castro, Education & Outreach Associate
Discover Diablo Program
December 3rd Exploratory Hike: Del Puerto Canyon was led by Save Mount Diablo's Land Programs Director, Sean Burke, and attended by three participants. Del Puerto Canyon is a stunning place at all times of the year, but the rain clouds makes it extra spectacular.
December 17th Blue Oak Woodlands Hike was led by Discover Diablo volunteer Jean Vieth and attended by 10 participants. It was a gorgeous, sunny day for a hike through Shell Ridge!
And that's a wrap for our 2022 Discover Diablo schedule! We held 32 out of the 36 scheduled hikes.
A few events were cancelled because of COVID-19 concerns or inclement weather.
Over 330 participants joined us in the outdoors.
Thank you to all our wonderful Discover Diablo volunteers! This program would not exist without your continued support.
The 2023 Discover Diablo schedule is now available!
Check out the new outings on Eventbrite.
Dr. Mary Bowerman Science and Research Colloquium
Thank you to everyone who attended the ninth annual Dr. Mary Bowerman Science and Research Colloquium!
This was the first time Save Mount Diablo ever held a hybrid event both in person at the David Brower Center in downtown Berkeley and over Zoom. We had more than 50 participants join us at the in-person event and over 70 viewers on Zoom.
We are immensely grateful to all our amazing speakers for helping make the colloquium such a huge success. Presenters came from all over the northern Diablo Range and shared some of their fantastic work.
Presentations included
Sean Burke, Save Mount Diablo's Land Programs Director, spoke about how the organization is helping monarch butterfly populations across the mountain.
Both Kathy Cutting, CSU East Bay's Field Station Coordinator, and Derek Emmons, the Conservation Coordinator for Contra Costa Resource Conservation District, spoke about the new garden they're building at the CSU East Bay Concord Campus with local tribes.
Doug Bell, Wildlife Program Manager for the East Bay Regional Park District, spoke about the new NatureCheck document that EBRPD has recently published. This document is a very important ecological health assessment of wildlife in East Bay lands.
Satoko Mills, the Environmental Monitoring and Restoration Coordinator for the Watershed Project, spoke about her water quality monitoring work in the creeks of Contra Costa County.
Erin Lehnert, a Condor Field Crew Leader for Pinnacles National Park, spoke about the recovery of California condors in Pinnacles National Park and how important it is to track the birds.
Joan Hamilton, produce for Audible Mount Diablo, gave us a sneak peek into the up-and-coming Robert Doyle film.
Holly Forbes, Curator & Conservation Officer at the UC Botanical Garden at Berkeley, shared her work on the conservation of the extremely rare Mount Diablo buckwheat.
Dr. Tedmund J. Swiecki, Principal/Plant Pathologist at Phytosphere Research, shared his research on the massive knobcone pine and manzanita dieback on Mount Diablo.
If you didn't get to watch the colloquium or if you want to see it again, the recording is now uploaded onto Save Mount Diablo's YouTube channel.
Top photo by Sean Burke