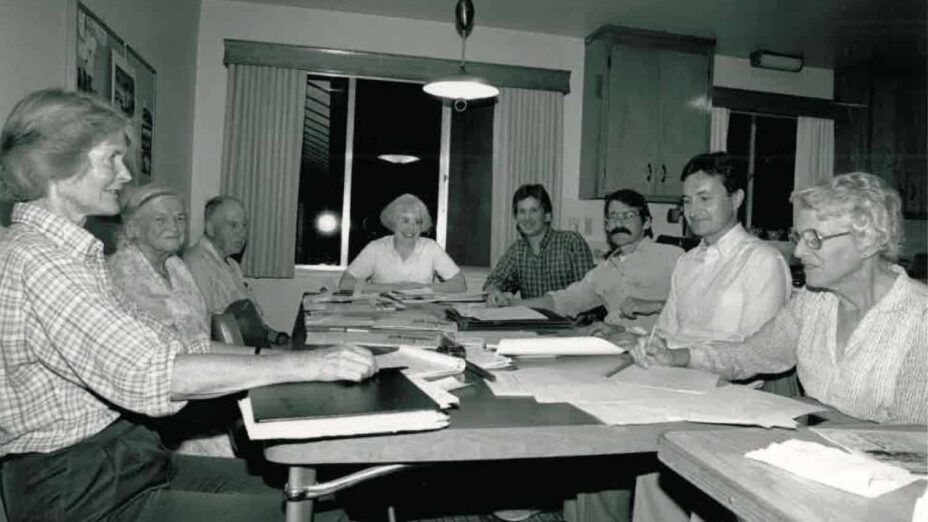 ---
As an all volunteer organization from 1971 until 1988, the Save Mount Diablo board of directors realized that they needed younger blood; SMD's first staff was hired. The first board meeting occurred at Heather Farm Garden Center on December 7, 1971. By 1988, the monthly meetings were being held around Gen and Bill Sattler's kitchen table in Concord. This photo was taken at a monthly board meeting, probably with a camera on a tripod by photographer Bob Walker, circa 1989.
In the photo seated from left to right:
1. Susan Watson, the new president of the board, focused on running the organization and responding to communication tower threats to the mountain.
2. Co-founder and botanist Mary Bowerman, Vice President Land, urged the state of California to make land purchases and carried out the 631-acre Morgan Ranch acquisition with board member Bob Doyle (not present), SMD president for the previous decade.
3. Bill Sattler, founder and treasurer—Bill's family moved to Concord in 1919. Bill meticulously hand typed all financial records from SMD's rapidly growing membership.
4. Pat Moran got involved during the Crystyl Ranch referendum in Concord, during which SMD stopped the project and increased the amount of open space from 30 to 330 acres out of 512.
5. Bob Walker was deep in the effort to connect Mount Diablo State Park with Morgan Territory Regional Preserve. SMD's Morgan Ranch acquisition in 1989 was the first connection.
6. Dann McCright, publications committee chair, created a new brochure.
7. Chris Valle-Riestra, an Oakland attorney, grew up in Walnut Creek and responded to development proposals.
8. Genevieve Sattler, a founder and secretary; she and Bill had met on a Sierra Club Mount Diablo hike after World War II.