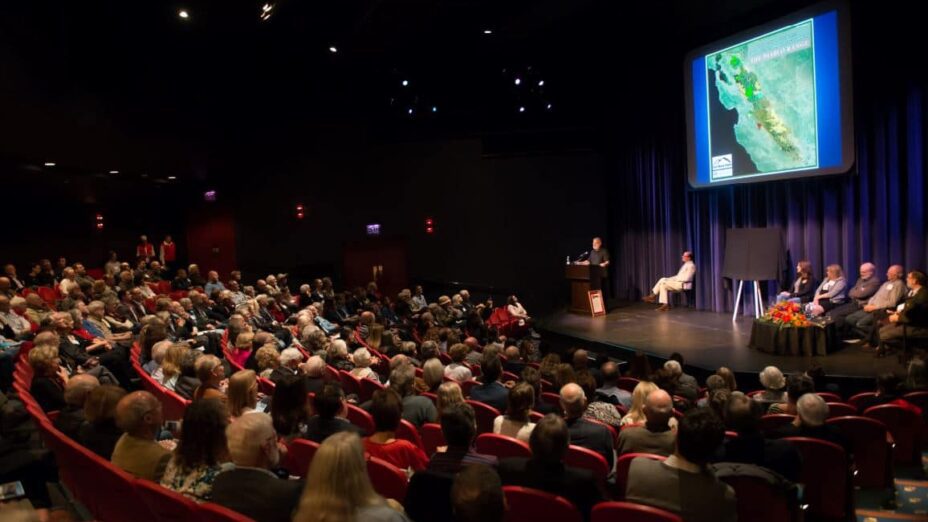 ---
A SPECIAL EVENING
On Thursday, March 22nd, a sold-out crowd of 300 guests gathered at the Lesher Center to join us in celebrating Seth Adams, Land Conservation Director on his 30th Anniversary with Save Mount Diablo. Seth has spent over 30 years protecting our mountain. His central contributions have led to critical gains in land conservation in the East Bay. 
THANKS TO OUR GUESTS!
We are grateful for the many friends, partners and allies who joined us in commemorating the milestones achieved protecting, defending and restoring Mount Diablo's irreplaceable wild lands over the course of Seth's storied career. Thank you for coming!
Gratitude to our terrific speakers:
Scott Hein, Save Mount Diablo Board President;
Amara Morrison, Save Mount Diablo Board Secretary;
Malcolm Sproul, Save Mount Diablo Board Member;
Robert Doyle, General Manager of The East Bay Regional Park District & Save Mount Diablo Founding Board Member;
District 16 Assemblywoman Catharine Baker;
& Contra Costa County Supervisor, Diane Burgis.

---
Photo Gallery
Thanks to Jessamyn Photography for capturing photos during the special event!
---
We'd also like to thank Burt Bassler, Save Mount Diablo Board Treasurer, for generously making the lead tribute gift. 
GIVE A TRIBUTE GIFT!
It's not too late to make a special donation in honor of Seth.
Finally… THANK YOU, SETH!