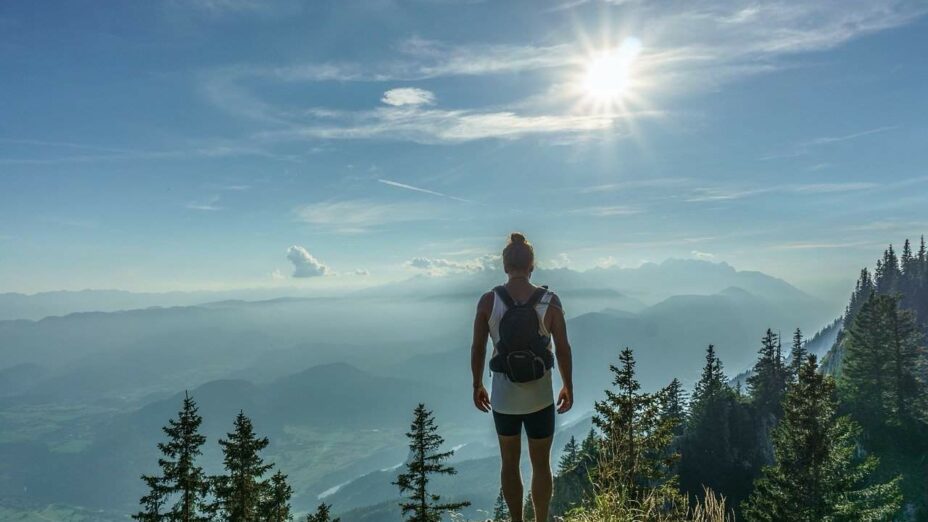 ---
Offering a unique variety of terrain and trails, California's terrain is a dream for hikers, cyclists, and equestrians. Although you might hit the trail to rejuvenate yourself and temporarily leave all problems and stress behind, you don't have to totally unplug. It helps to have a smartphone to ensure that you're following the right trail, or to look up general information about your surroundings. Here are my five apps that I reference on my smartphone while out on the trail. These popular apps are also available for Android. Happy trails to you! Be safe!
Avenza Maps
Avenza Maps (Avenza Systems, Inc.) is a powerful offline map viewer with a connected in-app Map Store to find and download professionally created maps for a wide variety of uses including hiking, cycling, camping, outdoor recreation, and adventure traveling.
Living in the East Bay, my favorite downloadable map is the "Mount Diablo and Surrounding Parks Regional Trail Map" produced by Save Mount Diablo. This map details 700 miles of public recreation trails in 160 square miles that includes Mount Diablo State Park and over 50 other preserves. With more than 120,000 acres of preserved lands on and around Mount Diablo, you can lose yourself in the beauty of the mountain for an hour, a day, or a week. Get the Avenza app and Mount Diablo digital map bundle for free.
PeakFinder AR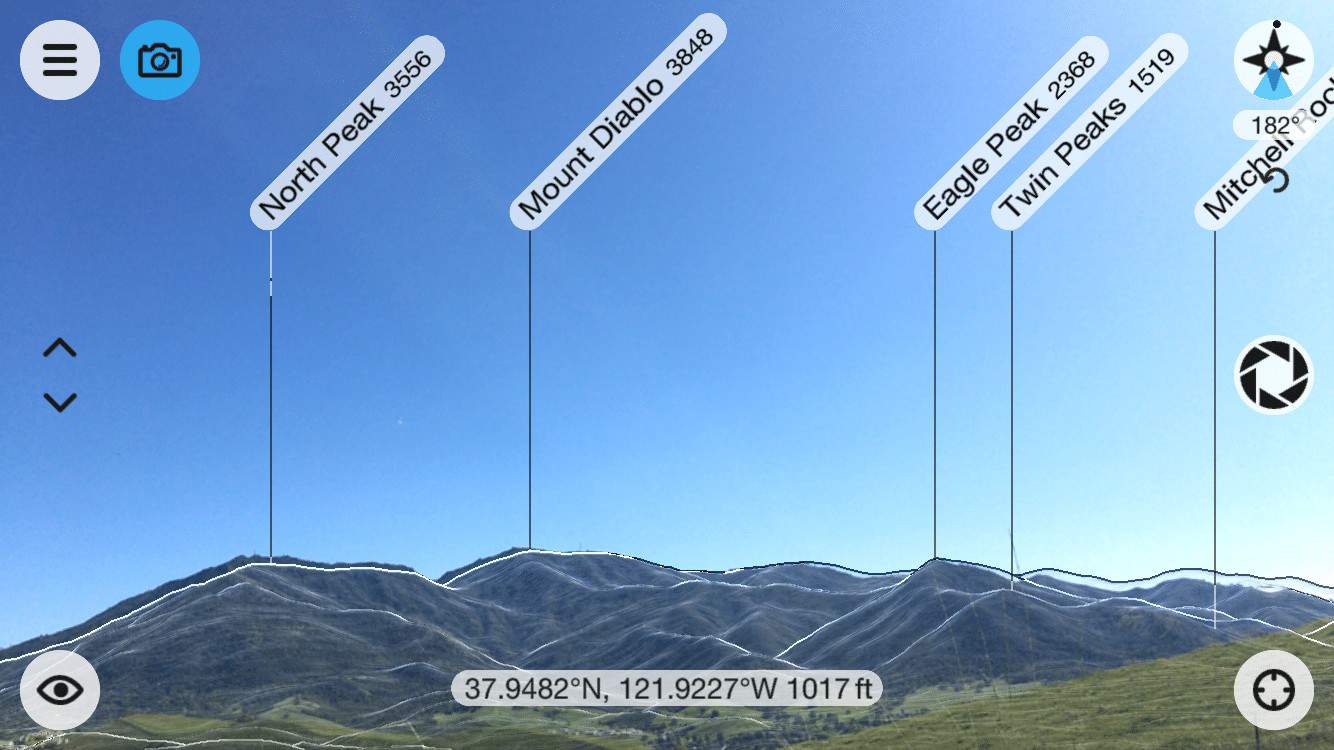 The mountains are calling! I love using this app to orient myself while hiking within Mount Diablo State Park or in the high Sierra. PeakFinder AR (Fabio Soldati) makes it possible and shows the names of all mountains and peaks with a 360° panorama display that overlays the camera image. Simple to use, this amazing app functions completely offline and references peaks worldwide, from Mount Everest to even the little hill in my neighborhood. The idea for PeakFinder came about as mountain wanderers were bickering over the names of some mountains. Touching a mountain name brings up additional information about the peak.
My Altitude
My Altitude (Dayana Networks LTD) uses GPS signals to determine your current location, altitude (height from sea level), barometric pressure, and water boiling point. By default, it uses device sensors to determine the altitude. It also allows you to get a picture of where you are and save it in a photo album. The picture will be sealed with the coordinates of your current location along with the altitude and local date and time.
iNaturalist
One of the world's most popular nature apps, iNaturalist (iNaturalist, LLC) helps you identify the plants and animals around you. Get connected with a community of over 400,000 scientists and naturalists who can help you learn more about nature. What's more, by recording and sharing your observations, you'll create research quality data for scientists working to better understand and protect nature.
iNaturalist is a joint initiative by the California Academy of Sciences and the National Geographic Society. You can also follow projects comprised of smaller communities and fellow citizen scientists passionate about a particular place or species.
Sky Guide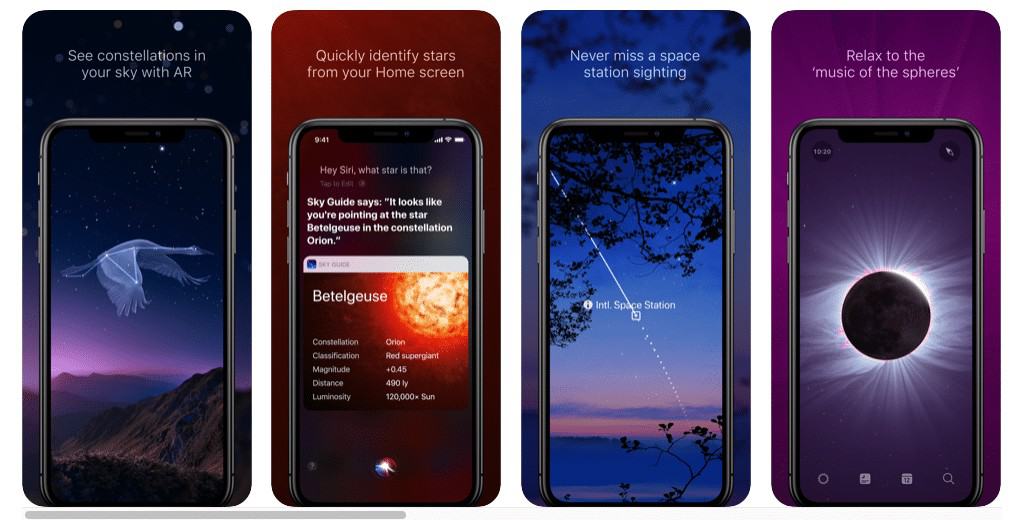 Sky Guide (Fifth Star Labs LLC) makes stargazing simple. Just hold it overhead to automatically find stars, constellations, planets, satellites, and more. Whether you're in search of the constellation Virgo, the Andromeda Galaxy, or the next big meteor shower, Sky Guide is jam-packed with information and rich graphics that will satisfy the most curious minds. This app also features hundreds of bright satellites for you to identify and track. You can also receive notifications whenever the International Space Station flies over your location. Use Sky Guide anywhere—on your evening walks, camping trips, or inside. The app works with or without Wi-Fi, cellular service, or GPS, so everything is at your fingertips no matter where you go.
Discover Diablo Free Public Guided Hikes
If you prefer staying unplugged and hiking with others, join Save Mount Diablo in exploring the Bay Area's beautiful wild lands and open spaces. Discover Diablo is a free public hike program that offers an annual schedule of guided interpretive family walks, hikes, and property tours open to any and all trailblazers looking to get out in nature.  Note: All hikes up to May 3, 2020 have been cancelled because of the Contra Costa County Stay Home Order for COVID-19. See the Discover Diablo Hikes Calendar to RSVP for upcoming hikes.