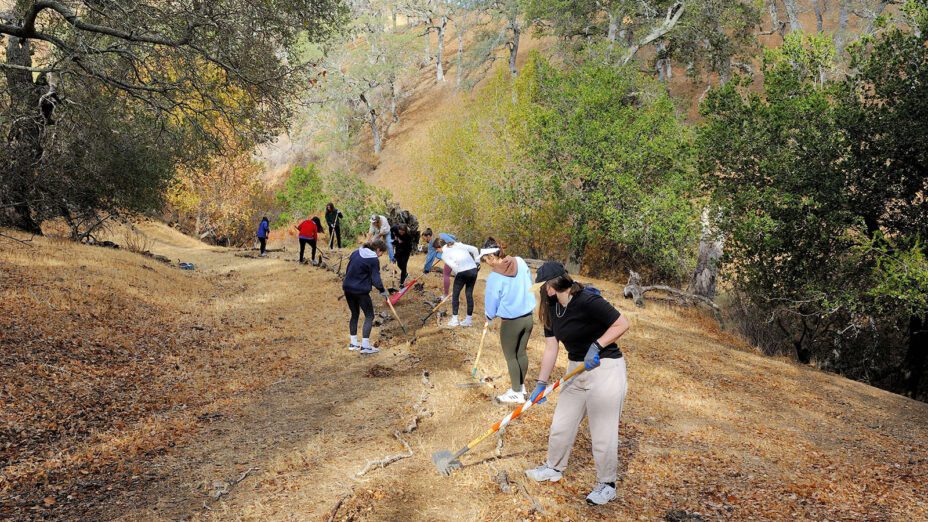 ---
Stewardship Update
Written by Haley Sutton, Land Stewardship Associate
Atmospheric River Marks (Hopeful) End to Seasonal Watering
Our mighty watering crew continued nurturing volunteer tree seedlings and native plants before the atmospheric river took over for us mid-October.
With rain as our reminder to shift gears, we are switching our focus to planting additional natives, to protecting more trees, and eventually on weed detection and removal once the golden brown landscape transitions back to lush green. A huge thank you to our watering crew, who helped us get through the long dry spell!
To read more about the amazing ways our volunteers help us, visit this blog post about our creekside heroes.
We are moving our way up to protecting and planting 10,000 native trees and plants, with a total of 753 protected and planted since creating our Climate Action Plan last year.
Keeping an Eye on Milkweeds
Staff have been identifying and mapping native milkweed plants across all Save Mount Diablo properties to help the East Bay Monarch Working Group locate existing populations in the region. There are two native milkweed species in our area, showy milkweed (Asclepias speciosa) and narrow-leaved milkweed (Asclepias fascicularis), and we've mostly observed the narrow-leaved variety.
In concept, present milkweed populations will indicate where to focus seeding and planting efforts to provide more host plants for the monarch butterfly, which has seen a population decline in the past few decades.
If you would like to contribute to the greater project as a citizen scientist, you can download the Monarch SOS app to track observations of milkweed plants and monarchs.
Question of the Month
We received a few responses to our question last month about exciting wildlife sightings around Mount Diablo. Observations included a bobcat leisurely strolling along Galindo Creek, a western fence lizard, and a mountain lion in the Lime Ridge area several years ago.
Staff and volunteers have observed golden eagles soaring, great horned owls nestled in an oak tree, and an American badger while on Save Mount Diablo lands!
This month, please let us know what your favorite seasonal transition going into fall and winter is.
Staff Trainings and Updates
This month has also been filled with trainings and conferences so staff can stay up-to-date on current practices and protocols for the stewardship work we do. Staff representatives attended the California-Invasive Plant Council (Cal-IPC) symposium, the Land Trust Alliance Rally, and a climbing instruction training in the Sierras. We also tabled at the Mount Diablo State Park centennial celebration!
Measuring Grazed Lands
Stewardship staff began collecting residual dry matter (RDM) observations on grazed properties to analyze the grazing regimes on the land from the past year.
This procedure involves randomly sampling the grazed area and weighing the amount of grass that's above the ground (excluding roots, soil, and fallen leaves) to compare to a standard that indicates whether the area has been over or under grazed, or somewhere in between. The process looks a lot like giving the grass a haircut!
Beautifying Galindo Creek
Volunteers and staff removed a compromised culvert from Galindo Creek at Mangini Ranch with approval from the California Department of Fish and Wildlife.
To lift the big pieces of plastic and metal culverts from the creek bed, multiple vehicles were used to pull them out for proper disposal. The removal was followed by some restorative mitigation work that included laying burlap over the creek bank to help secure the soil and will be followed by seeding natives.
Students Back in Nature
Campolindo High School students joined us at Mangini Ranch for a Conservation Collaboration Agreement (CCA), which aims to spark a meaningful connection between youth and the outdoors and inspire future stewardship.
Students protected trees, flagged milkweed, and connected segments of cattle trails to help us prepare for the opening of the educational preserve. Students also participated in an ecological nature walk and an introspective solo.
To learn more about this field experience experience and our Conservation Collaboration Agreements.
We hosted several Discover Diablo hikes this past month that focused on observing lichen and birds at Curry Canyon Ranch, appreciating fall at Borges Ranch, and a spooky visit to Black Diamond Mines.
Upcoming Workdays
December 4: DiRT Day, Marsh Creek 4 and 6, 9 AM to 12 PM
December 18: Pine Canyon Cleanup
Top photo by Al Johnson.