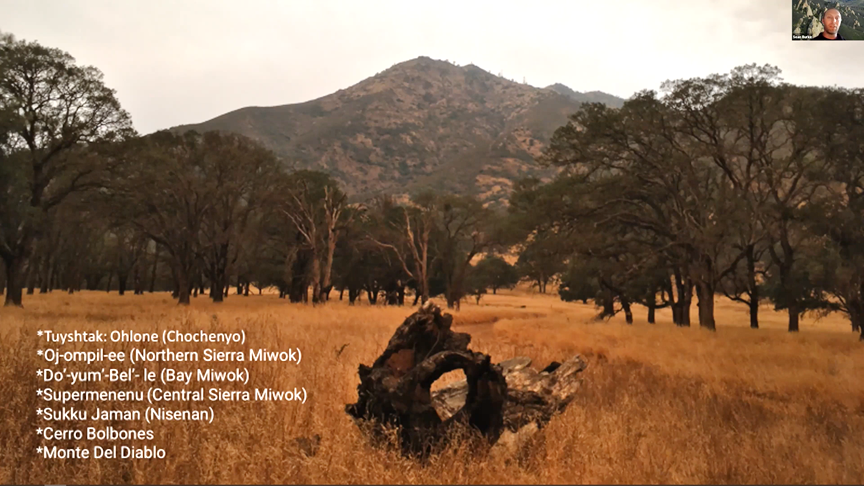 ---
This fall semester at California State University East Bay, Save Mount Diablo staff are teaching a 16-week course. It's entitled History of Land Conservation Nationally and in the Mount Diablo Area, the Original Future Stewards, and Careers in the Field.
Ted Clement, Executive Director of Save Mount Diablo, teaches the course. Guest lecturers also include
Robert Phelps, PhD, Executive Director of the Cal State University East Bay Concord Campus; Save Mount Diablo Board member; and Chair of Save Mount Diablo's Education Committee
Seth Adams, Save Mount Diablo's Land Conservation Director
Sean Burke, Save Mount Diablo's Land Programs Director
Topics for Save Mount Diablo's Land Conservation Course
During the course, students are engaging with a series of eight separate online presentations and learning units designed by leading experts in the field of land conservation. Each presentation and learning unit addresses these distinctive topics.
Overview of the course, and the history and evolution of land conservation in the United States by Professor Ted Clement;
History of Save Mount Diablo by guest lecturer Seth Adams;
Native peoples, the original stewards of the Mount Diablo area by guest lecturers Robert Phelps, PhD and Sean Burke;
Stewarding the unique flora of the Mount Diablo and Diablo Range areas by guest lecturer Sean Burke;
Stewarding the unique fauna of the Mount Diablo and Diablo Range areas by guest lecturer Seth Adams;
Establishing the next generation of stewards by Professor Clement and guest lecturer Robert Phelps, PhD;
National standards and practices for land trusts by Professor Clement; and
Careers in land conservation by Professor Clement.
Ensuring the Future of Land Conservation
As part of our Climate Action Plan, we are connecting with diverse groups to better implement meaningful climate solutions. In this case, the diversity is two-fold, because students are an integral part of the community, and CSU East Bay is also the most ethnically diverse university in the lower 48 states.
It is critical that we retain our connection to nature and the outdoors as we spend more and more time indoors. "[T]he less we value our outdoor spaces, the less likely we are to protect them," according to a 2017 report, The Path Ahead.
Thus, this collaboration with CSU East Bay is one of many steps we are taking to ensure the future of Mount Diablo and the Diablo Range and the future of land conservation in general. In teaching students the importance of protecting land, we hope that they will gain a greater appreciation for what the outdoors has to offer.
Students and faculty at CSU East Bay have asked us to teach the course again in the spring semester. This is an encouraging sign; more young people are becoming interested in land conservation, and they will be an integral part in the work to address climate change.
Top photo: Sean Burke speaking about Native American tribes.