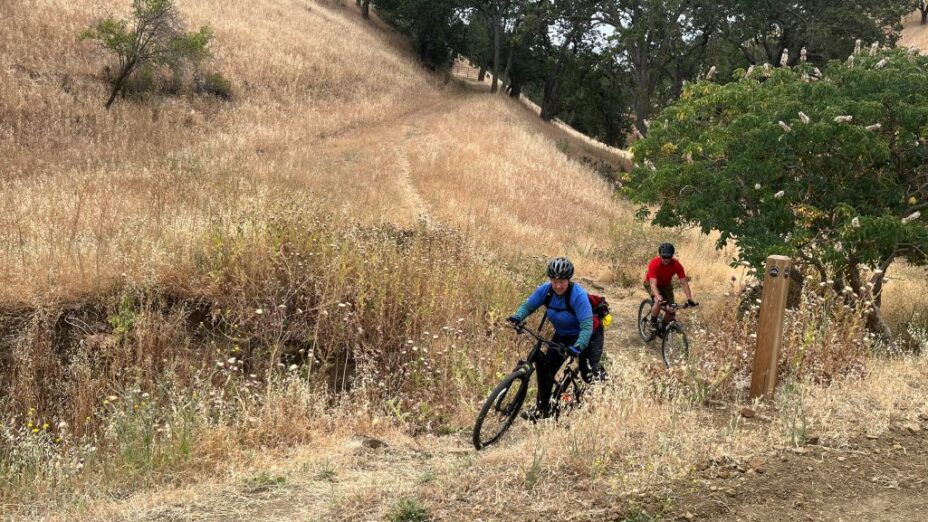 ---
Stewardship Update
Text by Haley Sutton
Fallen Oaks Get Second Life
Two coast live oak trees fell on two separate properties this month, one at the top of Marsh Creek 6, and another across the Chupcan Canyon trail at Mangini Ranch.
Staff tried out the new battery-powered chainsaw and polesaw to buck up the trees and found both tools to be incredibly effective and easy to use.
The likely cause of each tree collapse is the summer drought and heat stress. Marsh Creek 6 has had many trees topple since the Marsh Fire swept across the property in 2018.
Both coast live oaks were large trees with big trunks we hope to carve into benches that will remain at each site.
The smaller branches of the tree at Marsh Creek 6 will be mulched to use for paths and restoration plantings on the property, and the branches from the tree at Mangini Ranch have been lined up along the creek bank to serve as erosion protection for now.
The trees will have a second life on our properties! All visitors at the Mangini Ranch Educational Preserve can check out the remaining trunk of the coast live oak near the bridge crossing.
Trails with the Trail Dogs
The Trail Dogs constructed a sheet-mulched trail at Big Bend from the parking area to the pond on the eastern floodplain of the property.
This new addition complements the existing trail from the parking area to the bridge crossing to the property's central flood plain. The Trail Dogs placed burlap bags covered by a thick layer of mulch that will block weeds from emerging.
The sheet-mulched trails constructed at the end of last year and early 2022 are all still intact, and we hope to utilize this method around our restoration plantings and for other trails in the future.
Tree Protectors
About 20 middle and high school student interns from Bay Point Garden Academy BACR CARES at Riverview Middle School joined staff at Curry Canyon Ranch to protect and water more volunteer oak seedlings.
The southeast-facing hillside behind the field station has an abundance of valley and blue oak seedling volunteers since last year.
The students constructed protective tubes before applying them around the little green trees they identified amid the golden grass, and then watered each one.
Some friendly competition ensued to see which group could protect the most trees. Together, they protected 116 trees!
The students also learned about California milkweed (Asclepias californica) ecology and our efforts to restore the species on our properties and surrounding lands. They helped us put bags around the large milkweed seed pods that will collect the released seeds.
The seeds will be used for future restoration plantings to improve local milkweed population densities. A huge thank you to the students for helping us with our 10,000 Trees and Plants Project!
Property Stewards in the Field
Our Curry Canyon Ranch stewards removed invasive thistles and observed an abundance of birds, including a killdeer, Say's phoebe, Bullock's oriole, western kingbird, and black-headed grosbeak.
Additionally, many stewards are noticing that the various creeks along our properties, such as Marsh Creek and Curry Creek, have little to no flow at this time of the year.
Education & Outreach Update
Text by Denise Castro
Discover Diablo Program
Sign up for any of the Discover Diablo events through Eventbrite.
June 4th Hit the Trails Mountain Biking at Mangini Ranch led by Save Mount Diablo Executive Director Ted Clement and Land Programs Director Sean Burke, was attended by nine participants. It was a great ride around the new preserve.
June 11th Caminemos (Let's Hike) Mangini Ranch was led by Save Mount Diablo's Education & Outreach Associate Denise Castro and attended by 19 participants. It was a toasty day, but the views from Mangini Ranch never fail to wow.
Thank you to all our Discover Diablo volunteers!
Recent Tabling Events
June 3rd
Walnut Creek's R&A Cycles held a "Climbs of California" evening featuring photography from world-renowned photographer Michael Blann.
They raffled four of his framed images and donated the proceeds to Save Mount Diablo. Assos of Switzerland sponsored the show. Thank you, R&A Cycles, for supporting Save Mount Diablo's mission!
June 22nd
The Annual Dana Estates Night in Concord was organized by the Dana Estates Neighborhood Alliance and the City of Concord. This was a family-friendly event with lots of local organizations and super fun activities for the kids.
June 25th
The Martinez Beaver Festival was organized by Worth a Dam. Great news! Governor Gavin Newsom's new Beaver Restoration Program at the California Department of Fish and Wildlife begins on June 30th and will help create sustainable habitats for beavers.
June 25th
The Clayton 1st Annual Pride Parade was held in downtown Clayton. A big thank you to the Clayton Pride Parade Team (community members) and the Rainbow Community Center for putting together such a wonderful event!
Mangini Ranch Educational Preserve: We Are Looking for Volunteer Docents!
We're looking for more Mangini Ranch Educational Preserve docent volunteers!
Docent responsibilities include
Help with parking
Introduce Save Mount Diablo and our mission
Provide information about Mangini Ranch
Provide safety notes
Answer questions
Stay on the site until the group leaves and lock up afterward
The docent is not required to lead any hikes or tours around the property.
Join our docent training on Friday, August 12th from 8:00 AM to 10:30 AM. There will be about an hour overview of the docent position and then we will go on a hike around Mangini Ranch (optional).
If you're interested in learning more about the volunteer docent position or would like to join the training, please contact Denise Castro at dcastro@savemountdiablo.org.
Top photo by Sean Burke