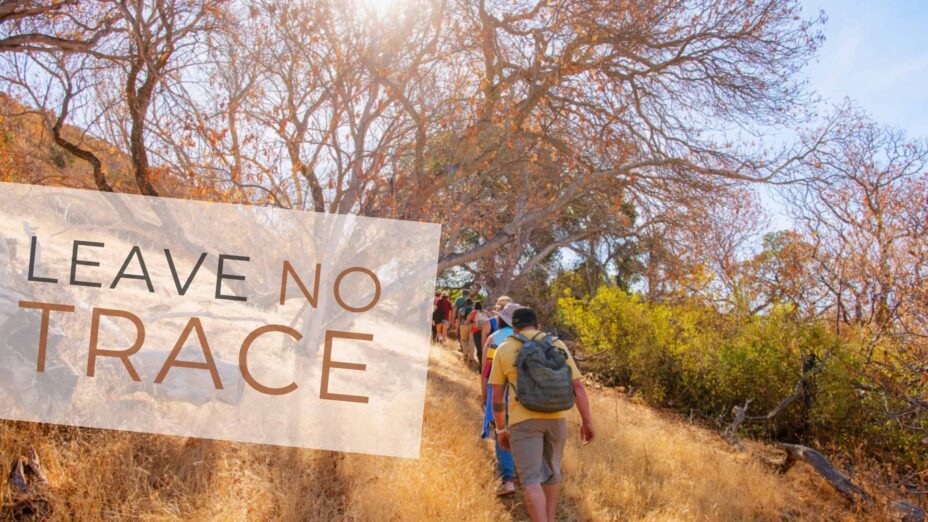 ---
Preserving the Environment While Hiking
By Molly C., Contributing Author
Photograph by Al Johnson
Hiking is one of the best ways to enjoy the outdoors and enjoy nature. While the biggest threat to preserving land is commercial and residential development, it's still possible for even the most careful hiker to damage the environment. Here are some tips you can keep in mind on your next hike to ensure that generations of hikers can still enjoy nature's bounty.
Tip #1: Take it in, Pack it Out
This should really go without saying, but you should never leave any trash behind when you're hiking, even if it's something that's biodegradable like a banana peel or an apple core. When you leave trash behind you run the risk of harming the local wildlife. Additionally, do you want to see someone else's moldy apple core on your next hike?
Tip #2: Stay on the Trail
Dedicated volunteers maintain trails on Mount Diablo (and most other hiking areas). These trails were created because they not only show you some of the most gorgeous views, but have minimal damage to the environment. When you leave the trail to hike elsewhere you create what's called "braided trails," which degrades the original trail and makes it significantly harder to maintain in the future. This means you should even walk thorough mud or puddles if it means staying on the trail. Finally, you're simply more likely to get lost if you leave the trail, and nobody wants to pay an arm and a leg for a search and rescue team.
Tip #3: Wash Your Boots
It's usually hard to avoid dirt or mud while hiking, but what's important is washing your boots once you return home. Mud is usually riddled with seeds from local flora. If you don't wash your boots after a hike, especially if you're hiking in completely different regions, you run the risk of transferring an invasive species from one area to another.
Tip #4: Leave the Wildlife Alone
Mount Diablo has diverse wildlife. With chaparral, grassland, pine forest, and woodlands, you could see something as common as a ground squirrel or as rare as a mountain lion or bobcat. Regardless of what you find, you should always watch wildlife from a distance and not approach for the safety and welfare of the animal. Never destroy an animal's habitat, and never try to feed an animal.
Tip #5: Where Permitted, Keep Dogs Well-Behaved
Where permitted, dogs are some of the best hiking partners you can ask for. Unfortunately, they're not always on their best behavior. You should always keep your dog on a leash for the sake of other hikers and to prevent your dog from chasing wildlife. Don't let your dog dig on the trail at all, as that'll degrade the trail and cause erosion on the future. Finally, be sure to pack out any dog waste with you!
Becoming a conscientious hiker (or cyclist, walker, etc.) is just one step to preserving nature. If you want to keep people on the mountains for years to come, there are many ways you can help out and save the beautiful Mount Diablo area and beyond.
About the Author:

Molly C. is an avid hiker based in the New England area. She's also a cyclist and an amateur roller derby competitor. One of her biggest life accomplishments was hiking the Appalachian Trail, and now she's hoping to tackle the Pacific Coast Trail someday soon.
---
Want to Contribute to Save Mount Diablo's blog?
Contact Save Mount Diablo's Communications Manager, Caleb Castle with any questions and/or to submit your work for consideration. We will review articles and media for inclusion on our blog or other publications on a case-by-case basis. Thanks for your interest in becoming a Contributor!