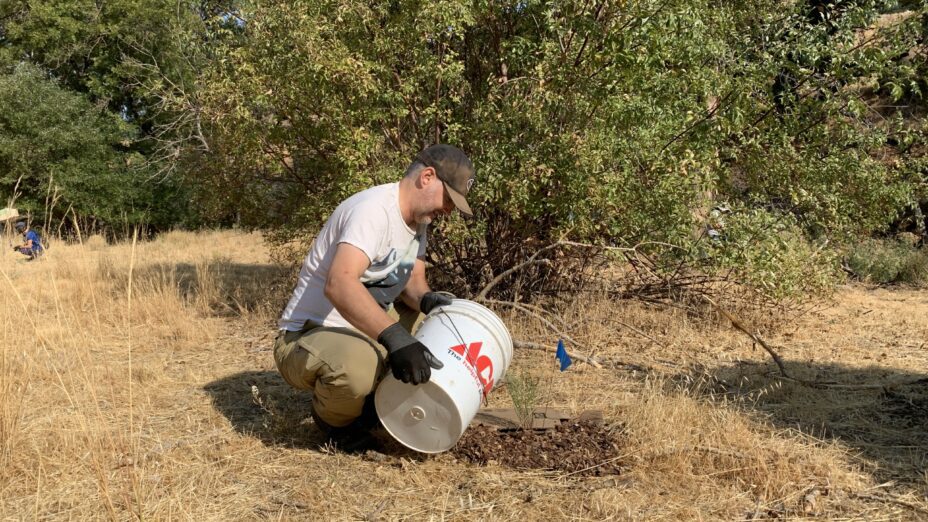 ---
Stewardship Update August 2021
Written by Haley Sutton, Land Stewardship Associate
It's Summertime along Marsh Creek
A crew of volunteers gathered at Marsh Creek 4 to support new restoration plantings and remove invasive perennial pepperweed. The Mighty Mulchers gave each planting a nice drink of water, followed by a protective layer of cardboard or burlap and a thick layer of mulch. This is a common technique to suppress weed growth around the plant, while also retaining moisture.
The Weed Warriors bagged the flowering tops of pepperweed before removing the remainder of the plant. Perennial pepperweed can easily resprout from pieces of plant matter left behind so it is important that we completely remove the plant from the ecosystem. We will follow removal with additional sheet mulching in that area for new plantings in a future season.
Eyes on the Trail
There's a lot of activity on our properties when staff and volunteers are not around. We have trail cameras on various properties recording the hustle and bustle that might otherwise go unnoticed. A camera located in Curry Canyon Ranch is one of our more active locations, visited by wildlife like bobcats, deer, coyotes, and wild pigs that root into the soil.
Restoring with the Seasons
Habitat restoration is a seasonal activity. In California, summer and fall is spent watering and preparing the soil for plantings that go in the ground in winter. Weeding is year-round; we shift our focus on different species based on life cycles and flowering periods. A lot of work goes into maintaining our restoration plots to support the highest success rate for all of our efforts.
When you're out in the field or on the trail, what is your go-to snack? Let us know here.
Upcoming Workdays
September 11: DiRT Days at Mangini Ranch and Big Bend, 8:30 to 11:30 AM
September 18: California Coastal Cleanup Day at Thomas Kirker Creek, 9 AM to 12 PM
Education and Outreach Update
Written by Denise Castro, Education & Outreach Associate
Discover Diablo Program
We had two fabulous Discover Diablo hikes this past month.
August 7th Sunrise Hike was led by Save Mount Diablo's very own Stewardship Manager, Roxana Lucero, and attended by 15 people. Unfortunately, it was a pretty smoky day so the hike had to be cut short, but participants still got to experience Curry Canyon Lower 200 in much of its glory (especially that view at the top). Despite the smoke, participants really enjoyed the walk!
Notes left by participants on the post-hike survey:
"The hike was good, the leader was knowledgeable, very informative, excellent."
"[I liked] the scenery and leaders!"
August 13th Caminemos (Let's Hike) Mangini Ranch was POSTPONED. New date TBD.
August 14th Mangini Ranch Meditation Hike was led by Save Mount Diablo volunteer hike leaders Sharon and Jim Lawrence and attended by 17 people. It was a gorgeous morning out on Mangini Ranch, and we got to do some great neighbor outreach while we were setting up (one Crystyl Ranch neighbor even joined the hike last minute!). The hike itself was super well-received.
Here's some notes participants left on the post-hike survey:
"I gained a greater appreciation for the surrounding spaces, using the meditation techniques presented."
"I loved the breaks to re-focus on meditation and being present."
Thank you to all our Discover Diablo volunteers!
Check out upcoming Discover Diablo events on our Eventbrite page.
It's that time of year again: Time to start planning and gathering events for the 2022 Discover Diablo schedule! *tosses biodegradable confetti*
If you're interested in leading hikes for the 2022 Discover Diablo calendar, please contact Denise Castro at dcastro@savemountdiablo.org for the details.
You must be 18 years or older to lead Discover Diablo events.
For all interested Discover Diablo volunteers, this is a reminder to please send Denise a quick email letting her know that you'd like to lead a hike in 2022. The final deadline for all hike details is December 4th, 2021.