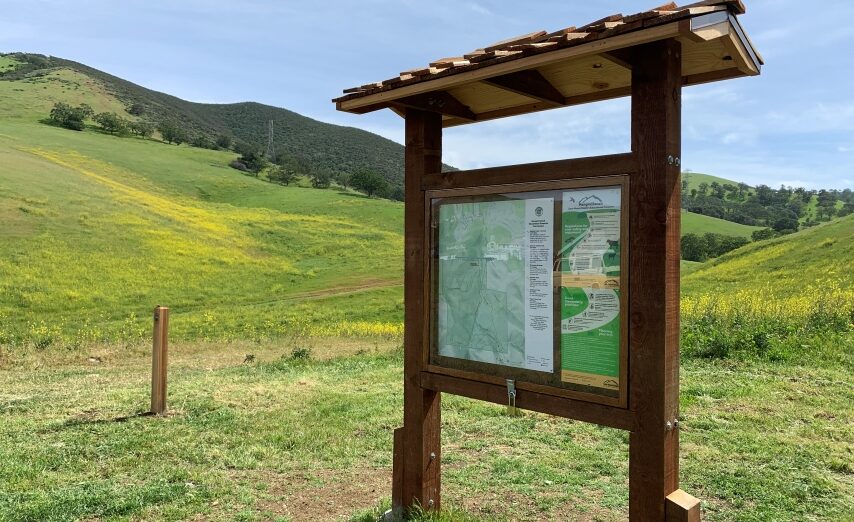 ---
Stewardship Update
Written by Haley Sutton, Land Stewardship Associate
Mangini Ranch Educational Preserve Is Open!
Staff and volunteers have been working hard over the past year to prepare Mangini Ranch for its grand opening as our educational preserve, and we ramped up the energy even more for its opening on March 30th.
As visitors enter the preserve, the first new addition they will observe is the informational kiosk built and installed by a group of stewards. The kiosk holds rules and regulations signage, a map, and other useful information pertaining to Save Mount Diablo.
When visitors go up the desert olive trail, they are guided by the skilled work of our DiRT volunteers, who maintained the trail during our workday this month. Now that the preserve will host regular visitors, all the foot traffic across the trails will help keep the vegetation down.
Next comes the natural amphitheater area where the shade structure is located, along with three new picnic tables, constructed by scouts fulfilling their Eagle rank.
Satvik Nayak, Lohith Dasari, and Siddhanth Nayak all led a group to build redwood picnic tables that will welcome all future visitors to that gathering place of the preserve.
A pedestrian bridge, now with a fresh coat of paint that pops against the landscape, connects the Chupcan canyon trail to the Galindo Creek trail loop. As visitors walk the preserve's trails, they will notice the newly installed trail posts with trail names to guide them throughout the preserve.
There are seven posts made of reclaimed old-growth redwood located at trail junctions around Mangini Ranch. For folks that enter through Coralwood Drive, rather than the main entrance on Crystyl Ranch, there is a new pedestrian gate to welcome all.
We are excited for you to learn and explore!
Tree Trek with DocuSign
Employees at DocuSign joined staff at Curry Canyon Ranch to protect oak seedlings as part of their Green Impact Week. A small yet mighty team located and protected an additional 82 young blue oaks in our tree tubing area behind the field station.
When we began tubing trees last summer, it was much easier to locate the trees against a golden background of dried grasses.
With it still early in the year, it is more of a challenge to spot the young trees among green grass, but our volunteers quickly developed an eye for the little trees. Thank you, DocuSign, for lending your hands!
DiRT in Action
DiRT volunteers gathered at Marsh Creek 7 and 1 to give all the plants some love by weeding and mulching around each plant. Everyone was rewarded with a beautiful day and a property blanketed in fiddleneck and lupine wildflowers.
I Spy a Milkweed Plant
The staff has been identifying and mapping milkweed (Asclepias spp.) plants on Save Mount Diablo properties. We belong to a monarch working group with the East Bay Regional Park District and others to identify the best areas to reintroduce milkweed species.
So far staff and volunteers have identified and mapped narrowleaf milkweed (Asclepias fasicularis) on numerous properties, but this month we observed California milkweed (Aesclepias californica) plants on our properties and the state park as well!
Education and Outreach Update
Written by Denise Castro, Education & Outreach Associate
2022 BioBlitz
Save Mount Diablo's 2022 BioBlitz is coming up! We're continuing our partnership with the California Native Plant Society for their Fire Followers Campaign, a three-year project focusing on all the 2020 fires (over 4 million acres) that burned across the state of California.
Save Mount Diablo's BioBlitz is focusing specifically on the SCU Lightning Complex for the second year in a row. We have several goals for this BioBlitz:
1) To collect post-fire species information through photographs to help us better understand the impacts of wildfires on various habitats.
2) To encourage participation in citizen science efforts.
3) To encourage people to explore the Diablo Range and spend time outside in nature.
Anyone can participate in the distributed BioBlitz at any time within the two weeks from Saturday, April 16th to Saturday, April 30th!
We're inviting participants to visit public sites that were impacted by the SCU Lightning Complex and take photos of any living thing (plants, animals, fungi, etc.) to upload onto iNaturalist.
Check out our website for more information on public sites to visit.
RSVP to hear about all the awesome plants and animals we found during our BioBlitz debrief on Thursday, May 5th (4 to 6PM) via Zoom.
Discover Diablo Program
March 19th On Belay: Pinnacles National Park led by Sean Burke, Save Mount Diablo Land Programs Director, and attended by seven participants. It was a gorgeous, slightly cloudy day and everyone got to do a few climbs and see condors!
March 22nd Peregrine Falcon Territory Hike led by Save Mount Diablo volunteer Jennifer Russell and attended by 11 participants. It's always a beautiful day to visit Diablo Foothills Regional Park, but it's even better when the peregrine falcons come out to say hi! Participants got to see the fastest bird in the world.
March 26th Woods, Meadows, and Creek Hike Hike led by Save Mount Diablo volunteer Jean Vieth and attended by nine participants. Morgan Territory Regional Preserve is a wonderful place to see lots of different kinds of wildflowers! Participants got to see this variety throughout the hike.
March 26th On Belay: Boy Scout Rocks led by Sean Burke, Save Mount Diablo Land Programs Director, and attended by four participants. Another successful rock climbing event on a beautiful sunny day! You can sign up for our Discover Diablo hikes and outings on Eventbrite.
Thank you to all our Discover Diablo volunteers!
Top Photo by Haley Sutton