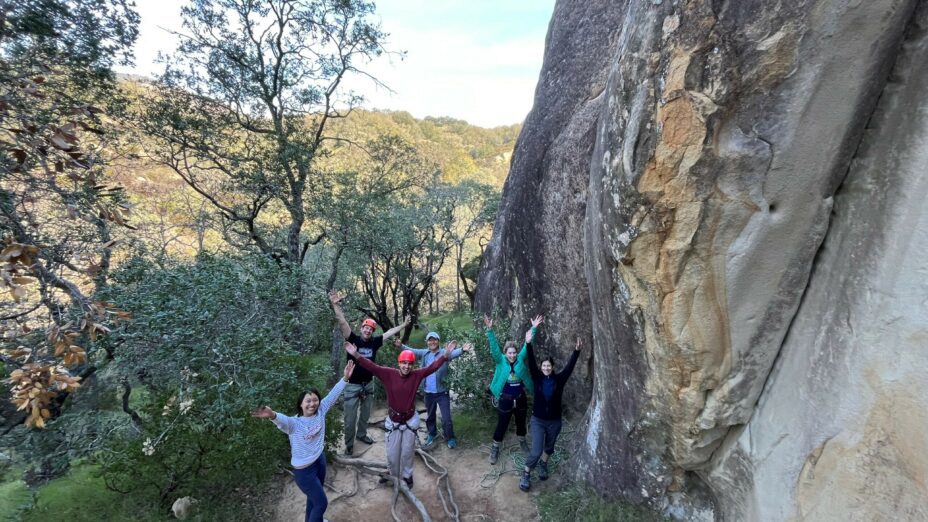 ---
We recently hosted our first two rock-climbing events at Rock City in Mount Diablo State Park as part of our Discover Diablo hikes and outings program. By adding rock climbing to our program, we are working to expand our reach and get more people outdoors.
Sean Burke, Save Mount Diablo's Land Programs Director, introduced participants to rock climbing and climbing safety. He, Executive Director Ted Clement, and Land Stewardship Associate Haley Sutton then belayed for them as they made their first ascensions.
Sean is an experienced alpinist and certified rock-climbing instructor. We feel fortunate to have these talented staff members with such a depth of experience and skills.
Environmentally Conscious Climbing
Our goal is to educate people on how to recreate outdoors responsibly and foster appreciation and respect for the environment. Our first rock-climbing event provided the perfect circumstances for doing so.
The event was originally scheduled in late November. However, it was postponed because of rain; the sandstone in Rock City was still wet from rain a few days prior. So, on December 5, our staff led two rock-climbing excursions for interested folks, one in the morning and another in the afternoon.
Water weakens sandstone, and it can easily break until it dries and resolidifies; the event was rescheduled to prevent permanently damaging the rock structures.
Learn more about assessing the safety of climbing on sandstone after rain or snow and about how to reduce your environmental impact as a rock climber.
Overall, our rock-climbing events were a huge success, and we look forward to seeing you at our next Discover Diablo outing! Our new schedule of free public, guided hikes and outings will be coming out the first week of January.
Top photo by Ted Clement.