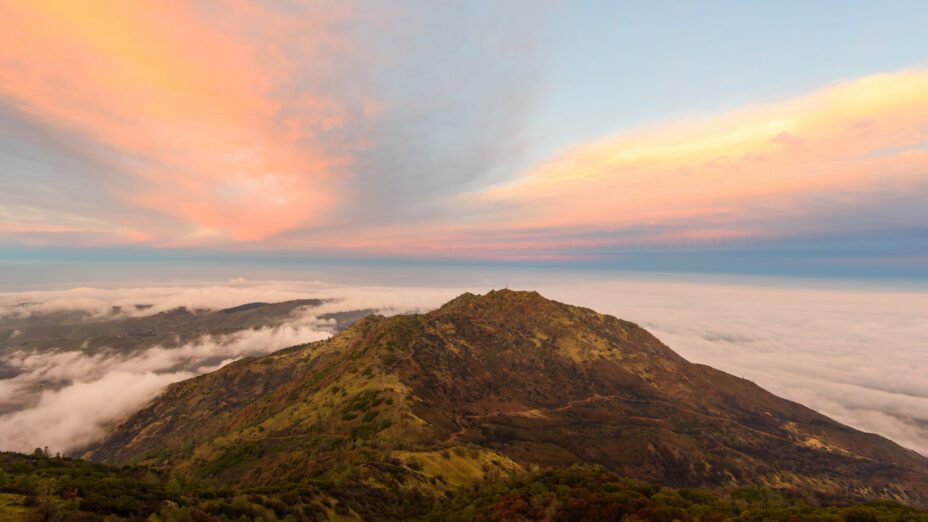 ---
If you were to ask us what the most challenging hike in Mount Diablo State Park is, this would be the answer. If you're looking for an extremely challenging all-day hike that will test your limits in Diablo's natural beauty, then keep reading.
This all-day route covers five of Mount Diablo's peaks, with a sixth optional one at the end. Hike up to Twin Peaks, ascend to Eagle Peak, over Mount Olympia, and through North Peak before hitting Mount Diablo's summit.
Distance: 15 miles
Difficulty: Very challenging and strenuous
Hiking time: 10 to 16 hours
Trail surface: Mostly single-track trail
Best seasons: Spring and fall
Managing agency: California State Parks
Hours: 8 AM to sunset
Parking: Mitchell Canyon Visitor Center (there is a $6 parking fee)
Trailhead location: Mitchell Canyon staging area
Be prepared to hike through every habitat on Mount Diablo, from streamside, shady oak woodland to sunny, dry chaparral on this demanding hike.
We suggest beginning this route at the Mitchell Canyon staging area, hiking out on Mitchell Canyon Road, then heading up to Twin Peaks and Eagle Peak via Mitchell Rock and the Eagle Peak Trail.
You'll hit the first peak, Twin Peaks, at 1,733 feet of elevation. Here you'll get an excellent view of Mitchell Canyon from the peaks' iconic rocks.
At Twin Peaks is also around where the oak woodlands start to turn into a chaparral ecosystem. Past this point, you'll be more exposed to the sun, so prepare accordingly.
Trek up another 636 feet up Mount Diablo, and you'll get to Eagle Peak at 2,369 feet of elevation. Make sure not to skip the views here, where you can enjoy some of Mount Diablo's best panoramic scenery.
From Eagle Peak, there are several ways to get to Mount Olympia and North Peak. Consider downloading our regional trail map so that you can better navigate the various routes that you have the option of enjoying.
Want a more scenic route?
Head to the end of the Eagle Peak Trail and make a left onto Prospector's Gap Road. Then turn left onto Middle Trail and left again onto Falls Trail. If it's rained recently, you might be fortunate enough to see some waterfalls along the aptly named Falls Trail.
After reaching the end of the Falls Trail, turn right onto the Olympia Trail and hike here until reaching Mount Olympia Road. Be prepared for a very steep hike here. Mount Olympia Road starts at an elevation of 1,950 feet and ends at the top of Mount Olympia, at an elevation of 2,946 feet.
After summiting Mount Olympia, head about a mile along North Peak Road until you reach North Peak at 3,557 feet of elevation.
By now, Mount Diablo's summit is in sight.
To get there, hike to the end of North Peak Road and the North Peak Trail. Go past the Devil's Elbow and at this point the summit, at an elevation of 3,849 feet, will be in reach.
Now that you've summited five of Mount Diablo's peaks, make sure to give yourself a minute to celebrate your accomplishment before heading back down!
If you don't want to retrace your steps to get back down, there's a much more straightforward way to get back to the Mitchell Canyon staging area. Simply head down through Mitchell Canyon by taking Juniper Road, Deer Flat Road, and Mitchell Canyon Road.
If summiting five peaks in one day isn't enough for you, there's a sixth peak that you can reach from Mitchell Canyon Road on the way down. You can get onto Red Road followed by Black Point Trail to hit Black Point at 1,791 feet of elevation on your way out.
This route takes you into many remote parts of Mount Diablo that can only be accessed via foot, so make sure that you bring all the supplies necessary for this extremely challenging all-day hike.
Please make sure that you're prepared for any weather conditions before attempting this hike. Depending on the time of year, some of these peaks can be over 100 degrees with no shade or covered in snow.
Do your research beforehand; be aware of how the weather will potentially change throughout the day. And make sure you have plenty of food and water.
Ideally, make sure that you've done a few training hikes on Mount Diablo beforehand so that you have a good understanding of your physical capabilities on this terrain. There's a lot of great local hikes that you can do to prepare for this behemoth of a hike.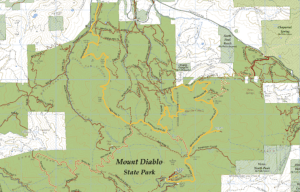 Check out our regional trail map to find more great places to hike close to home.
Top photo by Scott Hein