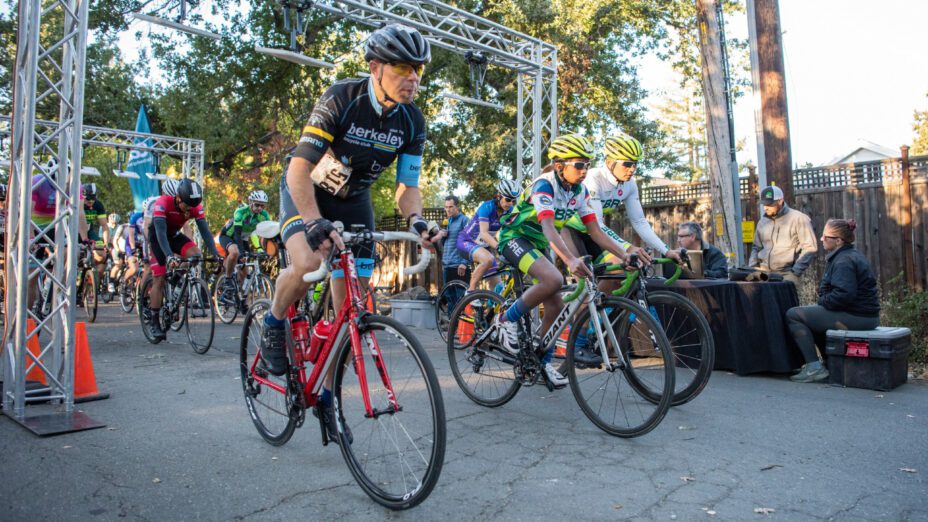 ---
The Mt. Diablo Challenge is an 11.2-mile, individually timed ride that climbs 3,249 feet to the summit of Mount Diablo, starting up South Gate Road.
More than 600 cyclists rode to the summit of Mount Diablo on October 3, 2021, in the 38th Mt. Diablo Challenge. The youngest rider was nine years old, and the oldest was 85.
The event was held to benefit bicycle safety on Mount Diablo in memory of Joe Shami, a cyclist who rode up Mount Diablo 615 consecutive weeks in a row, who passed away earlier this year.
"We were happy we could provide a fun event to bring together cyclists of all ages and abilities," said Mark Dedon, director of the Mt. Diablo Challenge and co-president of Valley Spokesmen Bicycle Club. "It was great to see everyone enjoy this beautiful mountain located in our backyard and raising money to keep it safe for cyclists."
The event featured $10,000 in cash prizes awarded to the top five male and top five female finishers; the top three finishers in 17 age categories; the top men's and coed team; and the youngest and oldest cyclists, both male and female.
A barbeque provided by local restaurant Kinder's BBQ, a vendor expo, and an awards presentation were held at Monte Vista High School and Oak Hill Park after the event.
Valley Spokesmen Bicycle Club, a local bicycle club that started 38 years ago, organized the Mt. Diablo Challenge. VIPs included former racer, Nate English; and Trek Bikes CEO, John Burke, and his wife, Tania Burke. Trek Bikes, with many local bike stores, was the title sponsor of the event.
Other sponsors included HyperThreads, Save Mount Diablo, Bay Area Bicycle Law, Expert Tree Service, Sequoia Ecological Consulting, J. P. King Advisors, and Hammer Nutrition.
Top photo by Scott Hein.